Reversible Lace Corset set
The DreamGirls Reversible Corset and Thong set is a great, inexpensive lingerie set for everyone, whether it's your first corset or if you're just adding to your collection. I'd recommend it to most people.
Published:
Pros:
The lace is very pretty, comfortable, and easy to breathe in.
Cons:
The reversible side isn't that great, garters are very difficult to attach to the stockings
The DreamGirls Reversible Corset and Thong set is a great, inexpensive lingerie set for everyone, whether it's your first corset or if you're just adding to your collection. For me, it was both my first corset and first lingerie set. I think it's a great outfit and my partner loves it on me, though I don't personally get into it very often. I find the front closing, eye hooks, a bit cumbersome to put on and get off. It does show a tiny bit of skin through the front of the eye hook closures; because its reversible, there's no flap of material behind the closures.
The reversible side: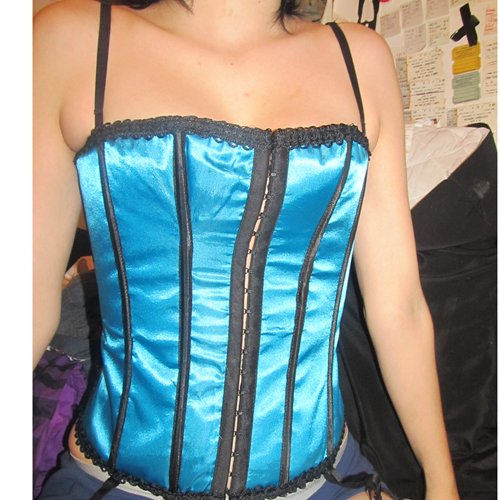 I'm not as much of a fan of the reversible side. On the site I bought it from, it was metallic showing in the image so I wasn't surprised, but the photo on Eden is very solid and matte-looking and very, very misleading to potential buyers. I don't ever wear this side out though, so I don't mind very much. I also forgo the shoulder straps, as they're uncomfortable to me.
The stockings are very simple and can be swapped out if you don't like them. I am very neutral with them, but they're nice to receive.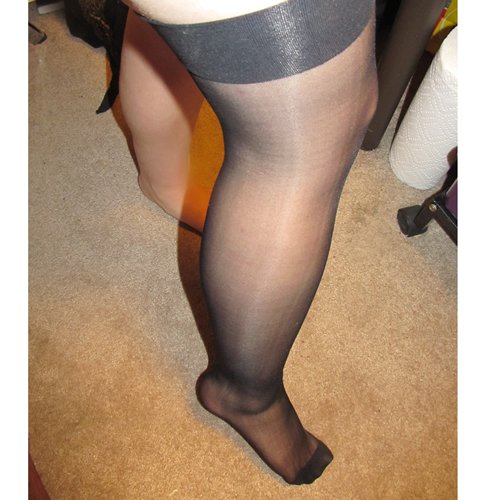 The thing I like best is the lace. It's very pretty and covers the shiny, metallic blue fabric and makes it look more matte, but doesn't dull it down at all.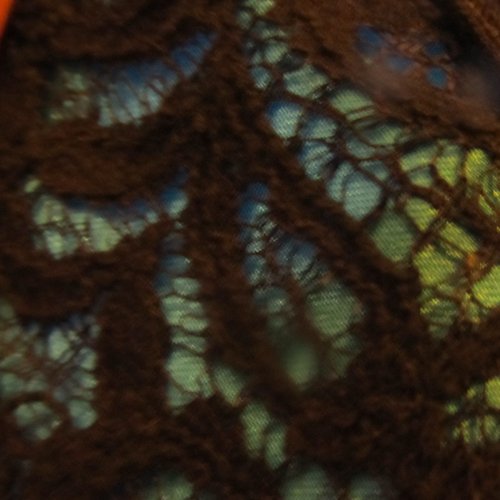 I also quite like the back, how it is stretchy and elastic. It makes putting it on alone very easy and breathing comfortable. The boning, which is plastic, also helps with that. There are 10 bones in it overall; four in the front, four in the back and one on each side. They help flatter the body and accentuate curves.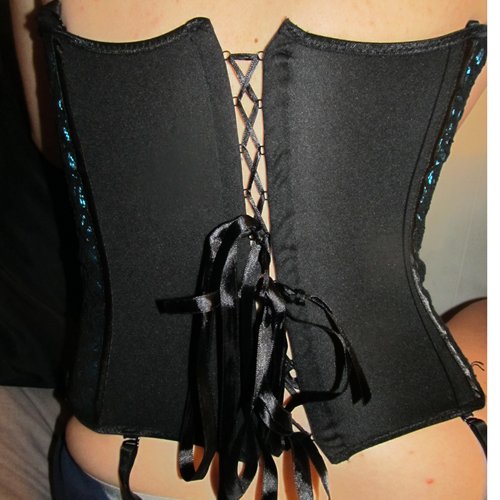 The bustier area of the corset is very roomy. I'm a 36B and I have plenty of room - almost too much, but it makes it comfortable. It doesn't squish your breasts down; it holds them up nicely.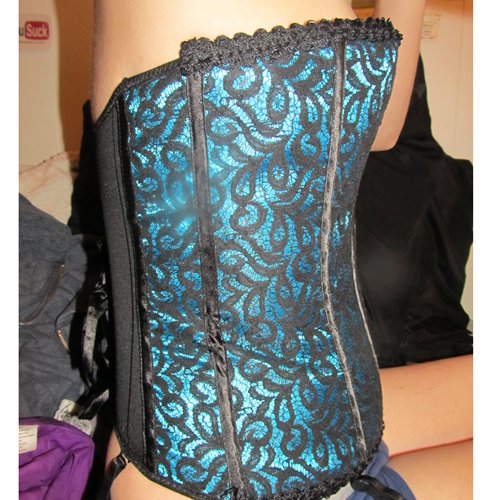 I took a deep breath and held it for the reverse side image, to show how it does indeed leave room. My partner's breasts are much larger and while we haven't tried it on her, with a bit of letting it out in the back I have no doubts that she could fit this very nicely.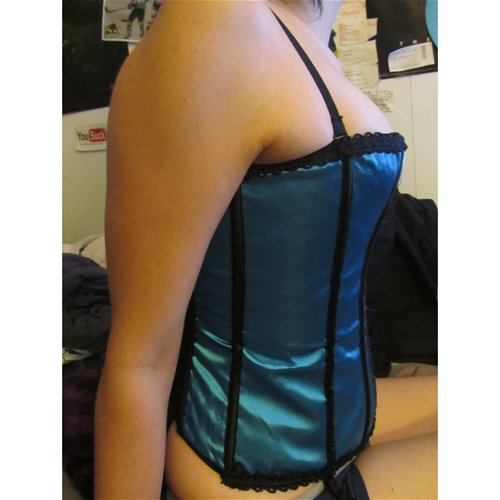 I don't much care for the thong. It's much too thin for me personally; I'm not covered in the front very much and I don't care for the feeling it gives me. It doesn't stay on long anyway, so I suppose it's not that bad, but I wouldn't wear it for an extended amount of time.
The garter straps are also very hard for me to attach to the stockings. I'm unsure if it's from my inexperience or if they're just tricky in general, but its probably the part I hate the most about putting it on. I may just detach them for good, because they're just too much of a pain.
I haven't worn it long enough to have to wash the corset, but the thong did fine in a normal wash cycle.
I didn't purchase this corset set from Edenfantasys. At the time I wasn't aware of Eden and it was a good 6 months ago, so I don't recall how it was packaged outside of a bag in a box. I was pleased to see I could review it on this site though, as the site I ordered the DreamGirls Reversible Corset and Thong set from didn't have a review program.
Overall, I really like this set and plan to keep wearing it. I might try to wear it out if I can put an outfit together. It's modest enough for that, in my own opinion.
Follow-up commentary
4 months after original review
I've had this set for a little over a year already, so I figured I could just write a follow up immediately, given I've had it for so long.

It's held up very nicely in the year I've owned it. Some of the lace has gotten slightly messed up, but it's good overall. I don't often wear it, but from the wear I've given it, it's held up.

I still really enjoy this set.
This content is the opinion of the submitting contributor and is not endorsed by EdenFantasys.com

Thank you for viewing
Fully reversible corset and thong
review page!