How to be both two-faced and one-dimensional.
Corsets? Yay! Lace? Hooray! Reversible? Pssh, no, unless that just means inside out in your book, though. It's only pretty on the outside which is a shame. The lace side is absolutely stunning and gorgeous while the inside resembles a hot mess. Overall, it is worth the price for the outside alone. Forget about the craziness of the solid side, add in a matching thong, stockings, and removable straps and you're not missing out on a thing
Published:
Pros:
Gorgeous lace side, matching thong, removable garters and straps, stockings included.
Cons:
"Reversible" just means inside out, solid side is disappointing, technical flaws
Summary

Three things: I'm obsessed with blue, corsets make me hot, and those things together make me excitedly giddy. Is it any wonder why this ended up in my hands? Nope. It met all my wishes on my little checklist. DreamGirl and I have always gotten along very well because they don't discriminate against tiny little women like myself and they make some truly adorable and quality stuff (or so I thought).

Double the sides means double the fun because here you're getting two corsets in one! One one side you have an intricately detailed lace-like design, but if you're not feeling that fancy there's a solid side. Pair that with removable straps and garters, sexy stockings, and a thong and you've got a boat load of options to choose from! This way or that way, simple or complex. How could you go wrong with this one?

Design/Material

I was on a winning streak with DreamGirl for a while. I used to be so sadface over the fact that there was nothing cute that could fit me that wasn't horrendous looking or way too expensive for my modest wallet. They came in and saved the day and I ended up with quite a collection of things I adored that were high quality, gorgeous, and thrifty. The materials were always perfect. The designs were flawless. I felt like a little sex kitten in everything of theirs I had gotten. That was until I met this corset.

Compared to the other corsets I have by them this one is a bit heaver and thicker, but I attribute a lot of that to the thick lace on one side. It's certainly stiffer than it looks in the product picture here. At first glance it seemed as if it was the same quality I was used to and I was quite pleased with that. Everything is polyester aside from the plastic boning, just like all of their other corsets that are well-made. No qualms there.

When I started to give this thing I ran into a lot of design flaws. First off, this is a reversible corset, isn't it? It's supposed to be. It has hook closures on the front, though, and the hooks end up backwards when you wear it with the solid side out. It's not the biggest logistical problem ever, but it's a little less than fun to try to hook them backwards. With the lace side out it's really no biggie. Second, we have the removable straps. Notice that black band that runs around the top and bottom of the lace side? This poses a slight issue for the blue side, as well. The strap covers up where you attach the straps when you're wearing the lace side out. Reversed you have this band with the straps on top of it. Not ideal, really. Then we come to the back of the corset and I'm not sure what's going on there. All of the other corsets I've gotten are the same material all the way around. This one is not. The back panels are solid black and made of stretchy polyester. Looks fine on the lace side, but makes no sense on the solid one. Corsets aren't supposed to be stretchy. Now think of how you lace a corset. Now imagine that lacing reversed. I stared quizzically at that for a minute. Another thing on the solid side that doesn't make sense. To sum it up, wearing it with the solid side out just looks like you're wearing a corset inside out and that defeats the purpose of reversible, doesn't it?

Now on to the actual look of it. The lace side wins again here by a landslide. The outside is gorgeous and incredibly detailed. The lace is heavy and it's actually fused to the fabric instead of being an overlay. It has a lot of pleasing texture to it. The bands across the top and bottom are also made of a solid thicker lace and add a great detail here. The thong (which isn't impressive but they never are in these sets) has the same detailing on the front, as well. It's all incredibly gorgeous and looks much prettier than it does in the picture. Solid side, not so much. We have issues here again.
Experience
The pictures make it look like a completely different material than it actually is. It's not that matte smooth material that you think it'd be. No, it's this crinkly looking weird stuff. I've seen this same exact material used in other cheap corsets and those never look good at all. When I put this on I was like "Eww. No. Fail." Majorly disappointed. This is another instance where the actual piece looks nothing at all like the picture. More like a hot mess. I see what they did there. It's called Photoshop the hell out of it. The look of the quality on both sides is quite different, as well. Lace side looks incredibly well put together while solid side, again, has those hot mess qualities. The fabric had slight defects in it and the boning was much to prominent.
On the upside, the stockings that always come in these sets are wonderful. Better than the cheaper ones you can buy here. The thong is nothing special, though. It's not reversible due to the lining on the inside.
So, does this corset really sound reversible to you? What's going on here says no. They just stuck some crazy solid colored fabric on the inside and called it a day. Shame on them.
Sizing
When I got this corset I put it on and was drowning in it which made no sense at all. All the others fit perfectly and this was the same company! After measuring everything I realized that my 32 was actually a 36 that was mislabeled, but the thong was the right size. Crazy, I know. (This also happened with another company. Even crazier.) After getting my panties in a bunch I got the replacement which was a real 32. Apparently that one hated me, too. I'm almost wondering if it's actually a 34 because it still doesn't make any sense with how it fits. I'd give you more detailed size info, but I'm still lost on this. It doesn't lace up the way my other corsets in this size do. It's way off, actually, and actually fits like some of the 34's I got before I knew anyone made my size.
Since I can't make much of a comment here I'll just throw in some pictures so you can see what I mean. In
this review
(I have pictures of me in a real 32 for reference.)
Gorgeous lace side: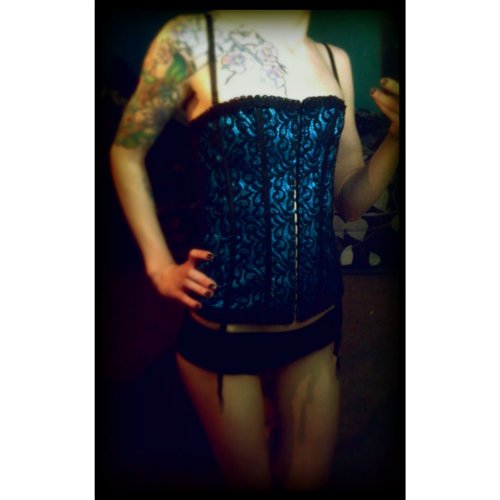 Ugh. And you'll see what I mean here about the fail of the solid side: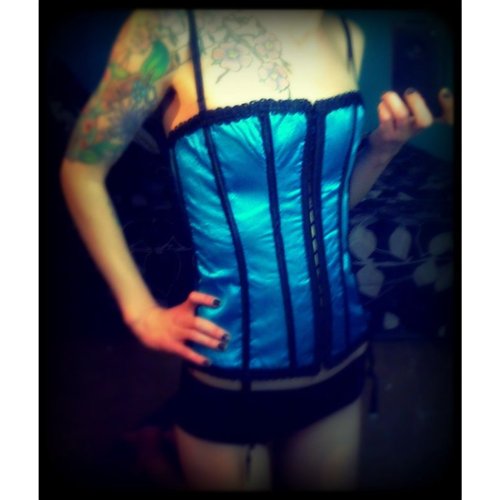 And now it's time for the weird back of this thing: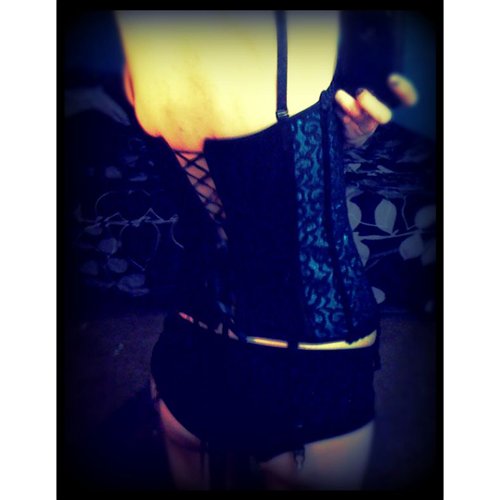 All the other corsets I have don't wrinkle or gap on me like this one does. Shame. Sad day.
Follow-up commentary
14 days after original review
This corset has since been passed on to someone who will appreciate it much more than I do. It wasn't even a sad day when this happened, either. If there were a few changed to it it would have been perfect, but for me it wasn't. Maybe DreamGirl will catch a hint and stop making their corsets falsely reversible.
This content is the opinion of the submitting contributor and is not endorsed by EdenFantasys.com

Thank you for viewing
Fully reversible corset and thong
review page!