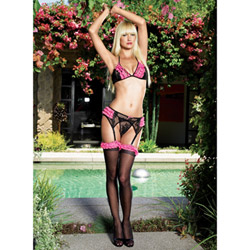 Boudoir rose lace set
Bra, panty, garter belt and stockings set by Leg Avenue
Ring Around The Rosie
While not the most "high end" lingerie set out there, this four piece set by Leg Avenue is a great start to any collection. It's comfortable and sexy and for the price, you can't do too much better.
Published:
Pros:
Stockings stayed up on their own! Well made, comfortable, adorable design and color.
Cons:
One size, garterbelt doesn't seem to fit quite right, stockings almost seemed too tight at the top.
I've never owned a "real" set of lingerie before, so when I had the opportunity to review this four piece set by Leg Avenue I got really excited. My fiance also had very limited experience with anything like this as well, so when he got out of the shower and saw me waiting for him, he was more than pleased.

So we start with the packaging. Nothing out of the ordinary. Just a black box with a picture of a model wearing the set I've received, a description of the contents, and "ingredients" and washing instructions. "Leg Avenue 4PC Boudior Rose Lace Bra Top with Garterbelt, G-String, and Stockings."

This set is listed as "one size fits most" and the page for it doesn't give any kind of measurements as far as what "most" consists of. I've listed my measurements where everything fell just to help give you some sort of a sizing guide for this outfit, since Leg Avenue hasn't. I generally wear a size 5/6 in panties and wear a 34B for a bra and this outfit didn't seem like it would be very comfortable on anybody much bigger.

-Top of stocking, mid thigh: 19.5" around
-Garterbelt, around hips: 31" around
-Top, under bust: 28" around, around bust: 31"

The bra is a halter style with strings to tie on the top and your standard double stacked bra clasp on the bottom. The strings are made out of the same material as the rest of the "outline" of the bra and unstretched measure 16" but I could stretch them all the way to 25". The clasp on the bottom has three different adjustments each measuring 1/2" apart. The base measures 25" across just laying flat and will stretch up to 32". Pink lacy ruffles come in about 2" from the top inside edge of the cups. On me they fell just above my nipples. There are also two small, very bright pink bows right at the top of the cups where the ties lead off. As far as support goes, I would say that if you're a larger C cup or a smaller D that might be the limit.

The thong is your generic run of the mill lace G-string, but I was impressed with how comfortable it was considering that I normally can't stand thongs of any kind. A 6"x3" triangle on the front matches the lace on the bra and garterbelt. It feels pretty flimsy when being held, and didn't seem much better while being worn, but actually holds up pretty well. Laying flat it measured 11" and stretched up to 17" across and the string in the back measures 5" unstretched, 7" stretched.

The garterbelt sports the same lace, ruffles, and bows as the bra. Laid flat along the top band measures 24" and stretched all the way up to 34". This did not include the adjustable strap on the side, which attaches to a small C-hook on the other side of the belt. The strap measures 3" at its shortest setting and 6" at it's longest and will stretch up to 9" while fully lengthened. The garter straps are also adjustable. In the back at their shortest length it's about 10" from the top of the belt to the bottom of the clip and about 12" at their longest. The straps in the front run about 9" from the top of the belt to the bottom of the clip at their shortest length and about 12" at their longest. The clips themselves are very easy to use. The best way I could describe how they close is like the chain door locks that have a larger hole at one end and then slide down securely. They measure about 1 1/2" long and 1/2 wide and feature a solid ring on the top and a flexible rubber-like backing with a rubber-like "bead."

The stockings don't feature any lace or bows, but do have three rows of the pink ruffles around the top. My last experience with Leg Avenue's stockings was less than thrilling so I was ecstatic to find out that these stockings actually stayed up on their own. Not as ecstatic half an hour later when it felt like they were starting to dig into my thigh, but still pleased because they weren't falling down repeatedly, because nothing kills the mood like saying "hang on, honey, I have to fix my stockings." Readjusting and pulling the tops of the stockings down slightly made a tremendous improvement.
Experience
****Continued from above due to lack of space***

Everything seemed really well made when I pulled it out of the box, and the plastic wrapping. And for the most part I was right. The thong survived some rather rough tugging with absolutely no damage, my partner was able to stimulate my nipples through the lace on the bra, and for the most part the garterbelt and stockings were great.

For materials, the box says that this set is 100% nylon and should be hand washed separately, never bleach it, and drip dry. In my opinion, unless you're playing with messy edible paints, the only thing you should probably have to wash would be the thong. At this point I haven't attempted washing anything, but as soon as I do I will report back.

***And now, the experience section***

As I mentioned earlier, I was really excited to get a chance to review this set. I love pink, my fiance loves me in skimpy things, I figured I probably couldn't go wrong! And I was just over half right.

I put everything on and wore it underneath regular clothing as well and I was surprised at how comfortable it was. I sat for a while and didn't feel like the clips on the garterbelt were digging into my legs, and I actually loosened them a bit to slide the tops of the stockings down a little bit to try and ease the slight discomfort I had with those seeming almost too tight.

The bra of this I had absolutely zero problems with. I know there isn't much in the way of support offered but for me, that's not a problem. My breasts generally stay put with or without a bra. The thong was surprisingly comfortable for me not being a huge thong lover.

The only really bad thing about the whole ensemble is how the garterbelt acted. I had an issue with the length of the straps on the back, I just could not get them to be in a good spot. I had to lengthen the strap all the way if I wanted to bend over in any manner, but standing up they just hung there and felt awkward. So I shortened them a bit but once I bent over the garterbelt started to come down like a pair of too small underwear, showing off some major butt-cleavage.

And just a quick note: I wasn't aware at first of the fact that when you put the thong on first to be under the garterbelt where it should lay that it becomes impossible to take it off without undoing ALL of the straps on the garterbelt. It's shown this way in the photo on the box, and I don't know why it never occurred to me until my partner was standing there with me, awkwardly trying to undo, then redo all of these garter straps, but I just thought I should mention it real quick.

I tried to be as thorough with my review as possible but if there's anything that needs any clarification or anything that I missed please don't hesitate to ask or let me know :)
Follow-up commentary
4 months after original review
I've run this set through the wash with my regular clothing a few times and everything's come out just fine.

I also wore this set to work one night, bad idea. Don't wear this set for more than a few hours.

But for shorter sessions, I do still enjoy this set. The color is still fantastic. He and I both think it's sexy still.
This product was provided free of charge to the reviewer. This review is in compliance with the FTC guidelines.

Thank you for viewing
Boudoir rose lace set
– bra, panty, garter belt and stockings set review page!