Rodeo Drive? Bringing Sexy Back...
I'm not sure what's up with the name of this dress, but it's easily ignored. The back of the sexy silhouette will have everyone staring. It demands attention and the leggy length captures the rest of it!
Published:
Pros:
Stretchy, Sexy back, Well put together, A few ways to wear it
Cons:
Sequins can catch on couches etc., Doesn't fit higher dress sizes in chart, $
The Rodeo Drive Long Sleeve Dress from ForPlay looked a little odd when I first saw it. I figured it was mostly because of the model who does no justice to this hot number! It covers a lot but hugs everything, so it's still really sexy and revealing in a less obvious way. The material is very stretchy, smooth, and comfortable. The dress can be worn backwards or as a top in addition to how it is supposed to be worn. It's simple from the front, but the back has a lot of bedazzle going on. I'm a bigger fan than expected.
*Contents/overview:
One piece dress
The Rodeo Drive Long Sleeve Dress by ForPlay is a little black dress with an upgrade. The front has a simple neck line and silhouette while the back has a drooping cowl, mesh cover, and large sequins. It has no built in bra or support, but it does have a double panel in the front to cover nipples if necessary. It is available in sizes XS, S, M, L, and XL.
*Material:
Great
The mini-dress is made of 92% polyester and 8% spandex (I know my chart is off by 1%). This is obviously exclusive of the sequins. The material isn't shiny so you don't have to worry about it shining on your flawed areas, but it will hug them. The material is durable and stretchy. It slides well which might be a problem for tall gals since the dress may ride up. The black material is thick enough to not be see through unless you're wearing light colored underwear.
The mesh and sequins are normal quality. It can get caught on things like couches or carpet if you happen to lay down in it.
*Design/craftsmanship:
Unique and well made
Rodeo Drive Dress is what I'd consider a mini-dress in terms of length. On most it'll fall mid-thigh. From the front, the dress seems plain. It shapes to the body of each wearer and has no control or body support other than a minimal piece of doubling over the breast area. The neck is slightly boat. Unstretched, the opening is ~14" wide. On larger chests it should appear less boat shaped. The second piece of fabric goes from side to side under the arm pit and is about 9" long. The bottom is not sewn down so it needs to be pulled down after the dress is put on to avoid wrinkling.
The dress's bottom is smaller than the chest. Across the chest is about 18 1/2". In my experience, this is pretty typical for L sizes. The dress is 29" long and 15" across the very bottom. It stretches over the thighs and can make in between them semi see-through in the wrong lighting, but I'm not worried about it since the places I'd wear this are dimly lit.
The loops are for hanging. They are way too long!
The sleeves have plenty of stretch. They are 4 1/5" wide at the upper arm and 3 1/4" at the wrist. The drooping in the back looks like a mini cape from the side. It was really hard to get a good photo without the "cape" portion blending into my arm etc. The top of the mesh piece is sloppily cut. You may need to trim it if it bothers you. The sequins are securely sewn. The mesh isn't the softest thing out there, and it doesn't stretch. The sequins alternate with rows of smaller and larger sequins, black and silver.
*Cleaning/care/storage: Hand wash/Bag
The dress comes in a plastic bag on a plastic hanger. It has a cardboard tag attached to it. The tag on the inside of the dress says to hand wash in cold water or dry clean only. It's made in Hollywood, California. I'm going to be spot cleaning it. Again, like I mentioned in the material section. Be careful of the sequins and what you place you back to. What's cool about the back is that you could cut into it without damaging the dress. I may do this at a later date.
*Sizing/fit:
A little small compared to chart (certain areas), but good for L
I decided to get L because of my experience with my
other ForPlay dress
my partner got me. That one was too snug in the cups because they were short, but I knew I wouldn't have the same problem here since it has no cups.
According to their sizing chart, the L should fit a size 10-14 dress, C-D chest, 36-38" band, 28-30" waist, 38-40" hip, and 135-155 pounds. At the time of this review I was about 145 pounds, size 8 in most jeans, 8/9 in dresses, 34/36 D chest, 38 1/5" hip, and 30" waist.
Experience
Considering that the fabric is very stretchy, it can fit larger than an 8/9 in dress size, but I think 14's should order the XL. 12's might consider this too if they are on the high end of the sizing ranges.
It's a damn near perfect fit for me. It's not too snug anywhere in terms of feels too tight or hurting. It definitely is form fitting, but I don't mind that. I also don't have much of an issue with the bottom riding up, but taller or larger women might if they buy the wrong size. The chart is mostly accurate in my opinion.
My Re-done chart/BEST fit:
For the large
Dress: 8-12
Cup: C-D
Bust: 34-41 (around the fullest part of your breasts)
Band: 34-38" (underneath your breasts)
Waist: 28-31"
Hips: 38-40"
Weight: 140-160 lbs
The white square is the tag. I plan on removing it!
I like the back so much more than I thought I would!
*Possible accessories:
HIGH high heels! You can't see them in the pictures, but I'm wearing Pleaser 609 heels.
I played around with a few things. I was able to wear the dress backwards too! I can wear a black push up bra underneath and it's not nearly as revealing as I thought.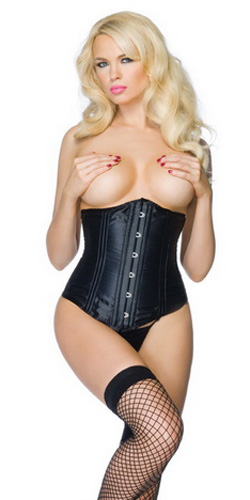 I also paired it with this
cincher
. You can see my review of that
here
. My partner doesn't like that look, but I think it'd be great for a dark haired vixen with thigh high leather boots! I'll take pics of the backwards dress and it with the cincher if you guys would like to see!
*Conclusion:
4 stars ★★★★
I am more pleased with this dress than I thought I'd be, but there are some issues. I hate how this looks like a hood or cape from the side. It's a bit too big of a cowl for my taste. My boyfriend also thinks the back is a bit too bling, but if he absolutely thought it was hideous he'd refuse to stand next to me in it and he hasn't threatened that ha! He loves the length and how it cups my ass. I like how I can wear a seamless bra with it and lace panties. They can't be seen! Your bra will show in the back though. The one I chose is hardly noticeable. The sequins back is a bit annoying too. On one of our couches is can get a bit caught in the fabric. I'm a bit afraid to wear my hair down with this! The price is another issue. I'd never pay more than about $45 tops for a dress like this. I guess if I wore it as a top too, it'd be worth it, but I have similar quality and style dresses to this that I bought for about 2/3 of the price, so to me this is a bit high. It is well made, though, and I expect it to last through many wearings if I choose to do that.
Follow-up commentary
4 months after original review
This dress is a pain to clean, but I still really like it. It's been borrowed by someone else who loved it as well. The material isn't as cheap as I thought it might be. It hasn't shown any signs of wear, fraying, etc. in the two times it has been worn.
This product was provided free of charge to the reviewer. This review is in compliance with the FTC guidelines.

Thank you for viewing
Rodeo Drive long sleeve dress
– mini dress review page!