It's a winner!
This modestly sexy dress with leg-showing length is a winner for most occasions, and the sleeves make it one of few dresses wearable for colder days. The stylish, uniquely decorated back takes this from plain ol' dress that everyone of every age owns to a sexy, yet modest dress that allows subtle show of the upper back -- and surely one of such style that few people of all ages own.
Published:
Pros:
Best quality dress yet (on here anyway).
So comfortable.
Fit.
Back.
Cons:
Only con is the price!
The Rodeo Dress is fabulous! I couldn't resist not telling that first. However, the plain style of the front, and the price of something fairly plain keeps this dress from appealing to most, I think.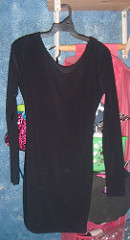 Basically, you have a black, long sleeved, thigh length dress until you turn around, and that's when you have a classy, stylish decoration, which is the only thing setting this apart from your typical black dress.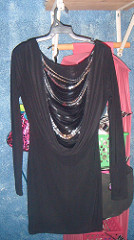 This back decor covers upper back in a sort of half oval shape. It consists of a black piece of tulle that's covered in various colored and sized sequins, which are sewn on in an almost "U" shape. The sequins are lined up to create the "U". The back decor is 12" wide and 14" long. You'd be better off seeing my photos than trying to understand my crazy description of it. However, it's actually not uncomfortable at all, and doesn't give my back the prickly/scratch sensation that some sequined garments do. On another note, these are well sewn, regular wear shouldn't cause em' to budge.
Let me just say how awesome it is to have a long-sleeved dress. Most cute dresses are made for warm weather. It's rare to find a really nice, stylish dress with sleeves to accomodate cold months. The sleeves are warm enough that this can be worn all fall, bare-legged and pairing it with thigh-high boots, stocking or leggings mean it can be worn all throughout winter.
The non-revealing boat-neck means no worries with boob-slippage, and the short, but lengthy enough hem means no constant tugging. It doesn't ride up uncomfortably so like the Espiral dresses, so I'm totally comfortable wearing this any time. I can climb comfortably in and out of a vehicle.
Material
92% Polyester, 8% Spandex.
My first impression when getting the dress was "wow, that's thick and heavy!" This is a *nice* dress. It isn't anything like what most of us are used to in terms of these lingerie-brand dresses. It's absolutely different from all the other cheaply made, thin, see-through materials. The material is heavy, smooth and far thicker than the others available. The smooth, slinky-like material is so comfortable and the Poly/Spandex blend means it will stretch happily to accomodate curves.
Finally, another non-see through dress! I don't even have to wear panties for protection with this, it's that opaque.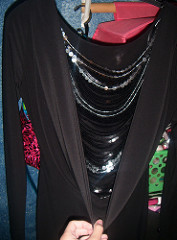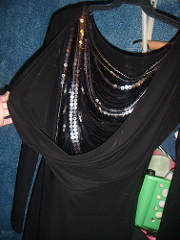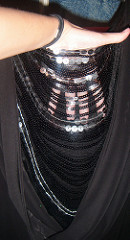 Before I go into measurements, let me try and explain the "fabric flap" that's on the back. If you look in the photos, you'll see that around the lovely back decor, there's a weird flap of black fabric (same as the dress' material). It sort of just hangs out there, and wouldn't be so awkward to me had it not been such a big piece! I am able to pull the draping bottom part of it up and measure 7 1/2" long of it! I've included a photo from the side, to help show what the booze I'm even talking about. I like the dress so much that I don't mind this fabric flap, but it reminded me of something you see on Halloween costumes or sort of like the way a hood on a jacket sticks out. I fold it down a little so it's not strangely gaping. It could be trimmed and re-hemmed if you're careful, but so far I'll just leave it as I could end up doing damage instead.
Dress' Measurements
According to EF, the length from top to hem is 31". Close, but not quite. Measuring from the shoulder to hem, it's 34" long. From middle of boatneck to hem, 30".
Sleeve length: 28".
Bust: 13"
Under arm pits, and across (right under chest): 16".
Waist: 12".
Hip: 14".
Below hip area: 15 1/2".
From below hip area to hem is 14".
Made in "Hollywood USA."
My Measurements
Bust: Right: between a B and C cup. Left: 34B
Jean/shorts/size: Zero
Weight: 93lbs
Height: 5 2"
Waist: 26" Lower waist. Where I'm a bit wider, the love handle area: 29"
Packaging and Care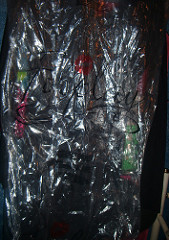 Comes on black plastic hanger and with clear plastic that says "Forplay" on it. There's a tag on right sleeve with a woman's face. Strange since that has nothing to do with the dress, but I was too giddy over it not having nudity to care! Yes, this is totally gift-giving worthy.
This does come with hanger straps, that say "Born in Hollywood" all over them. So it stays on the hanger provided.
Handwash cold water or dry clean only! This is certainly not a time I recommend showin' your rebel streak. While you can sometimes bend the rules and find a way around the "handwash only" suggestion, this is not one. I worry it'd ruin the sequin-covered tulle, so I handwash only.
Experience
The sequins are silver and black.
Fit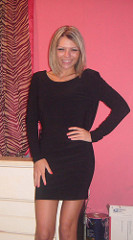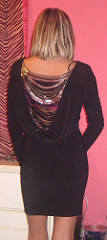 I'd wishlisted this a long time ago, but the $63 price as well as the unflattering fit/look of it in the product page had me turned off. I didn't want to spend that much just to get another crappy, cheap dress, especially if it fit the way it shows in the product page. But it went on sale and the back decor struck my weak spot and I got it. Don't get me wrong, it is a very nice dress and high quality and far more flattering that the product page shows. However, for what it is, a plain Spandex/Polyester dress with a neat back, it is not worth $63. I would say the actual fit for this would be $30, but I am a bit cheap. I personally would so pay $30 and be happy. The sale price is $44 and that is a little overkill considering what I said and not to mention once you pay taxes and shipping! So I really feel the need to knock a star for that. But, like I said, this is one of the best dresses available.
There's no size chart for Forplay dresses on EF, but Forplay has one on their site, and according to theirs, medium should fit 36/28/38.
Take note of the measurements I listed and my sizing. If you fall near my measurements, a medium will do well and allow you extra room, and more comfort. That's how it is for me, anyway. If you're even a little smaller than me, a small will fit. I personally just didn't want it to glue to me, and feared the small would. I'm happy with the medium. If you're on the larger end of the medium, go with large. It'll be more comfortable.
Instead of clinging, this flows over my curves, not enhancing my middle, but not hiding much either. I wouldn't expect it to do any slimming, but I think it'll look flattering and gorgeous on any body type.
The good thing about this one is it will be long enough for most people. Tall people will find it a bit shorter, but it'll probably not be too short to wear.
Also, this is the first dress I've felt really nice, flattered and pretty in in a long time. My partner is very fond of how it looks on/fits as well. He complimented on my looking "sexy" today several times, which is a couple more times than he did with the last Espiral dress, which I didn't love. He actually used the word "form-fitting!" He said he loves how "form-fitting this is because it shows my curves, but that I don't look uncomfortable in it."
Follow-up commentary
1 day after original review
...Continued...


For me, this is a nice dress for a little confidence-boost, something I've not really had much of lately. The past few dresses I've bought had something about them that I couldn't get comfortable with myself in. Too much of that and it shows. This dress is something I can wear and not feel the need to hide myself.

Notice I have the medium, but reviewed the small? That is because when I went to review it, it wouldn't let me review the small because it's "out of stock." I'm thinking that means this is being discontinued soon, as most of the dresses here have been. Since I thought my experience/feelings on it could actually be helpful though, I decided writing a review on small was better than not at all.


This is the first dress I've bought from here in months that hasn't been awful in some way or another. Since I've been having issues with fitting my regular size (small) in Escante and Espiral, I went with medium on this too. When I first seen it, I thought it'd be really baggy on, but it fits nicely. I think had I gone with my right size (small), it'd have been more clingy and probably made me less comfortable in it, so going up a size is a good idea due to the nature of this form-fitting cut. Of course if you're near the larger sizes of the scale, it'll be tighter and showier.

This content is the opinion of the submitting contributor and is not endorsed by EdenFantasys.com

Thank you for viewing
Rodeo Drive long sleeve dress
– mini dress review page!