Ruffles, Bows, and Lace.. Oh My! A Girly Girls Dream.
Are you looking for a piece that is fit for a princess? If you are, this might be a good choice. That is, assuming that you're under a C cup, and that you don't mind the slippery halter style neck ties. If you can make this piece work you, the ruffles, sparkle, lace, and bows make this piece absolutely stunning.
Published:
Pros:
Beautiful, Ruffles, Sparkly, Lace!, Underwire, Removable garters
Cons:
Halter style neck, Slippery ties, Nonadjustable garters, Cups are a little small, Fraying ribbon
There are certain pieces of lingerie that I buy just for me... This was one of those pieces. I knew that this piece would not be my boyfriends cup of tea -- it's too girly and frilly for his likes, but sometimes a girl wants something that will make her feel like a real princess. Sadly, this piece ended up not really being for me, but it does have the potential to make you feel like a princess if it works for your body type.
Overview:
The Pleasurebound "corset" is actually more of a bustier. This piece is part of Coquette's Spellbound line, which is a line that essentially tries to combine elegant looking lingerie with a bit of bondage. The bustier features an optional ribbon belt, which has the potential of acting as a light bondage tool.
For those curious, the Pleasurebound Bustier was made in China.
Material & Care:
The bustier is made out of 80% nylon and 20% spandex, exclusive of the trim.
The material is a beautiful lilac color, and it is completely opaque. It definitely looks and feels very elegant. The interior of the bustier is surprisingly lovely; it's soft, and doesn't irritate my sensitive skin at all. It truly feelings amazing against my skin. The exterior of the bustier is covered with a lace overlay, which features a mesh and floral pattern. Bits of silver detailing are added into the floral lace. The silver detailing makes the piece appear to glitter and sparkle, giving it a hint of glamour. The mesh/lace overlay feels lovely to the touch, but it could easily snag -- so you're going to want to be careful with it.
The lower half the bustier consists of the ruffle trim. That trim is, regretfully, unfinished, so it may fray easily over time.
The fabric does have some stretch to it, but it's quite limited. In fact, I can't really get it to stretch more than an inch or so, and that's with some serious pulling and stretching. For a piece that is 20% spandex, it's surprising that the stretch is so limited.
The included g-string matches the bustier perfectly, except for the fact that the material on the g-string is a little thinner than the material on the bustier.
Finally, there are the optional accessories. The shiny ribbon that comes with it is a bit cheap feeling, and it's already fraying. The ribbon shows creases really easily, which is a little frustrating. There's also the optional garter straps, which feel satiny. To go along with the satiny feel, the garter straps also have a bit of shine to them.
As far as caring for this piece goes, the tag recommends that you hand wash it and then allow it to hang dry. I would stick with those washing instructions, as the machine could ruin your bustier.
Sizing:
The bustier is available in four sizes: small, medium, large, and XL. I purchased the large.
According to the size chart on Coquette's own website, a large should fit someone with the following measurements:
Cups: C
Bust: 38-40"
Waist: 30-32"
Hips: 40-42"
I wear a 34d bra (in most brands), and have a 32" waist. My hips measure 40". This piece fit me on the loosest possible setting, though it was a little tight. I would not recommend the large for anyone who is larger than me on any of the measurements, as this piece just doesn't have a ton of stretch to it. I would also say that the cups on the large are probably best suited for large B or small C breasts. My D breasts felt like they were bursting out of it, and I think that even a large C would pop out of this one.
The included g-string fit my 40" hips, but it did give me a little hint of muffin top. This wasn't a huge surprise for me, as Coquette's included g-strings rarely work out for me.
Design:
This bustier is a halter style. Unfortunately the strings that tie the halter neck are very thin, and a little slippery. So, not only are they difficult to tie, but they also kind of cut into my skin a bit. Furthermore, if you're busty like I am, you might find that the halter neck leads to a bit of back pain, and/or not enough bust support. For me, it was both.
The bust of the bustier is both padded and molded. It also features underwire. So, in theory, this should provide support. Unfortunately for me, it didn't provide enough support for large breasts. The cups of the bustier have a seam going up the center of each one, which could make breasts appear pointy.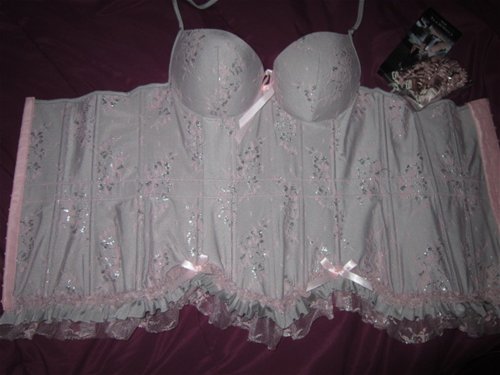 Experience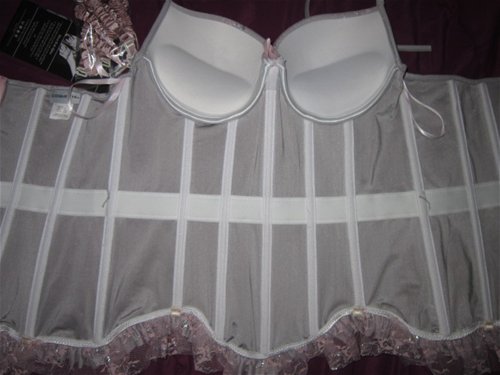 This bustier features 11 pieces of plastic boning, as can be seen by the white on the interior of the bustier. The boning is a bit flimsy, but it does offer a bit of support anyway.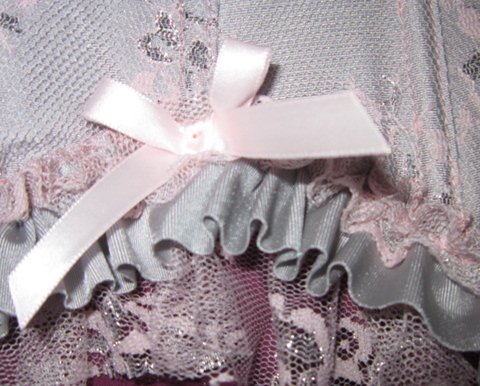 Those of you that don't like girly details, walk away from this one. This item features three pink bows. Two of the bows are found at the bottom front of the bustier, while the other one is found right in between the two cups.
Along with the bows, the bottom of the bustier features some ruffles and lace, as well.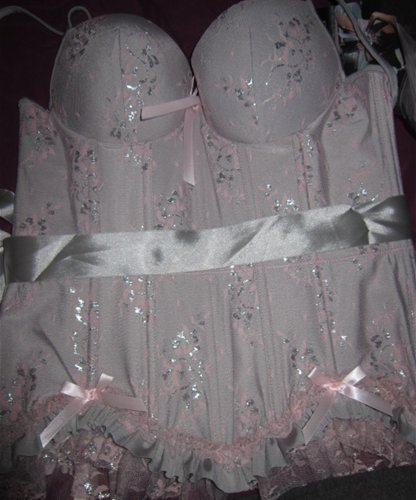 The bustier also comes with a wide silver ribbon, as can be seen in the above photo. The silver ribbon goes around the wearers natural waist as a belt. Here is the instruction card on how to use the ribbon: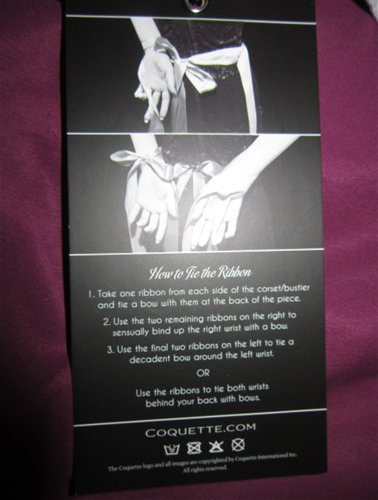 Once you have the ribbon tied around your waist, you will have two extra bits of ribbon on each side, enabling you to tie each wrist. You could also just tie all of the pieces of ribbon behind your back if you didn't want to do any bondage.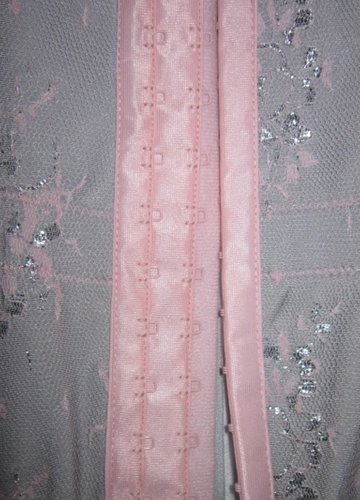 This bustier has a typical hook and eye closure system. There are 15 rows of hooks and eyelets. You have two possible closure settings for this piece, as there are two columns of eyelets, and one column of hooks.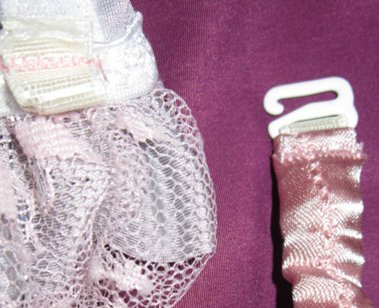 As you can see, this bustier also comes with optional garter straps. The garter straps attach onto a little white loop that is found on the inside of the bustier, as you can see.
When it's attached, it will look something like this: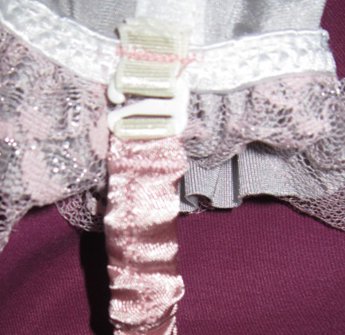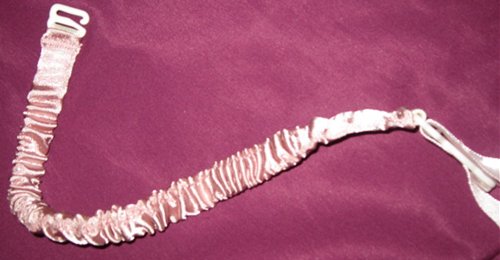 The garter straps themselves are not adjustable, though they are very stretchy. They measure 10" long unstretched, so those of you that require shorter garters might be disappointed. The garter clasps are quite flexible, and I feel like they'll probably break quickly.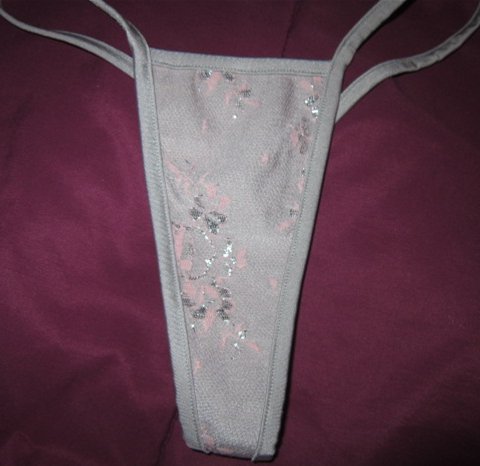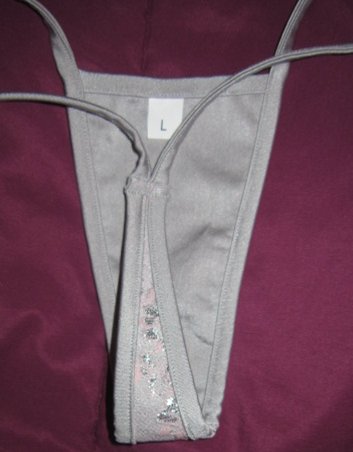 The included g-string is your typical g-string. It doesn't offer as much coverage as I would like, and it is a low-rise g-string. There is no pantyliner.
Packaging:
The packaging was minimal at best -- which isn't exactly a bad thing. The bustier was covered in a plastic bag, which served the purpose of protecting the item during the shipping process. There was a bit of tissue paper inside of the bustier, with the g-string and ribbon folded between the two sheets of paper. There was two hang tags safety pinned to the bustier. No hanger was included, which was a bit disappointing.
Quality:
All in all, the quality was okay. The bustier itself seems to be in perfect shape, but the g-string does have a little bit of fraying going on. The ribbon also had some fraying before I had even gotten a chance to use it, as can be seen in this photograph: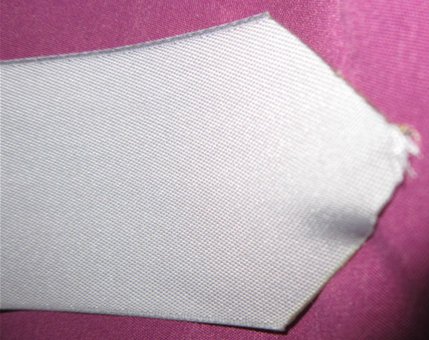 Conclusion:
In the end, I am giving this 3 stars for a few reasons. The non-adjustable garters, fraying g-string, fraying ribbon, slippery halter neck ties, and too small cups are why this receives only 3 stars from me.
Follow-up commentary
2 months after original review
This is gorgeous, but the sizing is just not accurate. If not for the sizing flaws, this would've been a great corset.
This product was provided free of charge to the reviewer. This review is in compliance with the FTC guidelines.

Thank you for viewing
Pleasurebound corset
– bustier review page!