Cheeky Ruffles! (OS/XL Size)
The ruffle panty from Coquette in plus size is the perfect panty to make one feel sexy. Both genders can enjoy the comfort of this panty because it's not crotchless where things would fall out on the male gender and the crotch area isn't extremely narrow. The panties are adorned with layers upon layers of blue and white ruffles and they scream frilly! These could be a cute bridal shower gift.
Published:
Pros:
- Beautiful color options
- The ruffles don't itch
Cons:
- Fits smaller than size listing.
I ordered the Blue and white ruffle panty from Coquette because I wanted some pretty pastels to have for the spring. I love wearing pretty lingerie. These would have been wonderful to carry in white and red and they would work perfectly for Valentines Day or Christmas. Okay, I'm getting ahead of myself. I've always had an eye for design and I can picture how beautiful the white and red would be.
Packaging
The panty arrived in a clear plastic bag that was sealed over at one end. The bag is easy to open but I don't recommend keeping for storage since it rips easily once opened. I love how Coquette tags their lingerie products. The safety pin holding the tag is easy to remove.
What does my panty look like?
For the panty, there are 9 layers of ruffles total in the front and 9 layers on the back.
There are 5 layers of blue and 4 layers of white on both the front and back. The colors are white and light blue.
The waist of the panty has an elastic band which is about 3/8" in width. The elastic has a shiny look to the fabric and it stretches nicely.
There is a white satin bow on the center front of the panty. This bow is made from 5/8" ribbon.
On the inside of the panty, there are 8 seams running across the panty in the front and back, these are from the ruffles being sewn in. They don't bother me while wearing them.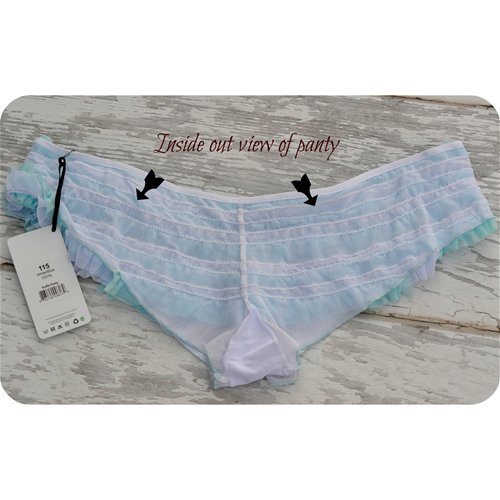 Material
The panties are:
82% Nylon
18% Spandex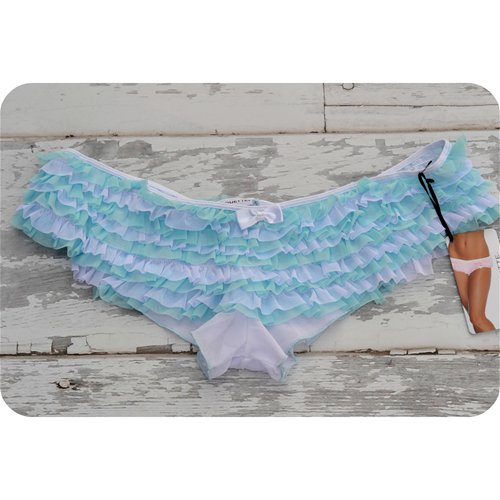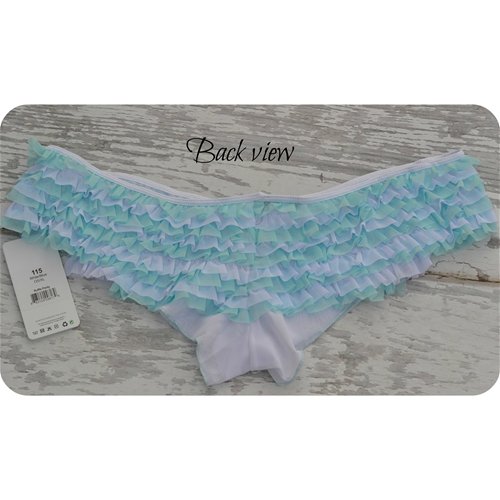 The panties really accentuate the behind and make it look curvier. I'd love to see these sold on EF in solid black. I can't find anything that I dislike about the panties. They do run a tad small, but that works in my favor. I fit in between the two sizes. The OSFM is a bit too tight on my hips and behind. I wouldn't call these plus size as the tag states the OS/XL size.
I've included a photo below of the ruffle shorts from Coquette which appear to be larger and also a pair of Ruffle panties from Leg Avenue in the 1X/2X size. The black ruffle shorts from Coquette seem to run the largest and they are the size OS/XL as well. To be sure if these will fit, check out the measurements below to see if you will fit comfortably into these.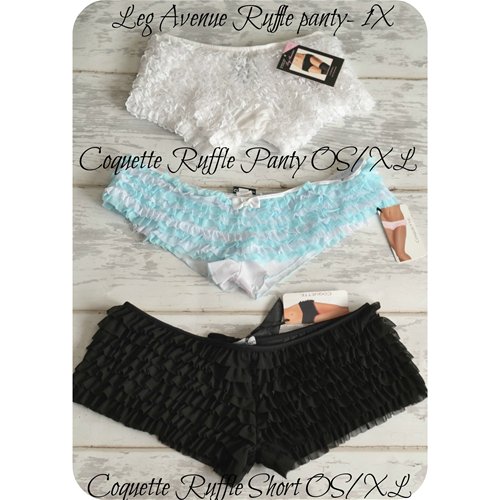 Coquette's sizing chart:
Size Bust (in) Waist (in) Hip (in)
Small 4 - 6 B 34 - 36 26 - 28 36 - 38
Sm/Med 6 - 10 B 34 - 38 26 - 30 36 - 40
Medium 8 - 10 B 36 - 38 26 - 30 38 - 40
Med/Lg 10 - 12 C 36 - 40 28 - 32 38 - 42
Large 14 - 12 C 38 - 40 30 - 32 40 - 42
X Lg. 14 - 16 D 42 - 44 34 - 36 44 - 46
O/S 4 - 14 B 34 - 40 26 - 32 36 - 42
1X/2X 18 - 22 D 46 - 50 38 - 42 46 - 52
3X/4X 24 - 28 D 52 - 56 44 - 48 54 - 58
Q/OS 18 - 26 D 46 - 54 38 - 46 48 - 56
Measurements:
Waist measured across unstretched: 17- 1/2"
Waist measured across stretched: 21"
Top front to top back stretched: 17- 1/2"
Top front to top back stretched: 22"
Length of total crotch area: 5-1/4"
Width of crotch panel: 2"
Satin Bow Size: Bow was made using 5/8" ribbon and is almost 2" wide
Side panel(Hip) Measurements from top to bottom: 4"
Leg opening unstretched to crotch: 12"- Total 24"
Leg opening stretched: 14"
My sizes are:
Breast/Bra Size- 38F
Waist- 37"
Hips- 42"
Height- 5'2
My panty size- 7
These panties stretch both vertically and horizontally. There is no elastic trim around the leg openings of the panty. The panty feels like a soft mesh material. Underneath the ruffles, the main portion of the panty is white. It's the same white material as the ruffles. There is a small seam edging on the leg opening. The thread used matches the blue on the panty.
I figured I'd give some information on removing the bow, just in case someone wanted to.
The bow on the panty could be removed by a seam ripper or small pair of scissors. It's sewn on well but could be removed without damage to the garment if you know to snip only the threads.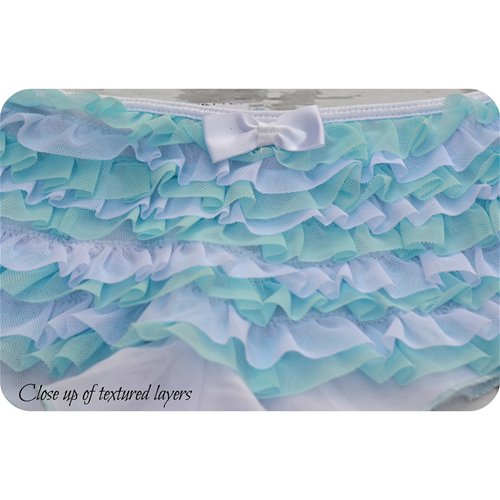 Experience
I've included a photo of all the panty colors that EF currently carries. They come in OSFM and Plus size which is actually (OS/XL)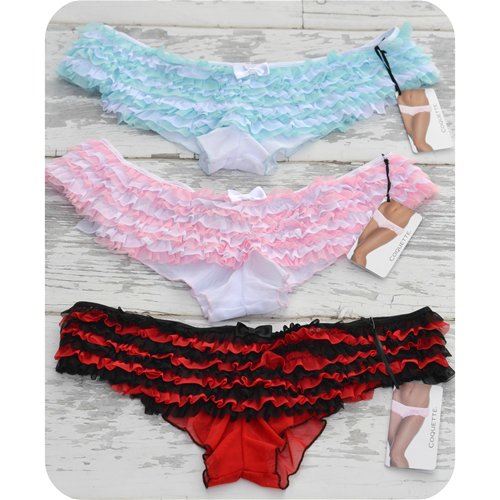 To me, these panties would be perfect for the pinup look, bedroom play and boudoir photo sessions. I wouldn't suggest to wear these under most clothing for everyday wear because they will give a bunched or lumpy look from the layers of ruffles. The layers are not weighty and they don't itch, irritate or dig into my body during wear. I will admit that these are the softest ruffles panties that I've ever purchased out of any other any brands.
The white portion of the panty is sheer. You can see the cotton crotch through the bottom of the panty.
There is a white crotch lining in these panties. It doesn't feel like cotton but it would work for protecting our lady parts from the seam directly underneath the crotch lining, which would probably be very itchy and bothersome if there were no lining.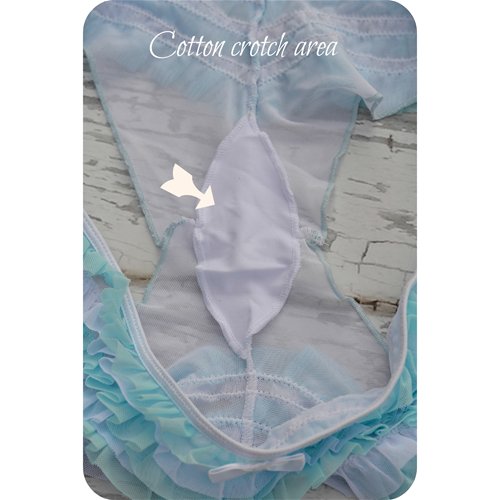 The panties fit me well. They sit on my hips just a little lower than my average panties but they can easily be pulled up or down to fit better. They are cheeky and show more of the behind than the Coquette short. The panty gives a nice look to the bottom. I tried to wear them with a basic garter belt but the garters didn't look quite right going over the panty because of the ruffles. It would be nice to see these come with removable garters. I've thought about adding my own loops inside to have these to wear with or without garters. If you're like me and have tons of garters in your lingerie drawer, this could work because most of my garters are similar in size and style. I'm always looking for a new way to wear things.
If you want to make a statement in the bedroom, these will certainly do the trick.
In my opinion, these panties would fit a size 12-16 the best. If you're like me and have some size in the back, but are petite in size and height; these should look great!
There are 3 tags in the back of the panty:
Bottom tag- Material and care tag
Middle tag- Size tag
Top tag- Coquette tag
After my video, I'm going to snip off the tags because I prefer to go tagless.
For the care of the panties, the tag suggests to hand wash only and hang to dry.
I usually use the
Dona lace lingerie wash.
The camu camu scent is wonderful and fruity. That would be my choice.
Once I wash the panties, I just hang on a plastic hanger in my bathroom. I always wash my panties before the first wear.
I really like these because of the comfort and look. Can't you tell from all the panties that are pictured above? I liked them enough to purchase them all. I only wished that EF carried the black ruffle shorts from Coquette because I would've liked to purchase those here instead. Solid colors would be a plus! I can only hope for these. I think they would be excellent sellers.
Follow-up commentary
1 month after original review
I'm still loving these sexy panties. These are so cute and sexy at the same time. My partner always asks me if I'm going to wear the sexy panties and he's referring to these. I'm so glad that I purchased these!
This content is the opinion of the submitting contributor and is not endorsed by EdenFantasys.com

Thank you for viewing
Blue and white ruffle panty
– sexy panties review page!