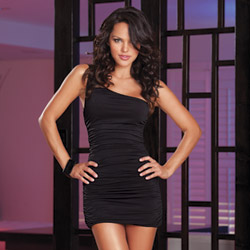 Reversible dress and thong
Dress
by DreamGirl
Runs Smallllllll
The DreamGirls reversible dress and thong is one of the few lingerie branded items that you can safely wear when you leave the house! It's good construction paired with it's tolerable length makes it a real winner out and about. However, be prepared to order a size up, as it runs pretty small! And no one wants a tight dress in a size too small!
Published:
Pros:
+good construction
+reversible
+super cute
Cons:
-runs quite small
-no larger size options
Use: We're all accustom to only being able to wear our Eden purchases in the bedroom, even if they are marketed as something you can wear out and about, lingerie brands often skip on quality and you will find your dress too short and crazy see-through. Dreamgirl outdoes themselves with quality this time! This dress is sexy, gathers nicely, and is not even slightly see-through. It can be worn in and out of the house, paired with heels and stockings you've got a sexy teasing outfit that you will grab time after time. The dress comes with a matching basic black thong.

Material/Style: Made out of 92% polyester and 8% spandex, your dress is going to have a tiny bit of stretch, but not a massive amount. There isn't tags in the dress because it is fully reversible, one side red, one side black. The material is not itchy, but it is kind of thick due to it's reversible nature. This has the potential to make it feel a little bit warm, especially when out dancing, but not uncomfortably so. One thing to note is although it isn't see-through, you can see one underside color (red if you are sporting the black side, black if you're sporting the red) in direct sunlight.

I think that many will be very pleased with the quality of the material. Dreamgirl products do occasionally tend to be prone to snags, but this dress isn't like that at all. It's fairly solid in construction, and I can actually honestly say I am impressed with the way it is made! I feel like it is something that will actually last, and something that I will wear in and out of the house.

So the quality is high, it even feels pricey because it is fairly heavy in nature. Turning it inside out will create a whole second look. The colors are vibrant, there are no itchy tags, and the only downfall is that it comes with those little hanging loops to keep it in place while on the hanger, and those are awfully annoying! The fabric doesn't wrinkle too much so you can cut those off and keep the dress folded and tucked away in a drawer.

As the images show, this is a one shoulder dress, showing off the sexy shoulders of a woman. It's attractive to wear, flirty, and fun. The way it gathers at the hips and tummy is designed to hide any imperfections, that is, if it fits. Grab a strapless bra, throw on whatever color suits your personality for the day, and stay in or go out in this fantastic little dress.

Sizing: The downnnnnfall. This dress runs litttttle. I don't love the way it fits me, at all. I can rock a tight dress, and I am not a super big girl...but this just doesn't fit me well. I am 5'8, 36C, and wear a 10 dress size and this dress just doesn't fit me right and there are no larger sizes than the large I bought. I suppose I will just need to hit the gym harder before I try to rock this dress ;)

The Dreamgirl sizing chart says this dress will fit someone with a size C-D cup, between 36-38" bust, 28-32" waist, 38-40" hips, at 130-160 lbs. Um, well that's a lie. And it is a little clingy over the tummy area, so it is erither going to hide or accentuate your tummy, depending entirely on how the dress fits your body. (the thong however fits a lot better and can easily accommodate a size large. In the size large dress, the inseam is 35 1/2" and the rise is 8-8 1/2" it is actually a decent length, and you can bunch it to make it shorter for sexy time at home, but there is very little stretch to the dress itself. It just...doesn't do it for me. It's much smaller than I would have expected for a large. Even looking at it on the hanger, it looks small. Just a fair warning. If it fits, it's super sexy...but I'd order a size up or pass on this one.

Care: Instructions do say to hand wash only in cold and hang dry. I would suggest following these rules to avoid damage to the construction of the dress.

Packaging: Your dress will arrive in a box, on a plastic dreamgirls hanger, tucked into a plastic bag.
This product was provided free of charge to the reviewer. This review is in compliance with the FTC guidelines.
Thank you for viewing
Reversible dress and thong
review page!