Simple, Hot, Form-fitting...Everything You Want in Good Clubbing Attire.
This is an awesome, sexy dress for a classy or trashy event. Really, it is great for anything you want. The black can be formal, while the red will have all the guys looking at you. With good quality and craftsmanship, this dress will last a long time. This is seriously a great bargain that will be getting a lot of use.
Published:
Pros:
Good length, form-fitting, two dresses in one, cloth is thick and not sheer, good bargain
Cons:
Loose strapless side slides down, dress may be annoying to put on, tighter than other dresses
Product Information

Size: Small
Material: 92% polyester, 8% spandex
Care Instructions: Hand wash in cold water, line dry.
Measurements: Bust: 20"; Length (top of shoulder to bottom hem): 33"; Waist: 20"; Bottom: 26" ***This is very stretchy, so these unstretched measurements are just rough guidelines of the dress size.
Description: This is one-shoulder sleeveless ruched dress in black or in red. It's reversible! You get two dresses in one - or four, if you decide to switch the sleeveless shoulder from one shoulder to the other.
Packaging: Plastic hanger, plastic clothing bag, black thong

Initial Impressions

I was so excited to try on this dress. It looked sturdy and felt like good quality (smooth and firm while also stretchy). The black and red sides gave a shine due to the polyester and spandex blend. There were no tags, since this is a reversible dress. It is a HOT dress!

Pros

1. Good length: I'm 5'3", and this dress falls halfway down my thigh. I can stretch it to go over my knees since it's ruched. As it's tight fitting and snug, I'm not worried that it will ride up at all. Due to its ruching and extra fabric, this dress should fit a variety of heights.

2. Fits your body just like you want it to: It hugs yours curves, your butt, and your boobs. The ruched fabric hides your tummy fat. The fabric is stretchy and smooth enough to be incredibly comfortable.

3. Shoulderless side is not extremely tight: In most strapless or one-shoulder dresses, the shoulderless side may be a bit tight to compensate for lack of support. This tightness usually results in highlighting the fat under the armpits. This dress does not do that at all. It's pretty loose in that area, so your skin remains flat. Because of the looseness, the strapless side also has a tendency to slip down, so I recommend wearing double-sided tape there.

4. Two dresses in one: This may seem obvious, but it's still a pro. The black looks classy, and the red looks hot. Choose whichever one you want for the night. Wear it on multiple occassions for multiple reasons. This isn't just a club dress - wear it to a nice event, and you'll blend right in. You can also switch it up by changing the strap from one shoulder to the other, since the back and front of the dress are exactly the same.

5. For once, the cloth is thick: Because this dress has two layers (the red and the black), the dress is thicker, so nothing is sheer. Be confident that no one can see your undies, regardless of the color.

6. It's a good bargain: $40 may seem a bit much for a clubbing dress, but with a 25% discount (usually apparent on EdenFantasys), you can get the dress for $30. $30 for two form-fitting, sexy dresses isn't bad at all.

7. No underwear lines: Ruching does wonders, such as disguising underwear lines. Wear whatever you want underneath, and it won't matter.

8. Craftsmanship looks great: All the seams are in place with no loose ends.

Cons

1. The loose strapless side is actually quite loose: As I mentioned before, the strapless side isn't well supported. It's actually pretty loose, and small movements may make the side slip down, inadvertently revealing your boob. As I mentioned, double-sided tape should do the trick.

2. Putting on the dress may be annoying: The dress doesn't take long to put on, but it can be a bit frustrating. I suggest putting it on from the feet up rather than from the head down, because putting it on from the head down bunches up the dress and makes it inflexible. Once inflexible, it's really hard to get the fabric to move over your shoulders, chest, and down your hip. Additionally, because it's ruched and reversible, the "lining" of the dress is pretty loose. For example, when you are wearing the dress in the color red, the black fabric functions as the lining. But since it's loose, it can get dragged down and make weird lumps under your dress. You'll have to spend a few minutes straightening everything out.

3. It's tighter than most other ruched dresses: Again, since it is double-layered, the dress has two layers of tight fabric bunching up around you. If you aren't comfortable with tight fabric, this dress might not be for you. For me though, it was easy to move around in.

Conclusion

I feel hot and sexy in this dress. I can move around without the fear of something accidentally showing because the dress is thick enough, and the ruching prevents the bottom from riding up. I really just love this dress, and I am excited to wear it out soon.
Experience
My sizes
Dress size: XS/0/2 (for mainstream brands)
Height: 5'3"
Weight: 117lb - 120lb
Bust size: 32C
Here are pictures of me wearing the dress. I will be wearing this out next week!
(Note: I didn't pull the back down when I wore the dress on the red side, so the back is covering up the black lining even though it isn't supposed to.)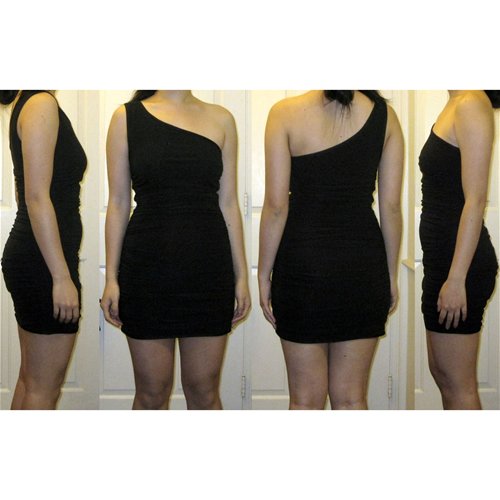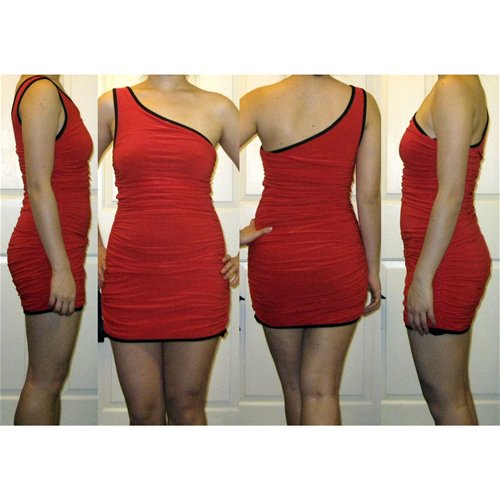 Follow-up commentary
30 days after original review
Love, love, LOVE this dress! I've worn it two times now and will be wearing it another time in a matter of hours. While it's short, it didn't ride up at all during an entire night of drunken debauchery. Furthermore, it works really wear with cropped leggings, if you want some more coverage. I didn't even have to wear tape and the sleeveless side didn't slide too low. My friend, after seeing me wear it, even borrowed it for a night of dancing. Overall, an A+++!
This content is the opinion of the submitting contributor and is not endorsed by EdenFantasys.com

Thank you for viewing
Reversible dress and thong
review page!