Sailing on Bland Waters
This sailor costume might work out well for a photoshoot, a short costume party, or the brief interim before sex - but it doesn't hold up when being worn for more than half an hour or so. The bust droops and falls off, the loops under the arms are itchy, the hat looks dumb, and the shorts display panty lines. For a quick visual impression, though, it's quite cute and flattering.
Published:
Pros:
Cute, flattering.
Cons:
Panty lines, bust droops, unsupportive, itchy underarm loops, goofy hat.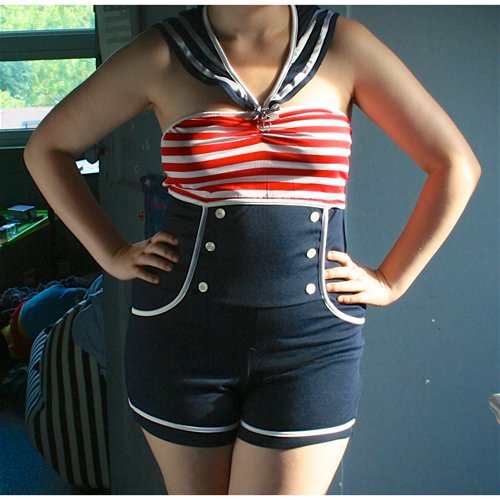 Coquette's Pinup Sailor costume is a cute way to get into a nautical mood. It's modest enough that you could wear it to a costume party or on Halloween without people giving you weird looks, but it's also sexy enough that you could wear it for a bedroom roleplay scenario if you wanted to.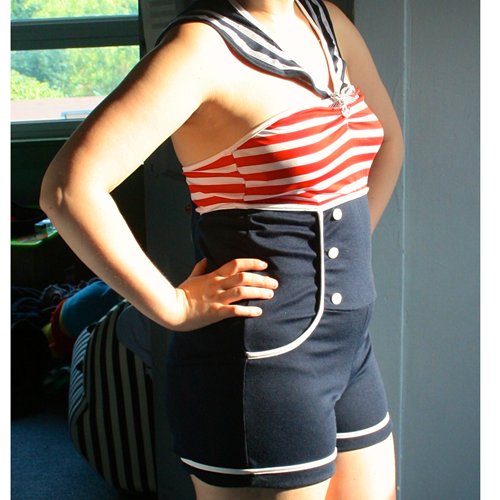 The main part of the costume is a one-piece romper. In the photos, it might look as though the costume is a two-piece, but the "shirt" part (red striped) is sewn to the bottom part (high-waisted navy shorts). This makes it somewhat tricky to remove in a hurry, which might be an important consideration for people with bowel or bladder issues that require them to go to the bathroom on short notice.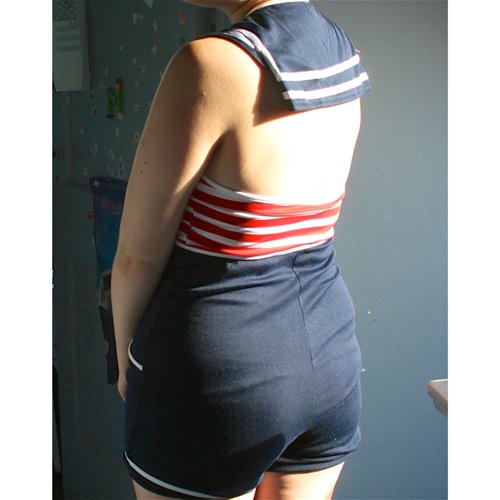 The entire costume is made of a thin, slinky polyester. It's not so thin as to be translucent, so if you want to wear a strapless bra underneath and don't want it to show through, that should be fine. However, the material is thin enough that pantylines are slightly visible through the shorts part of the suit when I wear it.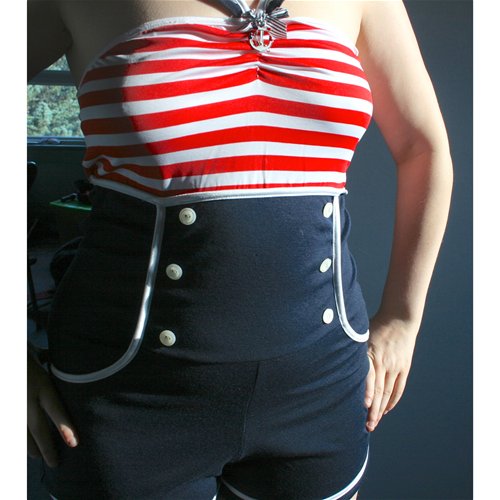 I'm wearing the "M/L" size, which I chose because I usually wear a medium on top and a large on the bottom (I'm fairly pear-shaped). I'm 5'4" and weigh 150 lbs; my bust is about 34" around, my waist 32", my hips 40".
The costume is a good fit. In the waist and hips area, it feels tight enough to be sexy but not so tight as to be unflattering. My bust is on the smaller side of what would be acceptable for this costume's M/L size, and so the top part of the costume is prone to slowly falling down over time while I wear it. If you're a smaller-busted girl and don't want to deal with "wardrobe malfunctions," I wouldn't recommend this costume.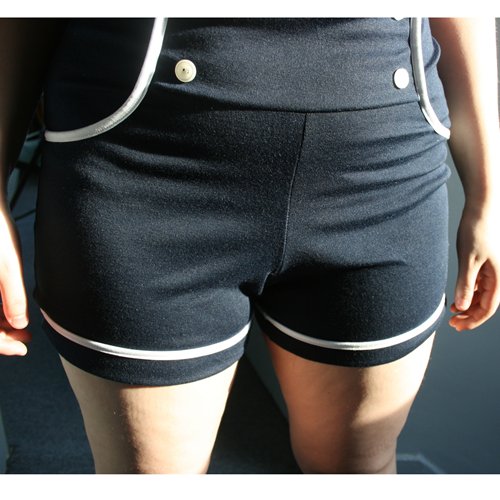 The shorts have a wide waistband that's flattering for girls with chubby bellies, like me. The darker color also makes it a flattering choice. The buttons on either side of the belly panel are real buttons, but they're just for show - they don't actually do anything. Same with the "pockets" - they're not real pockets, just visual approximations of pockets, and if there were real pockets they probably wouldn't look very good with stuff in them.
Some commenters have expressed concern that the shorts might be prone to giving you "camel toe." They do, a little bit, but it's not too bad. And it's not uncomfortable or painful, the way camel toe sometimes is; it just doesn't look too great when it happens.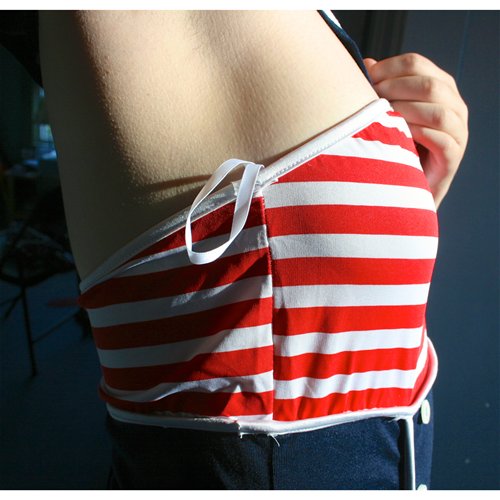 Under each arm of the costume, there's a little loop of white polyester that's meant to assist with hanging up the costume. If hanging it up on hangers isn't important to you, I'd recommend cutting these off ASAP, because they're very itchy and uncomfortable. They also have a way of escaping and hanging out of the costume in a weird-looking way.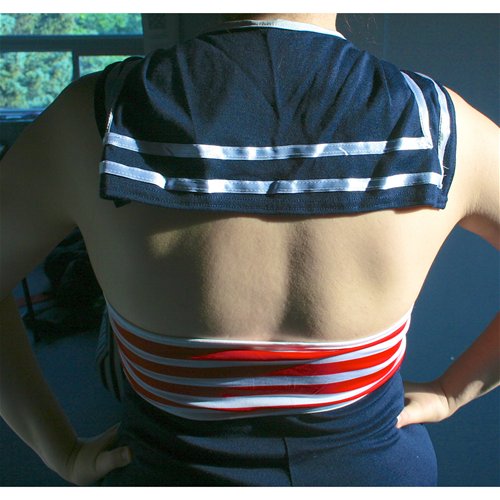 The back part of the costume's neck/collar just sort of hangs over the back of the neck and down onto the shoulderblades. It doesn't attach onto the top of the bodice in the back. This means that it's really not "supportive" at all, if your breasts are any bigger than an A-B cup. My boobs are on the smaller side and I don't feel well-supported by this costume. Wearing a strapless bra with it makes it slightly better, but the top of the costume still tends to droop and fall off of me.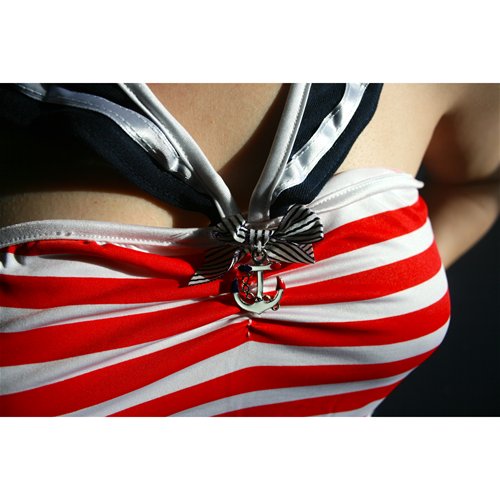 The front of the costume has a really cute little ribbon bow, with a small plastic metallic anchor. The anchor is adorable but has a tendency to get caught on fabrics, so be careful when hugging people, making out, etc.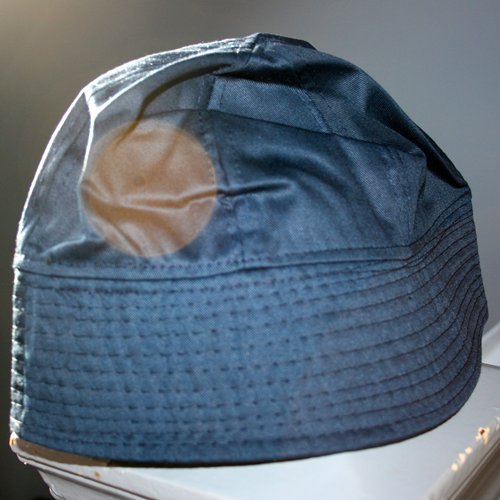 (Please excuse the lens flare in this image!)
This costume also comes with a navy sailor's hat. It's utterly goofy and I think it looks stupid on both me and my boyfriend (we both tried it out, to confirm my theory that it looks dumb on everyone). I realize that it adds to the sailor persona, but it's just not sexy or attractive. If you don't mind being infantilized and possibly laughed at, then go ahead and wear it.
Follow-up commentary
3 months after original review
I considered wearing this to a costume party on Halloween, but as soon as I put it on, I knew it wouldn't work. The top is saggy, the hat is goofy, and the whole outfit is pretty unflattering on my body type.
This product was provided free of charge to the reviewer. This review is in compliance with the FTC guidelines.

Thank you for viewing
Pin up sailor
– costume review page!