Seduce Me Wench!
Ye be wanting this piece for a swimming good time! Great material with that sexy wench look that your partner with shiver your timbers for!
Published:
Pros:
- Sexy Look
- Comfortable Materials
- Good Quality
Cons:
- Thong is Useless
- Waist part could be longer...
Coquette's Babydoll & G-Sring in Plus Sized (OS/XL)
I knew I had to have this when I saw it because my fiance thinks he's a pirate, and this looked like what a wench would wear under her dress if they could afford the lace. If you threw a pirate's wench into modern times, you KNOW she'd be loving this! Although there are some adjustments that could be made, this is still a great piece!
Coquette's Floral Print Lace Babydoll & G-String comes in a very cheap plastic bag with a cheaper plastic hanger. So far, I've noticed they all do. This really doesn't concern me, or matters, because Coquette makes some nice stuff that isn't going to be damaged by the quality of the packaging. The extra tag companies put on items is always annoying, but Coquette seems to put theirs on a ribbon clasped on with a safety pin. This makes it scare-free so you can remove it without tearing your lingerie!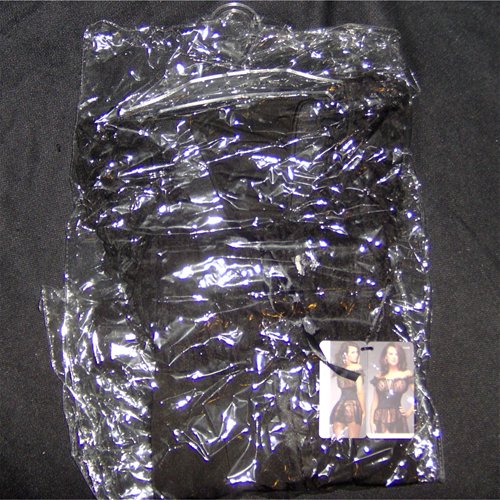 G-String
The best way I can describe the G-String is "useless". Most G-Strings/Thongs I've tried for plus sizes are extremely stretchy, but alas, this one really isn't. If you have big hips, as most plus sized ladies do, the panties will render completely useless. That being said, I'm very happy they chose to go with a satiny feel material instead of the lace that makes up most of the babydoll. The whole piece is soft, just not very stretchy.
Width of band NOT stretched: 17" (34" Around)
Width of band stretched: 23" (46" Around)
Length from top of G-String to where the material meets the string: 12"
Width from top of G-String from where the material meets the beginning of the string on each side: 5"
I won't even bother putting a picture up of me in this, because it dug so much into my hips I couldn't keep it on long enough.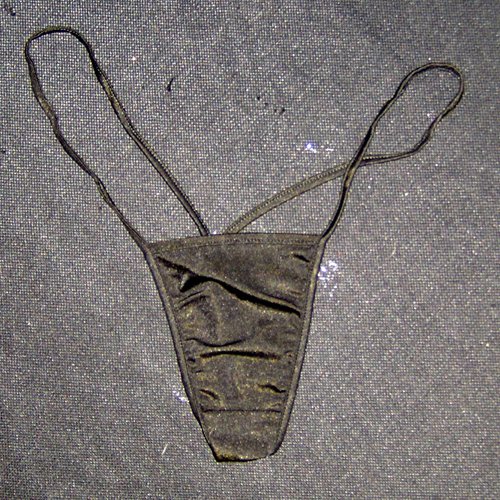 Babydoll
I pretty much expect lingerie to fit awkwardly on me now, so I wasn't surprised that I had a couple issues with this. However, a couple issues is still a win! This piece is 100% Polyester and with my sensitive skin I noticed no irritation. Let me get the measurements out there before I get into how this fits.
From armpit to armpit NOT stretched and laying flat: 19" (38")
Stretched: 25" (50")
Waist NOT stretched and laying flat: 16" (32")
Stretched: 24" (48")
Length of waist: About 7"
Length from shoulder to end of skirt: About 34"
This piece features a ribbon at the top of the bust area that you can leave undone for an open look. It is not attached to the elastic though so you cannot adjust how tightly this will fit on your bust. The bottom piece is also open with no ribbons to adjust, but because it's open it will fit all hip sizes. The waist has 7 hook & eye closures. From pictures, I was so sure this had ribbon lacing, but it turns out it was glare from the ribbon that covers the clasps. Therefor, there is no way to adjust the waist. Because of the stretch this shouldn't be a problem, as it stretched to fit my waist comfortably enough. The waist material is really soft and there is a piece of material to keep the clasps from rubbing against your skin. It says the lace is a floral pattern, but it seems secretly done so it's not that noticeable without closely looking. I LOVE this as I'm not too fond of overly girly things.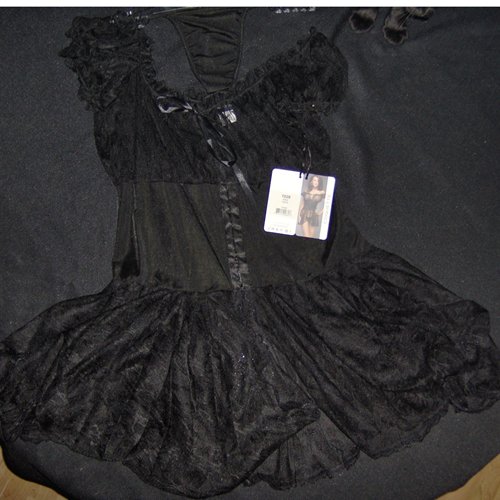 Experience
Fit
My measurements are as follows:
Bust: 42 C
Waist: 40
Hips: 50
Coquette's Size Chat for OS/XL:
Bust: 40-48
Waist: 32-40
Hip: 42-50
So I was at the end of their size chart for this, and it DID fit. However, the waist was tight enough to the point I was afraid to move too much and pop the clasps off. This hasn't happened yet though, haha. Because I am a plus sized lady with a big tummy, the waist part was much too short to flatter me. If they would have made the waist about 3" longer, it would have covered the pouch below the belly button. With the length as short as it is, it comes down to my belly button when I don't have the waist starting under my bust. With it under my bust it comes about 2" above my belly button. This problem is the main reason why I won't wear it often. However, the rest of the piece is very flattering and sexy. If you're waist is at least 4" smaller than mine, this will make you very happy! Longer torsos, beware! I'm only 5'3" and for my plus sized figure, it didn't cover the areas I hoped it would.
As for the sleeves, I love that you can wear them up or down. I haven't had any problems with them staying where I want. Because of the elastic that goes through the arms and over bust area, it's easy to rearrange this. This would look great paired with some thigh high fishnets or solid black stockings and knee high black boots!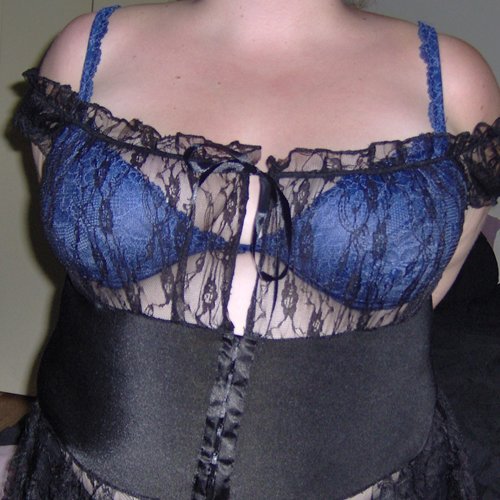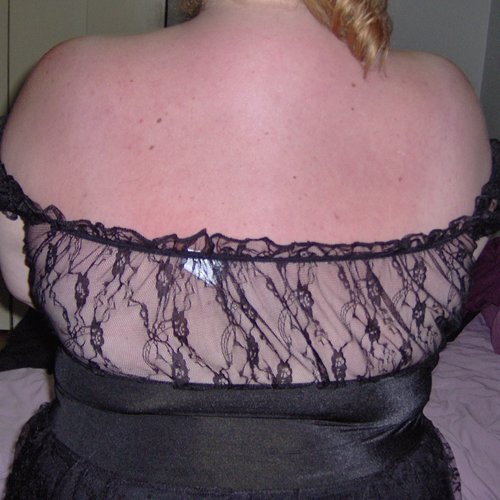 Because of the waist, I can only wear this when I'm the dominated and not moving too much. That's unfortunate but I still love the overall look. I don't open the waist because I wouldn't be able to get it on myself if I did, but I can shimmy it over my head without too much trouble. The G-String being useless also doesn't bother be because I really don't care wearing them anyways. So if you're in the market for a sexy, wench-like piece, this is for you!
Follow-up commentary
2 months after original review
Gosh I love this. Even though I think I look too fat in it, the guys are loving it. This item has maintained it's condition throughout wearing it during sex and many washings. Although I wish it had more adjustable qualities in the waist, it's a great piece.
This content is the opinion of the submitting contributor and is not endorsed by EdenFantasys.com

Thank you for viewing
Floral print lace babydoll and g-string
– babydoll and panty set review page!