Sex Kitten Worthy!
This brings out the sexiest sex-kitten in me, and while wearing it, I feel the need to have a flogger in hand. I'm very happy with the quality, durability and fit of the chemise. If the design is up your alley & you're comfortable in a very figure-highlighting chemise, then this will be a win for you too.
Published:
Pros:
Sexy.
Good quality.
Flattering mostly.
Cons:
No underwire.
Longer would've been nice.
Crappy thong.
This sexy, shiny black chemise with laces up the front & back is designed to give a somewhat fetish-y "bad girl" look, and it does so well. A hanger and useless, matching thong is included.
Let's talk design. This chemise is entirely black with a hint of shine to it in order to give it a leather appearance. What makes it sexy is the laces up the back and front.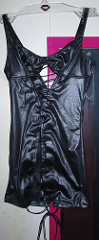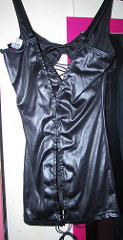 This is made to be form-fitting, showing off every curve. The laces & straps can be adjusted, but besides that, there's no other adjutments or support, which brings me to the bust. This would've been just perfect had there been underwire to keep it in place, and keep my breasts from popping out the space under the bust.
The laces looked slightly like shoe strings from a distance, but are very springy elastic strings, much like what's used to make some jewelery (think bracelets). The lace-up begins directly under the bust all the way to the hem, and in runs the entire length of the back. They are laced through black eyelets and are plenty long enough in the back. When on, the strings in the back hit the back of my knees, so that'll be plenty for larger people to adjust with. On the other hand, the front had only enough for a small bow to be tied, so bustier ladies will not be pleased. Not to mention, you'd likely fall out of the bust anyway, if larger than a small C. There's a little ruching between breasts.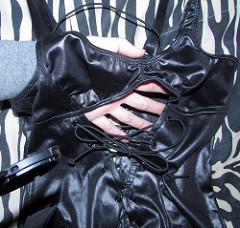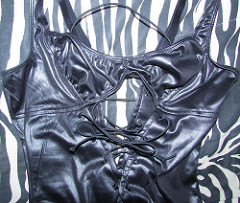 Surprisingly, I was able to get in & out of this chemise fine without needing assistance. I can slide it over my head or slide into it legs first. When I first tried it on, I got the laces adjusted and reached behind to tie the back bow at the hem of the chemise, and tying the front bow, which is right under the bust was no problem. Then, I can slide out of it without untying the laces, so it's easy to slide into next time. Since the laces are so springy, taking it off didn't cause it to stretch and lose its shape, requiring me to re-lace the next time I wore it. Now I can slip it on and it's already adjusted where needed.
The chemise is a lovely, sexy fit. It's almost everything you think of when the word "sex-kitten" comes to mind, for me anyway. The shine to the fabric does enhance your figure and highlights every curve, even my love handles, and the slightest thong line still shows through, but it's still flattering enough. It hits right below my crotch and only half-way past my butt, leaving half exposed. The matching thong is just perfect with this because the crotch & butt peeks through the laces. Unfortunately, the stupid thong is your typical, cheap, saggy thong, so it sagged unless I pulled it up real high -- not sexy. It does have a crotch liner.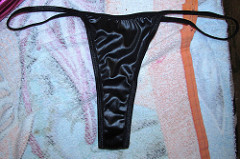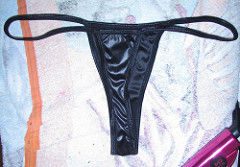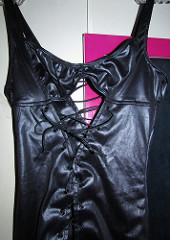 Material & Care
Thong & Chemise is 100% Polyester.
The material is slinky, comfortable and breathable, which isn't what I expected from this. I was surprised at the high quality! It's easy to slide into and pretty comfortable to wear, although the tighter nature of this makes it less comfortable than your flowy babydoll. However, it is extremely stretchy. Unlike some of this shiny, black "faux leather" material, this one doesn't stick together & feel rubbery. It feels like a thick spandex. I've taken a photo to show the slinky inside material: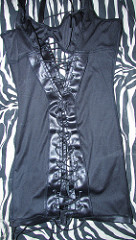 Handwash cold water, line dry. 100% Polyester.
Made in China
Experience
...Continued...
Chemise's Measurements
This chemise is size small. It's tough to give exact measurements since this is going to fit everyone differently due to it being adjusted by the laces. What I'll do is measure the strips of black material on either side of the laces. Remember that the front laces are shorter than the back, so you don't have as much room to work with. If you're more than 2-3" wider than me, you may run out of string or will have to pull it tightly. However, in this case, you can take the back laces out and put them in the front or loosen the back more than the front. This will give you extra string in front. With this chemise, there's not really a case of it being too small anywhere from the bust down since you have laces, but the wider you are, the more skin will be revealed in the center, where it laces, just as a corset works. The real issue though, would be the bust. It's going to be too small on someone larger than me before it ended up being too small anywhere else. So judge what size you'd need off my measurements.
Each panel of fabric on either side of the lace up measures 5 1/2" across. This goes for the entire length from right under the bust to waist. It's an extra inch wide at the hem to give you more hip room. The back two panels on either side of the lace up measures the same -- 5 1/2".
Length from top to hem: 21".
It's super stretchy so that it'll form to your body. It's one of the tighter pieces of lingerie I own. This size small will fit a few inches larger than me since the laces are totally adjustable in the waist, hip & butt, but the chest is what anyone larger than a small C would have to worry about. Also, when I first put it on, the laces were too tight on the back bottom, so it was cutting into my butt and I had to loosen the laces at my behind. This may be an issue for those with larger hips/butt than me. If you're much bigger than my measurements, I'd recommend ordering up a size.
I do wish it was an inch or two longer so it'd hit right at the bottom of my rear instead of halfway. Tall people may find that the length fits more like a shirt. Another issue I have is the thong. This is a piece that deserves a matching panty, and the thong blows.
And another minor note: while pulling this over my head, it snagged on my belly button ring, jerking the dangling charm & sending it across the room, so those with similar piercings beware! When sliding it on too quickly, the laces can catch. Packaging
This comes on a hanger with plastic wrap over it. The tag has trashy photos of someone wearing it, but can be removed for gifting purposes.
This content is the opinion of the submitting contributor and is not endorsed by EdenFantasys.com

Thank you for viewing
Mistress of the dungeon chemise
review page!