Sexy black chemise (size Small)
Are you looking for something to attract your partners attention, are confident in your body, and love sexy black lingerie? If so, then this chemise could be for you. My husband likes it so much he wants me to wear it everyday. Be warned that this piece runs small and may not be suitable for women with larger breasts.
Published:
Pros:
very sexy
Cons:
tight form fitting.
What it is
This set by Dreamgirl includes two pieces. A black lace-up style chemise and matching thong.
Dream Girl's Size Chart that is listed on Eden
Size Cup Size Bust (in) Waist (in) Hip (in) Inseam (in) Rise (in) Weight (lb)
Small 2-6 A - B 32 - 34 24 - 26 34 - 36 34½ 7 - 7½ 90 - 120
Medium 6-10 B - C 34 - 36 26 - 28 36 - 38 35 7½ - 8 120 - 140
Large 10-14 C - D 36 - 38 28 - 32 38 - 40 35½ 8 - 8½ 140 - 150
Sizes Eden Carries
Eden carries this chemise in S,M,L, and XL. For some reason, Dreamgirl does not list the size chart for XL on here, but I found it on their website. That is when I noticed that they have updated their size chart for the waist from what Eden has listed and the weight on Large. They also list international sizes so if you live outside the US you can find the size chart here. [http://www.dreamgirldirect.com/Default.aspx?PageID=10362470&A=SearchResult&SearchID=1236832&ObjectID=10362470&ObjectType=1.]
Dreamgirls Updated Size Chart
Size Cup Size Bust (in) Waist (in) Hip (in) Inseam (in) Rise (in) Weight (lb)
Small 2-6 A - B 32 - 34 25 - 27 34 - 36 34½ 7 - 7½ 90 - 120
Medium 6-10 B - C 34 - 36 27 - 29 36 - 38 35 7½ - 8 120 - 140
Large 10-14 C - D 36 - 38 29 - 31 38 - 40 35½ 8 - 8½ 140 - 160
XL 14-16 D - E 38 - 40 31 - 33 40 - 42 36 8½ - 9 160 - 180
My Sizes
I ordered this chemise in a size small.
Size: 4 Pants 6 underwear
Bra Cup: AA
Bust: 32"
Waist: 26 1/2"
Hips: 34"
Weight 118
Height 5'6"
Packaging
The chemise and thong came packaged with a normal, black plastic, non-padded hanger with Dreamgirl written across it. The entire outfit was on the hanger in a plastic dress bag that was taped at the bottom. The chemise had the Dreamgirl label attached to it with a picture of the model we see on the product page on the front and the size, color, style, and UPC code on the back along with their website information. The following picture will display the chemise and thong exactly as I received them and their packaging.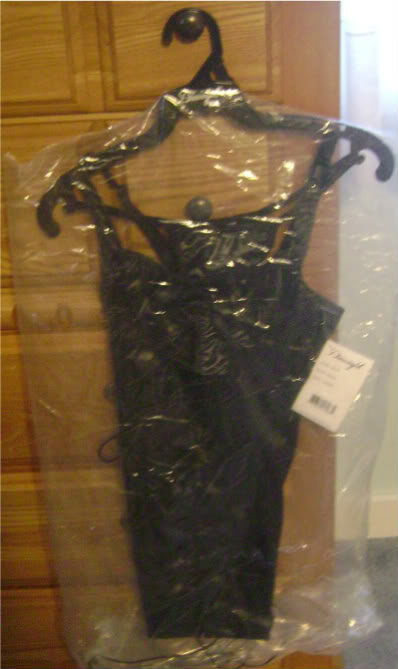 As the following pictures will show, this chemise is very form fitting and fits snug to your body and prominently outlines each and every curve your body has. It is most definitely not made for those who are self conscious about their bodies. The first picture is from the front and I am wearing the included thong. The second picture is from the back and I am wearing
Coquette's Wet look booty shorts
.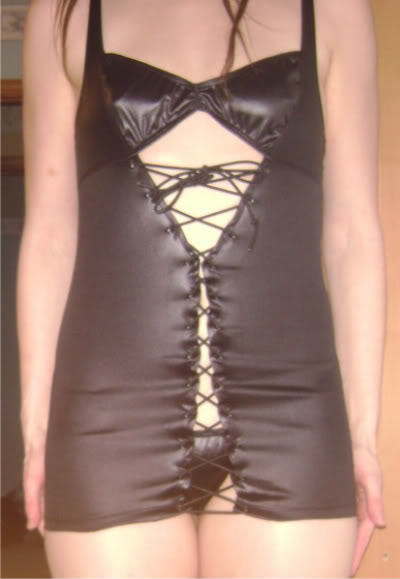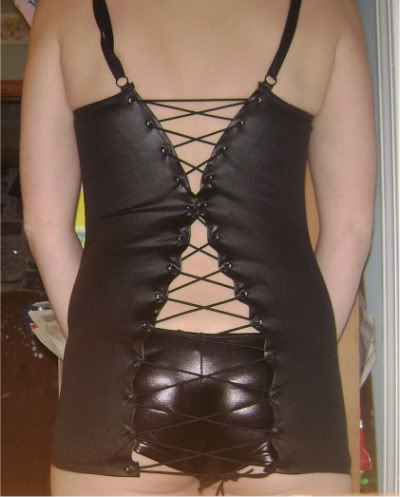 Material and Care
The chemise and thong are both made out of 100% polyester in China and the tags say to hand wash in cold water and line dry. My husband at first thought it looked liked leather, but when compared to my leather jacket, he decided it wasn't anything like leather. He concluded that it has a satin like finish. The thong and chemise had a light smell to them that we concluded was very similar to the smell of balloons. It is not an overwhelming smell, but we could smell them when we brought the pieces to our nose. There were no loose threads on this material.
Chemise
The chemise has adjustable bra style straps and the bra section is a very small triangular space which is perfect for my extra small breasts,
but may not be ideal for those with larger breasts.
The bra does not offer any additional underwire, support, or padding so it is not recommended for those who need the support. It has 12 eyelets down both sides on the front and 13 eyelets down both sides on the back. The elastic string that criss-crosses through the eyelets and ties is very stretchy. Upon receiving, the chemise was already laced up, but they did not have it equal on both sides which annoys me so I relaced it. After I relaced it, there was about 23 1/2" of string left over for a bow once it is laced up all the way. This was entirely too much string for me because I have never learned how to properly make a pretty bow so I ended up cutting some of the string off. While unlaced, I decided to measure the strings and chemise. The following information will show my results.
Experience
Continued......
Overall the string measures 87" long.
Tightened all the way, the bra strap measures 7" long.
With the bra strap tightened all the way, the chemise measures 26" long.
Loosened all the way, the bra strap measures 14 1/4" long.
With the bra strap loosened all the way, the chemise measures 29 1/4 long.
Laying flat without any laces from side seam to side seam the chemise is 10 1/2" across.
I opened the flaps and the material is a total of 22 1/4" across.
The slit that covers the breasts is 4 7/8" long by 6 1/2" wide.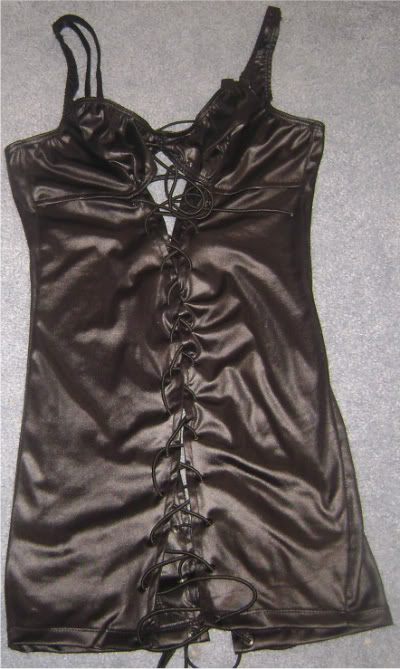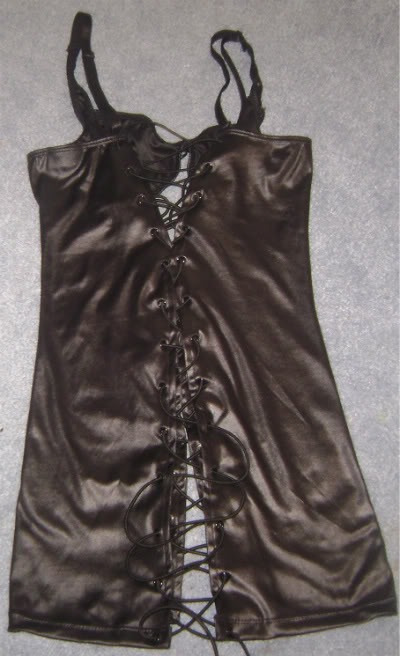 Thong
The thong has the same finish as the chemise and matches wonderfully. It has a 4" long by 1 1/4" wide liner that is not sewn shut so you could potentially put in a small bullet or clitoral vibrator in the slit of the liner for additional stimulation. I'm not a fan of wearing thongs, so this one looks like your average thong to me. As in normal fashion, the front of the thong has more material than the back. The front measures 7" long by 4 1/2" wide at the top and 1 1/2" wide. The back is 7" long by 2 3/4" wide at the top and progressively gets smaller toward the bottom which measures 1 1/2" wide. Laying flat, the strings of the thong that sit on your hips measure about 13" across. It will only stretch to about 25 3/4" wide. The following pictures will show the thong from the front and back.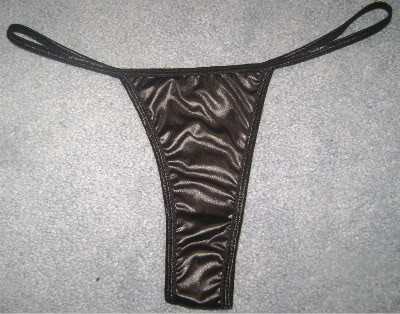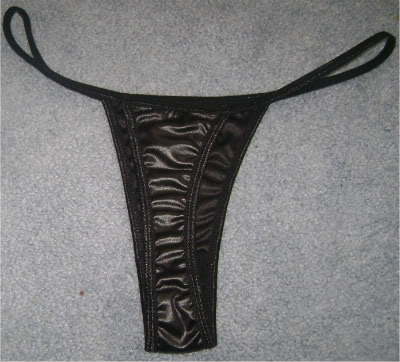 How I wore the chemise and my husband's reaction
My husband says it reminds him of a mini-dress, but not something you could wear outside the house due to the criss-cross back that shows your butt. He made the comment he wanted to see me in this every day when he walks in the door from work so I guess it meets his approval. It is most definitely designed for bedroom use to feel sexy and get your partners attention. Without the panties, you can wear this while being intimate with your partner.
Final thoughts
I really like this chemise and find it to be very sexy. It is very tight fitting so if you are on the edge of Dreamgirls new size chart, I would recommend going up to the next size. I'm on the higher end of the weight and waist chart for size small, but I am able to wear it without any complications. I just slip it over my head and cinch it up to as tight as I wish. I know the strings allow for some adjustability, but the material does not have enough stretch in it to allow for much more room than what is recommended on the size chart. The material is not scratchy which is very important to me when choosing a piece of lingerie. I want to be comfortable as can be in the very limited time I am going to have it on.
Additional thoughts
According to Beck and Stainedclear, the product runs small. Also, if you are very busty, I want to mention again that the bra area is very small and may not be suited for larger breasted women.
Follow-up commentary
6 months after original review
I've gained a little bit of weight and no longer can get into this outfit. It was very form fitting to begin with, but right now it just doesn't look sexy on me. I still like the design of the chemise and can't wait until I drop my weight so I'm able to wear it again.
This product was provided free of charge to the reviewer. This review is in compliance with the FTC guidelines.

Thank you for viewing
Mistress of the dungeon chemise
review page!