Sexy, but thin!
These stockings are a decent cheaper alternative to some of the higher priced stockings available. Though they will require extra caution and care and may not last as long as higher quality products, they are attractive and very comfortable to wear.
Published:
Pros
Comfortable, soft, pretty lace, low price
Cons
Very thin, fragile, garters are necessary
A few months ago I bought a white chemise with garters, which begged for some matching white stockings. I purchased these, hoping that they would match well and would be durable. These stockings are made by Coquette and are constructed from nylon with a thick lace border at the top. They are available in both white and black, though I opted for the white. The lace does not have a silicone back, and garters are necessary to keep them up, otherwise they will just keep sliding down your legs.
The nylon is very soft and silky to the touch and they are very comfortable to wear. The lace is also very comfortable and stretchy. These stockings are very thin, however, and I am very nervous that they are not going to hold up. The quality and durability of the materials are inferior to most store bought pantyhose and stockings. You should make sure your fingernails and toenails are trimmed before attempting to put these on, because their very delicate construction ensures that they will get runs in them very easily. The toes on these are also not reinforced, meaning extra caution should be exercised.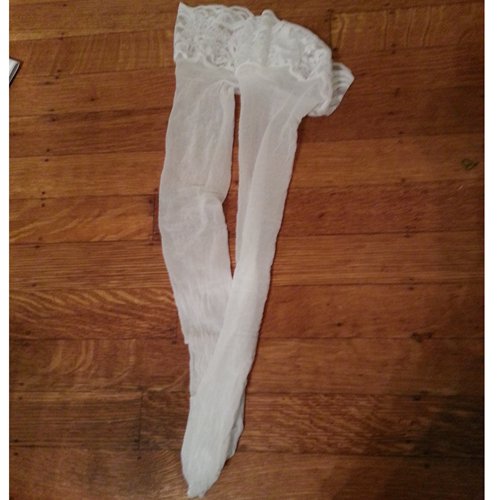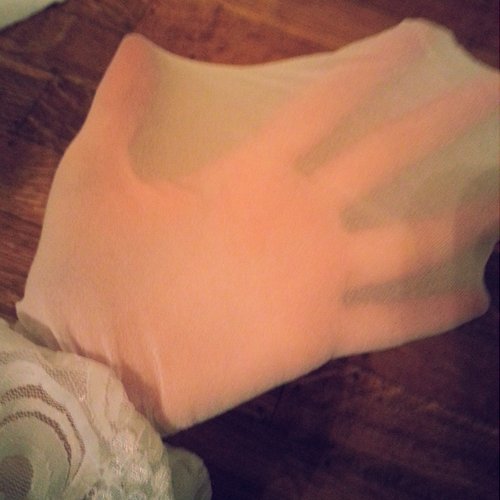 The lace on these is very pretty. There is a thick lace border at the top, which is a floral print with swirled flourishes. It feels soft and comfortable against the skin and is not at all itchy. The lace feels slightly more durable than the nylon body of these stockings, though it is also somewhat fragile. I was a little nervous when putting the metal garter clips from my chemise on these stockings that I would damage the lace, though thankfully the lace held up.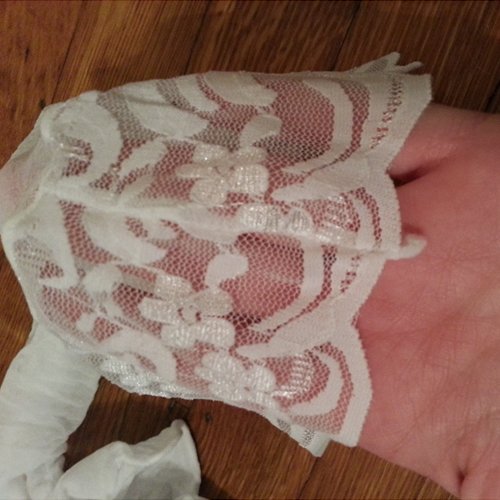 I purchased the One Size version of these thigh highs, which is recommended for sizes 4-14. I am a 0-2 and these fit me well, so those smaller than a 4 may also have success with these thigh highs. I'm 5'6" with a 34" inseam and these reached about two thirds of the way up my thighs, so I would not recommend them to women who are probably below 5'1", as these may bunch. These should be a good fit for taller women, however. I do believe the upper limit of a size 14 is accurate for the One Size Fits Most, though an XL option is offered as well for many who wear above a size 14.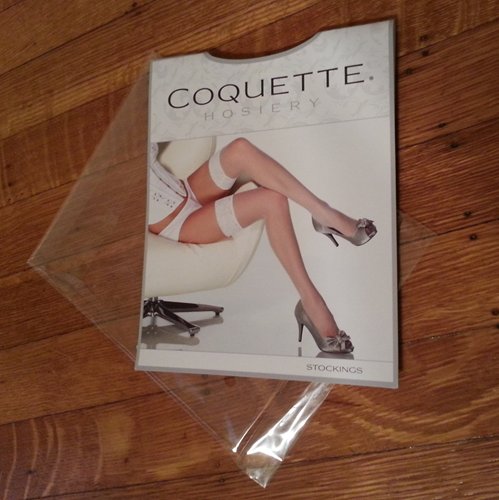 These come packaged in a plastic sleeve with a cardboard cover and are wrapped around an inner piece of cardboard. The packaging can't really be used for storage and can be recycled. Because they are so fragile, these stockings should be hand washed and carefully hung up or laid flat on a towel to dry. I am not sure that these are going to hold up well, but I do think I will get at least a few uses out of them.
Experience
Overall, with these I think you get what you pay for. I have a few pairs of more expensive stockings from Edenfantasys and other retailers, and the quality of these is not nearly as nice. On the other hand, in comparison to some of the stockings that come free with lingerie sets, these are nicer. I think they are worth what I paid for them and are a decent set of low-priced stockings, but there are nicer sets out there if you're willing to pay a little more.
This content is the opinion of the submitting contributor and is not endorsed by EdenFantasys.com
Thank you for viewing
White sheer thigh highs with lace top
review page!