Sexy Dom look to this waist cinch!
For a sexy kinky outfit, this cinch will fit the bill. It is quite adjustable as the strings that hold it together are quite long. I suggest taking one size smaller, for if you are looking for a tight fit, getting your exact size will fit your exact size, no matter how tight you go with the strings in the back. It might be a bit too much care for those who do not like to hand wash their lingerie but it is such a worthy item to add to your lingerie collection.
Published:
Pros:
kinky, BDSM-like, easily adjustable, durable
Cons:
can be a lot of care
Use:
Cinches are worn usually to take in the waist to make it look skinnier or to give the body a more hour glassed shape. However, this cinch is not as robust as a silk cinch, it is more decorative, so it will not hold you in as much as other cinches do. It is not flimsy or badly made, it is simply very stretchy and less firm than I was expecting it to be.
It does a good job of making the waist look smaller as it is black. When worn with a white top or white dress, it really looks fabulous. It looks very good with a matching bra and underwear. It could look good with some gowns, but the gown must be very minimal in terms of "decorativeness".
This could easily be worn out with any colorful fitted blouse and a pair of jeans, especially to kinky rendez-vous. Except it is quite sexy and sort of BDSM looking in appearance due to the faux leather the cinch is made of. Some people may be pleased by this piece as an everyday item to wear out, where as for other people (like me) will prefer to wear this in the sanctity of their bedroom, and perhaps for a night in the clubs, but even that seems a little too much. It is quite sexy and it will appeal to many for different reasons.
Here is an image of the front of the cinch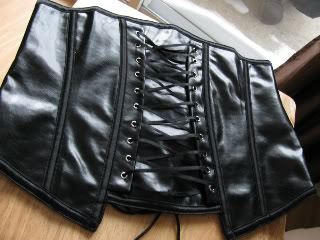 Material/Care and Maintenance:
This cinch is made of a faux leather material over all. It is basically pieces of fabric that have been sewn together with sticks of plastic for the binding.
The material of this cinch is 100% polyester, the outside of which (the parts that can be seen when it is worn) is covered in polyurethane, which gives the cinch it's shiny, faux leather appearance.
The cleaning instructions suggest to hand wash separately in cold water and to use mild soap. They also suggest to avoid twisting or wringing the cinch dry but rather to let it drip dry. If it is wrung or twisted, I imagine the polyurethane layer would fray or crack off the polyester fabric.
The inside of the cinch (the parts that are touching your skin basically) is actually very nice and smooth, almost velvety in texture. It is very warm, and if you get too warm and you sweat, the sweat will be absorbed into the fabric. To avoid this, you can wear a top with the cinch on top of it, that is if you want to avoid having to wash it every time you wear for only 15 minutes. Because let's admit it, lingerie doesn't stay on for very long, now does it?
Here is a close up of the texture of the cinch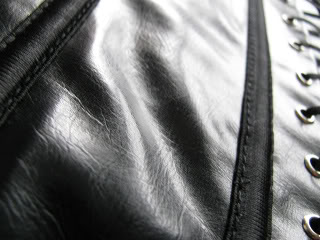 Design/Craftsmanship
The front has a sort of corset crisscross string look but this is not adjustable. The back of the cinch can be tightened or loosened as much as you desire. The size 36 is almost too big for me, and that is my size, I could have gone with a 34 and easily have adjusted it tight enough to my taste.
The top of the cinch is straight but at the bottom edge of the cinch, the fabric has two points where it goes a bit lower. In fact, the model is wearing the cinch upside down if I base this on how my strings are attached in the back and on where the label is sewn on the cinch I received. Each area that has a plastic boning is covered by a matte polyester cover, which is very flattering to the over all look of the cinch.
The string in the back is also made of polyester and was a little too long than necessary but that can easily be adjusted with scissors and matches. The string is attached with eyelets within pretty strong strips of fabric.
The zipper is located in the left side of the cinch and is pretty standard, it doesn't catch or get stuck.
Here is an image of the back of the cinch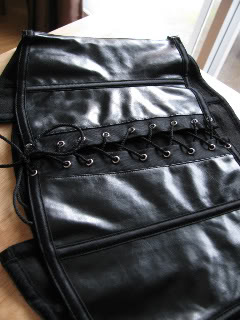 Experience
I can honestly say that this corset can get really hot really quickly when you are having sex while wearing it. The fabric doesn't breathe so well, and when it is directly against the skin, you get humid pretty easily. I found that wearing it on top of a blouse or on top of something sexy that it matches or goes well with, limits the direct contact and reduces the sweating although it remains still warm.

In terms of how tight it goes, it is actually at the tightest I can wear it and it could still be tighter. I wear it as tight as it can go and I Still have room for more tightness, I am a size 36 and that is the size I ordered but I could have gone with a 34. The strings are so long that a 34 could easily have adjusted my size.

Finally, in terms of appearance, I find it sort of "boxy" looking. It is appealing when worn with other pieces of clothing, but I find that on it's own it's missing something. It doesn't cinch as much as I was expecting so it doesn't hug my curves tightly and therefore it sort of makes me look square-ish. But with other items, such as a sexy tight white dress, the contrast with the white makes it look smaller around the waste, therefore more flattering.

When I washed it, it took a long time for it to drip dry. This item is quite a bit of care compared to other lingerie pieces that I wash in the delicate cycle, but I think it is worth it if you are looking for something kinky or BDSM-like.

Although this is not my all time favorite lingerie piece, this is definitely my favorite kinky item to wear. It makes me feel like a super naughty little girl, who is about to do very naughty things. It gives me a sexual ego boost, it makes me feel sexy and powerful. What woman wouldn't want that, really?!
This product was provided at a discounted price in exchange for an unbiased review. This review is in compliance with the FTC guidelines.

Thank you for viewing
Side-zip waist cincher
review page!