Sexy dress, disappointing surprise.
This dress is worth it if you don't have OCD about bulging zippers. It has a fabulous silhouette from the back and is very flattering otherwise. I was more excited before I got the dress than after, but at least it also matches other wet look items.
Published:
Pros
Sexy vinyl/wet look material, stretchy, smooth, gives an awesome silhouette.
Cons
Horribly unflattering zipper bulge, zipper color was different than shown.
Overview:
This gorgeous zip front vinyl look mini dress by Espiral caught my eye as soon as it appeared on EdenFantasys. I am a sucker for vinyl/wet look clothes and own all of the wet look pieces by Coquette. When I saw this dress, I knew I had to get it.
Packaging:
This dress came folded in a cardboard box. It isn't suitable for storage. I'll include a picture since people were curious about back photos from this model.
Material and care:
This vinyl look piece is made of 93% Polyester, 7% Elastic, and is made in Colombia. It is only available in black, and it is shiny like other wet look pieces on Eden. If you own any wet look pieces by Coquette, know that the shine and feel is very similar. I paired this dress with my wet look booty shorts and stockings, and it matched perfectly. It is very soft and smooth, and also very stretchy. It is nice because it is actually quite breathable and the material is thin, which translates to me not sweating like a pig in this dress.
The tag and box says to hand wash, do not bleach, do not iron, and some other symbol I couldn't figure out. It might be for drip drying. The website wasn't helpful and I couldn't find a matching clothing care symbol elsewhere, so I'm including a picture of the tag:
Design and Features:
The design of this dress is a classic spaghetti strap top and a straight hemline bottom.
This dress also features a full length zipper, which makes it fun and easy to take off. I was hoping the zipper would be silver, like the model's picture, but my dress had a gold zipper.
Like many others, I was skeptical of how this zipper would look on this dress. Sadly, the zipper was the downfall of this dress. Even when I pulled the dress down to straighten out the zipper, it bulged up again.
Sizing:
This dress comes in four sizes: Small, medium, large, and extra large. Shown below is Espiral's sizing chart: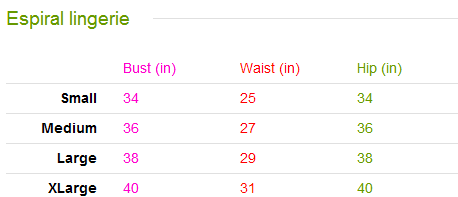 According to the size chart, I should be a large. I thought that even though the dress was a little stretchy, it was still a little too tight on me. Because of this, I recommend ordering a size up.
Quality:
Because of the poor quality of the zipper, I don't know if I would buy this item at full price. Yes, the quality of the vinyl look is just as good as other pieces I own, but I cannot justify looking shiny and also having a weird bulgey profile. If the dress were lace-up or even just a pull-down style like Coquette's wet look tank top, I think it would look much better. After wearing this, I can tell that the model was positioned just right to not draw too much attention to the rolling zipper. Granted, I'm larger than the model, but I still don't think that's why it rolled so much.
Experience
Overall, I found this dress to be incredibly sexy, especially from the back. It hugs my figure tightly and gives a great silhouette to my curves. I wore Coquette's wet look booty shorts underneath it for the garters to hold up my wet look thigh highs, so the lines aren't as smooth as they probably would be if I wore them without the booty shorts. I haven't worn this outside of the house yet because I just can't get over the rolling zipper. I can see myself very easily spending most of my time trying to straighten it out to make it look better. Because of this major flaw, I'm giving this dress three stars.
Front view:
Back view:
Follow-up commentary
1 month after original review
The zipper bulge is just unsightly. I can't bear to wear it in public because it just looks ridiculous. There's nothing wrong with the sizing at all and this would be a perfect dress if there was some way to replace the bulgy zipper with something else.
This content is the opinion of the submitting contributor and is not endorsed by EdenFantasys.com
Thank you for viewing
Zip front vinyl look dress
– mini dress review page!