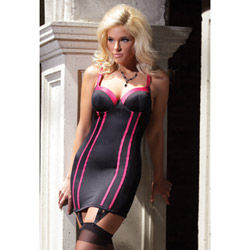 Chemise with garters
Chemise by Coquette
Sexy, in an understated sort of way.
This chemise isn't my favorite, but I certainly don't regret purchasing it. It's comfortable enough for me to lounge around the house in, yet it's sexy enough to wear for my boyfriend. I do, however, wish that the garter straps were removable.
Published:
Pros:
Comfortable, Opaque, Push-up cups, Actually offers support
Cons:
Band is a little loose, Garters aren't adjustable or removable
While my significant other tends to be a fan of ultra-slutty looking lingerie, I sometimes want something that's a little more covering. I mean, I believe that leaving something to the imagination can be even sexier than revealing all you've got. This chemise was one that I purchased for me. It's sweet looking, and it's covering -- but it has a very sexy edge to it. This chemise isn't my favorite, but it's definitely a great item if you want the sexy yet understated sort of look.

Basics:
This chemise is made by Coquette. It's primarily black in color, with some bright pink trim. The bright pink really gives this chemise the "pop" that it needs. The chemise is covering, but it's not something that can pass for a dress in public. So, this is an item that you're going to want to wear only at home, or in other places where wearing lingerie is acceptable.

Material & Care:
This item is made out of 80% Nylon and 20% Spandex, exclusive of the trim. Due to the high spandex count, most of the chemise has a lot of stretch to it. The cups, however, have a very limited amount of stretch to them -- this is because of the underwire and padding.

The entire chemise is opaque, despite the fact that it's made of just one layer of fabric. On me, the chemise covers enough that I feel comfortable wearing it when others are around, but I've never been shy about others seeing my body. You should be aware that this chemise is going to cling to your body, so if you're shy about displaying your curves? Look elsewhere.

The material itself has a sort of silky smooth feeling to it. The inside of the chemise not as silky feeling as the outside, though. It's quite comfortable to wear, even for extended periods of time.

To care for this chemise, it's recommended that you hand wash it, and then allow it to lined dry.

Sizing:
This chemise is currently available in three sizes: small, medium, and large. I purchased this in the large.

According to the size chart, a large should fit someone with the following measurements:
Cups: C
Bust: 38-40"
Waist: 30-32"
Hips: 40-42"

I wear a 34d bra, and have a 32" waist. My hips measure 40".

For the most part, the chemise fits me well. It clings to my waist and hips, but I believe that the chemise could easily fit someone a few inches larger than me. The cups of the chemise also fit my breasts perfectly -- and they could probably even fit up to a DD-cup. The only part of the chemise that doesn't really fit me well is the area where the bra band would be. The band area is just too loose on me, but I regularly have this problem with lingerie.

Length wise, this chemise is a great length. I'm 5'6", and this chemise just covers my ass.

Design:
For the most part, this is just a basic black chemise. The black chemise is accented with pink trim. The tops of the cups have pink trim, and then there's two pink lines under each cup. The pink lines go all the way down to the very bottom of the chemise.

This chemise is designed to hug your body. The material is clingy, so it won't hide any imperfections that you feel you might have.

The cups of this chemise are push-up style. They have padding, and underwire. They're definitely supportive, but for me the band was too loose.

The straps on the chemise are not removable, but they are adjustable.

The chemise also features non-removable garters. Unfortunately, the garters are also not able to be adjusted. The garter clasps are plastic, but they're quite sturdy. That being said, I will probably cut the garter straps off, as I don't really want to pair thigh highs with this piece.

Quality:
The quality does leave a little something to be desired. The sewing feels durable enough, but there were so many loose threads. The loose threads were easy enough to snip off, for the most part, but it was kind of a hassle.
This product was provided at a discounted price in exchange for an unbiased review. This review is in compliance with the FTC guidelines.

Thank you for viewing
Chemise with garters
review page!