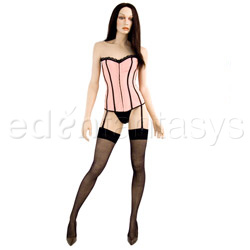 Pink brocade corset
Corset
by DreamGirl
Sexy Pink Brocade!
This sexy corset is a great investment for any girl. It is made to help slim the waist and maintain posture while looking super sexy. This corset does all that and it is reversible. This is like getting two high quality corsets for the price of one!
Published:
Pros:
High Quality, Reversible, Comfortable, Very Sexy
Cons:
Thigh-highs didn't fit me at all
The Pink Brocade Corset is a sexy piece for any girls wardrobe. This set actually comes in 3 pieces; the corset, the sheer thigh highs and black satin panties. The corset has adjustable and removable black garter straps. The panties are very sexy but the satin has no stretch front to back. On me it sits low, almost too low, but it looks sexy. The panties have an elastic band that is very stretchy around the waste. The thigh highs were too tight for my thighs. They would have looked pretty nice had they had a bit more give at the top. I didn't get to use them at all.
The bowing in it is build to shape and accentuate the sexy curves of your torso. I found this corset to be comfortable and easier to get on and off. It has the hook and eye closure on the front and the sexy lace up back. Once I got it adjusted, it felt very comfortable. A corset is meant to do three things: make the waist smaller, lift and support your bosoms, and help improve your posture. This corset achieves all three. I have had problems in the past with even expensive corsets bowing out in the wrong places. I really hate that. This corset has shown no sign of doing that on me even after hours of wear. The laces on the back are actually two separate pieces and they are meant to tie in the middle. This laces were very long and I had to cut about 12" off each lace to make it look right.
This corset looks so much nicer than the picture. The picture shows a flat pink color in contrast to the black. The pink
actually
has a vine sewn in design that really looks pretty. The reversable side of the corset is a shiny satin black. The top of the corset has a nice black lace sewn design coming off the top. It is not lace it is sewn, so it does not itch at all. It is advertised as being reversible. The black satin side, which is very sexy, has the tags on the side to hang on a hanger. So if you use this side you will probably need to cut the tags off. It is not possible to tuck them inside since the lace top goes all the way around, it would look funny.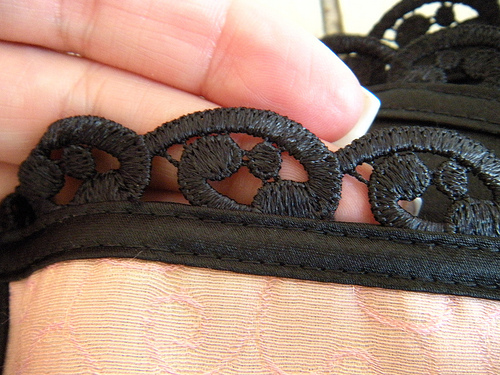 A close up look at the lace on the top.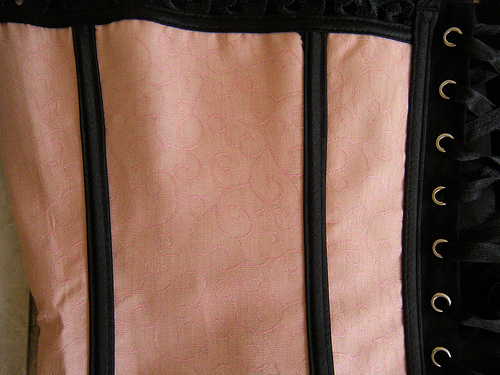 This corset goes by bra size. I am a 36, so that is exactly what I ordered. This corset fit me perfectly! My corset did not come care instructions! I did some investigating and it looked like I could hand wash this and hang it to dry. I did just for the sake of this review and it still looks great.
I really liked the way this corset fit me, it was very comfortable. I loved the way it looked when I had it on. I would highly recommend adding this piece to your collection!
Follow-up commentary
1 month after original review
I really loved this corset....until last night.
I went out with it on one night and it seemed like it shifted a bit. I wrote the review and figured it was just me...
it's not!
I wore this corset again last night and it was completely crooked. It would not straighten out the whole night. I tried adjusting the lace up strings numerous times to no avail. It looked terrible by the end of the night. When I got home and took it off I laid it out and then I could see that one panel of the corset had too much fabric between the bowing.
I took these with my phone, but here is a look at the black satin inside, it is fully reversible.
The back looks even worse!
This product was provided free of charge to the reviewer. This review is in compliance with the FTC guidelines.
Thank you for viewing
Pink brocade corset
review page!