Shimmery, Reversable & Oh, So Pretty!!
Shimmery, golden, light rose colored brocade makes this a unique and versatile corset for wearing out or staying in. Reverse it for the classy but subdued black satin finish and pair it with a black skirt and pumps. However you choose to wear this beautiful and sexy corset, it will flatter you and you will be noticed! This is a much prettier corset in person than the photo on the site projects. The sewn on lace look on the brocade paired with the delicate and sensual shimmer will make you shine!
Published:
Pros:
Reversible.
Golden, shimmery pink material.
Wearable in public or private.
Cons:
Plastic boning.
Hand wash.
No shoulder straps.
The Pink Brocade Corset by DreamGirl arrived in the standard Pink tissue paper that most lingerie items are wrapped in. However, upon unwrapping the tissue, I was extremely surprised at the beautiful shimmer of the delicate pink color and the stitched on curly-q lace design in the brocade. The shimmer varies depending on the lighting. It is reminiscent of the shiny, white, holographic pearl Christmas and wedding ribbon used to wrap packages. This shimmer has a gold tone to it that compliments the pale, dusty pink perfectly.
The flip side is shiny black satin and is also very classy looking. There is a stiff, black, scalloped lace along the top of the corset that lies nicely against your skin. It is a wrapped thread lace and is very soft. The seams are well sewn, no loose threads or mismatched seams. The plastic boning is pretty flexible and is covered with black satin on both sides. This does make for a great contrast on the pink side.
The front has a series of 15 small, black hooks and are reasonable easy to hook up, they will be backwards for the reverse (black), side. The lacing up the back is 1/4" black satin ribbon. There are two ribbons that meet in the middle for better shaping. There are 12 metal grommetted eyes to thread the lacing through, and the material is a matte black cotton denim. There are no shoulder straps, however it does have removable garters. I cut off the hanger loops on the black side so I could wear it reversed.
The brocade is a bit scratchy at first when you wear the corset with the black side out, but you get used to it fairly fast. I have found that if I wear the brocade in directly after washing, it is stiffer and more irritating. However, if I tumble dry on air only, no heat, with a fabric softener sheet, this really helps.
Hand wash the corset in cool water, rinse thoroughly and let it air dry. You can iron it with a low heat iron and a damp washcloth/towel between the iron and corset to straighten the plastic boning. I am replacing this with metal boning, there is a how-to discussion about this on the forum.
This corset looks amazing with jeans, a straight black skirt and dress pants. I love wearing it out or using it for teasing in the bedroom. The Pink Brocade Corset is perfect for formal, casual and club wear. I think it is a bit on the shiny side for daytime, but it will work perfectly for evening and night time events.
This is able to be left on during sex for those of us with stomach flaws. It makes me feel much more confident to know I have hidden my belly and allows me to relax and have fun without wondering if my husband is noticing my wiggles in my stomach. Silly, yes, but it sure works for me!!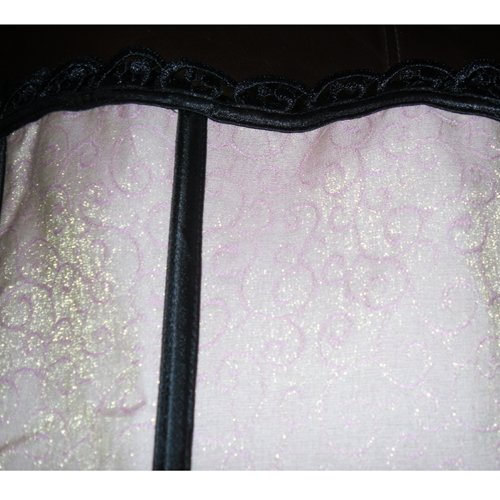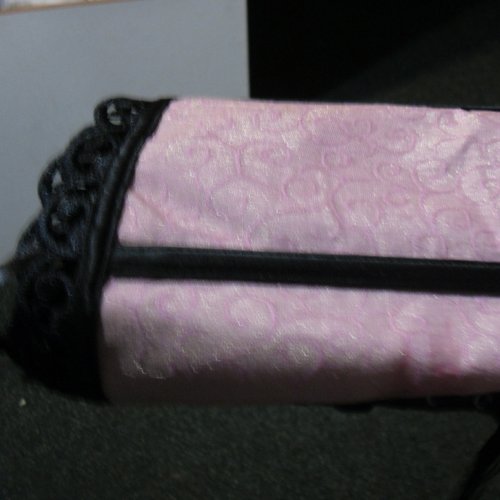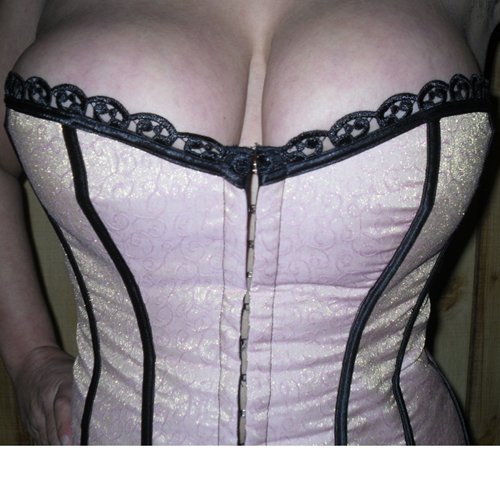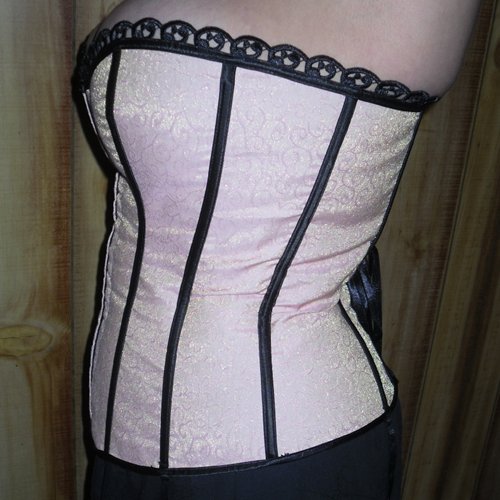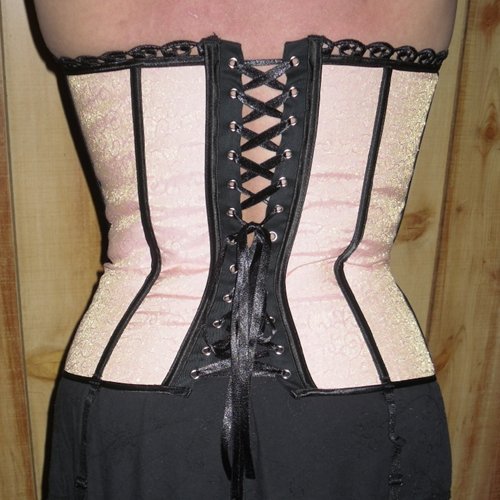 Experience
My Measurements: 43D Breast - 30" Waist - 42" Hips - 28" Inseam - 22" Thighs - 5"2" Tall & 150 Lbs.
Corset Size: 38
DreamGirl Sizing: (Copied and pasted from the sizing charts.)
Cup Bust (in) Waist (in) Hip (in) Inseam (in) Rise (in) Weight (lb)
Small 2 - 6 A - B 32 - 34 24 - 26 34 - 36 34½ 7 - 7½ 90 - 120
Medium 6 - 10 B - C 34 - 36 26 - 28 36 - 38 35 7½ - 8 120 - 140
Large 10 - 14 C - D 36 - 38 28 - 32 38 - 40 35½ 8 - 8½ 140 - 150
Sm/Med 2 - 8 A - B 32 - 34 24 - 26 34 - 36 35 7½ - 8 90 - 130
Med/Lg 8 - 14 B - C 36 - 38 28 - 32 38 - 40 35½ 8 - 8½ 130 - 160
1X/2X 16 - 18 D - DD 40 - 48 36 - 40 42 - 48 36½ 9 - 9½ 165 - 225
3X/4X 18 - 20 DD 48 - 54 40 - 44 50 - 56 37 9½ - 10 225 - 275
One Size 2 - 14 B - C 32 - 38 24 - 32 34 - 40 35 7½ - 8 60 - 160
Queen One Size 16 - 20 D - DD 40 - 54 36 - 44 42 - 56 36½ 9 - 9½ 165 - 275
Follow-up commentary
2 months after original review
I still love the quality, iridescent pink material and the versatility of this reversible brocade corset. The material is sturdy and durable--with the proper care, this corset will last many years.

I did replace the original plastic boning with steel boning to assist in the longevity of the garment. The plastic bones were getting harder to straighten out after being worn so many times. I had to wear it on a 3 hour car ride to a wedding and the boning was pretty dang bendy. Thank goodness for those hot air hand dryers in the bathrooms!!

I have noticed that since I am starting to get a tiny bit of a tan, the pink material makes my lightly darker skin tone look amazing. It will make my skin absolutely glow when I get to my normal light to medium tan color.
This content is the opinion of the submitting contributor and is not endorsed by EdenFantasys.com

Thank you for viewing
Pink brocade corset
review page!