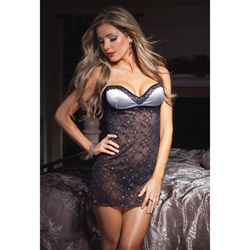 Holiday starburst chemise
Chemise
by Coquette
Sexy, Silver Sheer Starburst Dynamo
I love the beautiful design of this chemise. It's not exactly what I imagined it would be but it's still very nice. I can see myself wearing this fairly often in the future. This is a great "holiday" piece that doesn't feature a Christmas theme or color. While I had a quality issue I think that it's an anomaly. The starburst print is so lovely that you may want to pick up more than one piece from this line.
Published:
Pros:
Beautiful, eye catching design, stretchy, nice length.
Cons:
Damaged strap, no bust support, clingy on stomach, limited sizes available.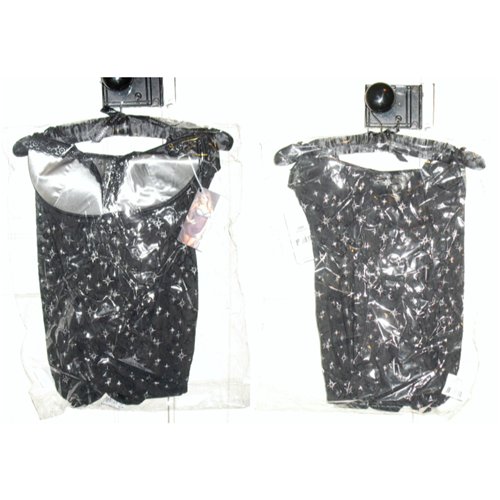 Packaging
This chemise comes on a very nice satiny Coquette hanger wrapped in plastic. The plastic features a sticker with the color and size listed. Unlike much of the lingerie sold on EF this chemise doesn't come with a matching panty. This is fine with me as even when they fit well I don't often wear the panty in bed.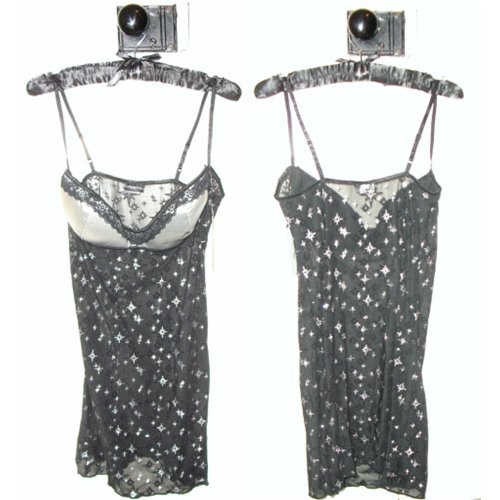 Sizing
This piece comes in sizes small, medium or large. I chose the large as that's usually my size. According to the Coquette size chart a large should fit someone who wears a size 12-14 with a 38-40C bust, 30-32" waist and 40-42" hips.
The actual unstretched measurements are 32" bust, 29" under the bust and 32" hips. It is 24" long (measured from the backside).
I wear a size large or 10-12 in women's clothing with a size 36C bust. My measurements are close to those listed above. This does fit me very well. I don't know why but I didn't really think of how this was a chemise when I picked it for my monthly assignment. I was thinking that it would be looser. Instead it is more form fitting. I still find it flattering even though it clings to my stomach.
The bust doesn't offer any support. I don't always need support but because of the way the bust is cut I think that this piece would have looked better if it had some more shaping or contained an underwire. The straps are adjustable though so I think that I'll be tightening them in the future but I wanted to take the below photos as I received it.
I love the length of this chemise. At 24" long it hits me mid thigh. I think that if I paired this with a black slip I might be able to wear it out at night as a dress.
Material & Care Information
This chemise is 82% nylon and 18% spandex. It is to be handwashed in cold water and hung to dry.
Experience
This is my first piece from this season's Holiday collection from Coquette. It's not exactly what I'd envisioned but the design is great. The silver bust really pops and the star print throughout the rest of the fabric are gorgeous. I found it relatively comfy considering the cling factor.
BTW-This chemise doesn't come with a bottom. The thong that I'm wearing below is a favorite of mine that I purchased at a department store a while back.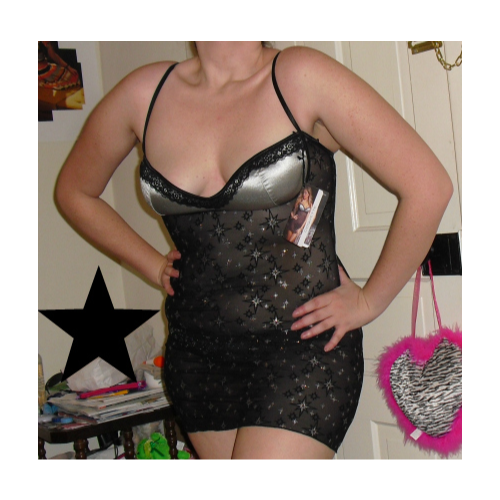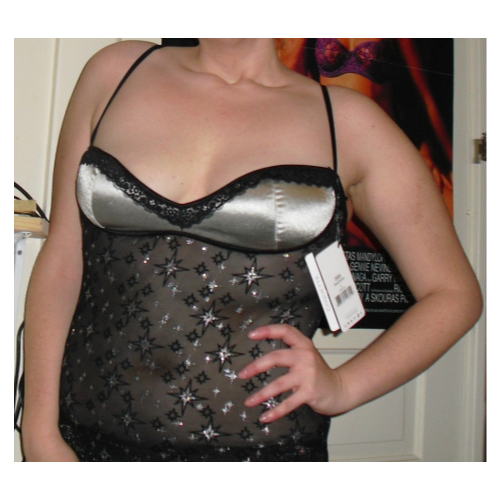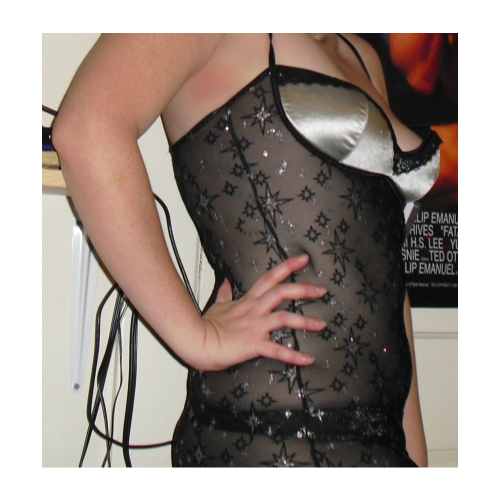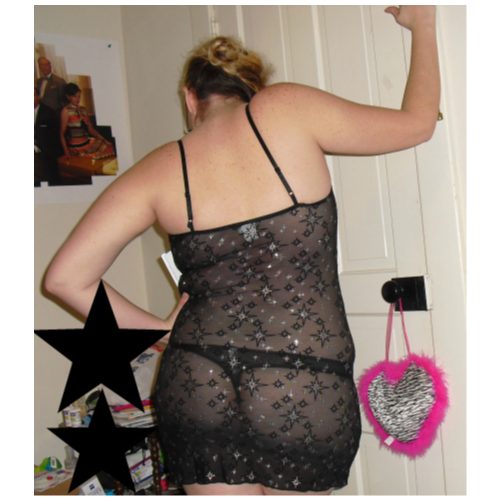 The day that I received this piece I immediately tried it on, took some photos for this review & a quickie cell phone pic that I sent my man. Initially I was impressed. I pre wrote most of this review (sizing, care info, etc.) but needed to give it a test drive before finishing this section and publishing it. Prior to the first time that I really wore this I'd planned to give it a 4.
Unfortunately I had an issue. When my man came over I was jazzed to wear this for him. I decided to tighten the straps to give my chest more lift. The straps of this piece are like bra straps. I laid this chemise down and tightened both straps a bit. Something looked off. After tightening them I noticed that one strap had come almost completely apart at the seam. It was literally hanging on by a thread. Bummer. I had only worn this for about 5 minutes a couple of days before to take the above photos.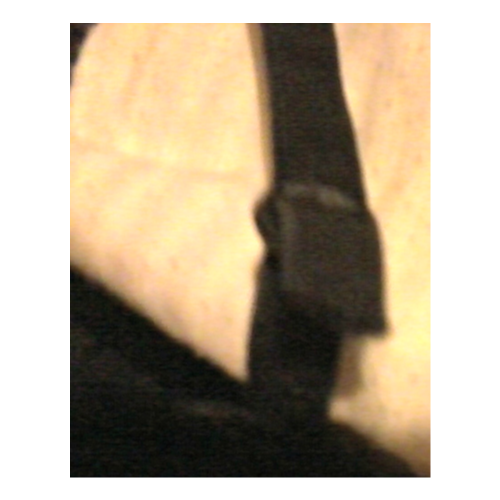 (Sorry for the imperfect quality. It's from my cell's camera, I was too frustrated to take a photo on my digital camera at that moment. It's being shown against a pillow and I've changed the color a bit for contrast so you can see what I mean.)
Now this is my free monthly review assignment. However I'm assuming that I could have still exchanged it. However I wanted to try it out right away. Plus it's out of stock in my size so I'm assuming that the exchange would have taken a while. I chose to wear it anyway and deal with the fall out later.
It's not like too much could happen. The issue was where the strap meets the seam after all. It could always be repaired and not really be noticable. So we had sex. I actually really enjoyed wearing this while doing so. I only had to lift the bottom up a bit. I felt very sexy. It also made my chest appear larger.
Afterward I showed my man the damage. It was still hanging by the thread, it hadn't come all of the way loose. He said that when he gets a chance he will sew it for me. (I can sew but am not great at it.) The other strap looks sturdy. So I'm thinking that I just got unlucky. I own other Coquette pieces that are quite durable.
My man also remarked on how nice the starburst pattern is while he was looking at it. I told him about the babydoll that EF sells in the same print and he said that it sounds great. So I think that I may buy that in the future despite the problem that I had with this chemise.
Follow-up commentary
1 month after original review
My now ex did sew the defective strap for me. However it still ripped. I then tended to wear it with the one strap holding it up during sex.

Since our split I've also worn it lounging in my bed with the other strap down and it stays put. So without movement it stays puts strapless.

I plan on removing both straps and wearing it in conjunction with other pieces (possibly out under a sweater or jacket) in the future if I can get the top to stay up that way.

I still adore the design.
This product was provided free of charge to the reviewer. This review is in compliance with the FTC guidelines.
Thank you for viewing
Holiday starburst chemise
review page!