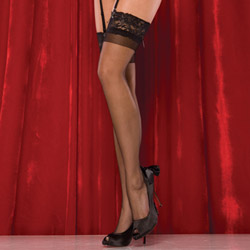 Black sheer thigh highs with lace top
Thigh highs by Coquette
Sexy Stockings at a Great Price
Coquette's black sheer thigh highs are pretty nice for the price, but they're not perfect. The material is very thin, so it'll snag easily, but these are so inexpensive that replacing them isn't really a huge deal. Also, these pretty much require a garter belt, as they tend to roll down without one. So, if you're purchasing these, be sure to pick up a garter belt, too.
Published:
Pros:
Makes my legs feel silky smooth, Creates a sexy look, Can be worn both in and out of the bedroom
Cons:
Will snag easily, Need a garter belt to keep them up, Hand wash only, Material is very thin
Basics:
These sheer thigh highs are brought to us from Coquette. They are available only in black, but they come in two different sizes: one size fits most, and XL.

These are inexpensive, yet they're still decent. They look great when paired with a sexy dress, but they also work wonderfully when worn with lingerie.

Garter belt, or no garter belt?:
I do find that I need to wear a garter belt with this pair of stockings. Otherwise, they will slowly start sliding down my legs, and I'll end up having to stop whatever I'm doing to pull them back up to their proper position. These stockings are a little loose on me though, so that could be why they tend to slip down. Anyway, a garter belt fixes this issue, and thankfully garter clasps attach very nicely to the lace band.

Material & Care:
These are made out of 100% Nylon, and they're very stretchy. The material is sheer, as the name of this product implies. The stockings feel silky smooth to the touch, which is lovely, but they're also quite thin. The stockings being so thin is both a positive and a negative. On the one hand, the thinness of the material means that they're very breathable. On the other hand, the thinness means that these are going to be prone to tearing and snagging.

The lace band is slightly thicker than the body of the stockings.

To care for these, it is suggested that you hand wash them in cold water. Then, you should hang them or lay them flat to dry. I would suggest sticking to those instructions. As for storage, I store mine in a Ziploc bag in a drawer with my other stockings.

Sizing:
As I mentioned before, these stockings come in two sizes: OSFM and XL. Because I have thicker thighs, I purchased the XL, and honestly, they were a little big on me. My thighs measure 26" around at the widest point, and the band felt loose on me. They don't LOOK loose, they just feel loose. So, I think that these stockings are going to be baggy on anyone that has a smaller thigh measurement than I do. Instead, I'd say that these are definitely better suited for someone with thicker tights.

In regards to length, I am 5'6" with an inseam of 33", and these stockings came up pretty high on me. They were a little higher than mid-thigh length.


Quality:
Overall, the quality is decent. The material is thin, so it will snag easily, but I can't complain at this price.
This product was provided at a discounted price in exchange for an unbiased review. This review is in compliance with the FTC guidelines.

Thank you for viewing
Black sheer thigh highs with lace top
review page!