Sexy Vintage Sponge Cake
This is a decent chemise, but I'm debating if it's really for me. The color is a little bit iffy for me, since it's a little bit more yellow than depicted in the product images. However, the concept of this chemise is what appealed to me in the first place, since it looks so retro. I definitely love things that have a pinup look, so this has that going for it.
Published:
Pros:
Lacing up the back, pinup style
Cons:
Color not for everyone, could be too short for some, g-string, not for larger breasts
This came packages in a plastic sleeve that contained the chemise and thong on a black hanger.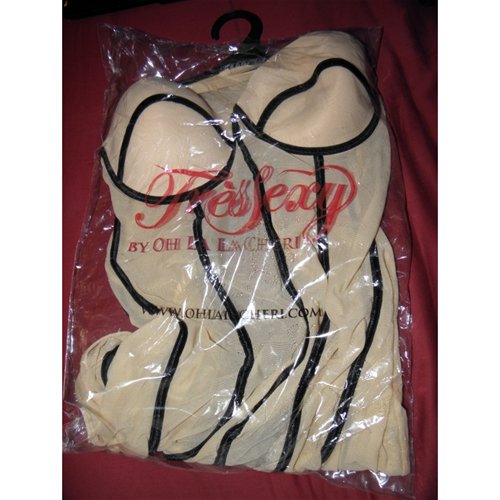 In terms of care, this is very clearly delicate and handwash only. It wouldn't be wise to put this in a dryer. Bleach would damage it also. Handwash, hang to dry.
I feel that this fits pretty true to size. I got this in a large, which I typically wear in really anything. My measurements are 38-30-38 and I'm about 5'9". This fits without being to snug, and the cups are the only thing that could possibly fit better. This is a little short, but it's lingerie. It just barely covers my bum, stopping right below it.
The cups have an underwire, and are also slightly padded. The padding doesn't really add a cup size or anything, it's pretty light. They are push-up cups, but I don't think they would fit much over a C or low D cup. Not for those with larger breasts, you would be spilling out. I wear a C or D cup depending, and this fits without me feeling like my nipples are slipping out, which I find is an issue with some cupped lingerie. However, I do think my breasts are just barely the right size to fit into these cups. If my breasts were any bigger, I wouldn't feel very comfortable with the cups at all. As is, they are just barely enough.
One weird thing I noticed is how the straps can be removed on the front inside the cups, but not on the back? I assume this makes it so you can criss-cross the straps in the back, but the straps are not fully removable.
Also, on the font of the cups, on the outside, I thought something like makeup had smudged on it. Then I noticed, it was on both cups in the same place. There is black stitching that is visible in that spot, where the straps are attached, on the outside of both cups.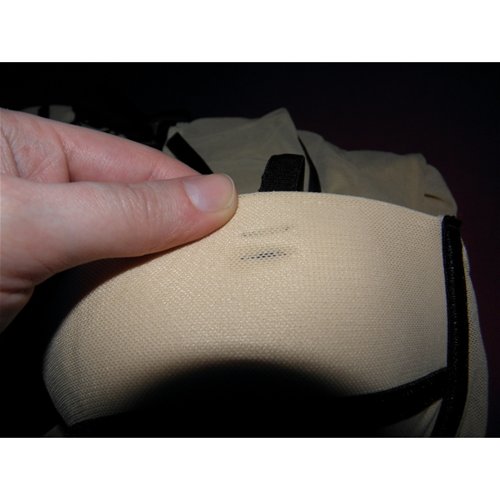 The color of this reminds me of, like...a shade of concealer. It's not as light or white-toned as it appears to be in the products pictures. I think the tone actually looks a little bit strange on my skin, personally. It's a little bit too light, but also too yellow-toned. I am very pale, but this actually makes me feel like I look a little bit washed out. I think the black lines are nice, in how they direct the eyes when you're looking at it. My partner seemed to like the way it looks on me though. When he saw me wearing this, all he said was, "You look like a dessert." He told me it reminds him of sponge cake, because of the color, but that I looked sexy in it. To me, being told that I look like a cake or a dessert is a great compliment!
The g-string isn't something I love. I actually think I would prefer if it were a thong, not a g-string. I thought about wearing it with a sheer black thong that I have, but I think that even given the black lacing and trim that could clash a little bit. The waistband of this g-string isn't stretchy enough for my liking. I feel like it's just snug enough that it gives me a little bit of a muffin top, which is accentuated by the fabric and sheerness of the chemise. There is a tag in the g-string that is visible through the fabric of the g-string and the chemise when worn over it.
One thing that really drew me to this in the first place is the vintage, pinup look of this chemise. I think this would pair perfectly with some cute thigh highs with a backseam, or bows, I even tried it with
a pair of fishnets that I just got
and I found that the lines on the tops of the thighs compliments the black line detail on the chemise very well.
Given the sheerness of the fabric, the length of the chemise itself, and the lacing up the back, this leaves little to the imagination. If you have roommates, you may not want to wear this around the house. The lacing up the back was something I felt unsure about, but that actually turned out to be one of the best things about this item. I didn't think it would look very good or necessarily feel that comfortable. Well, I was wrong! Now, there is another chemise with lacing up the back that I intend to order soon.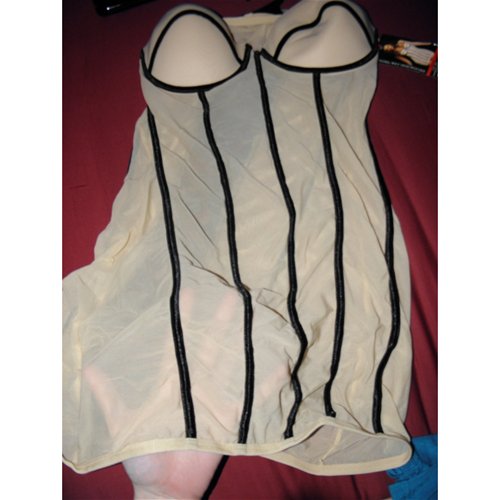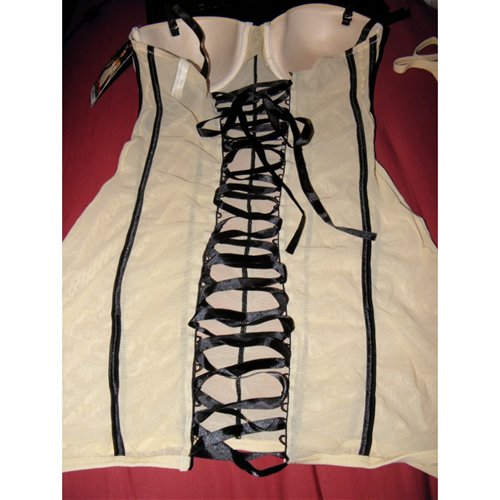 Experience
I'm not really comfortable showing that many pics of me actually wearing this particular garment, but here is one that I can include that gives an idea of how this looks on an actual person. If you have any areas that you aren't comfortable with, this won't really cover them up, as you can see: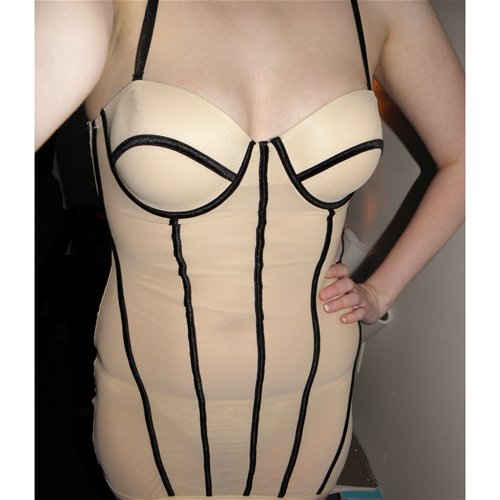 When I first took this out of the box, honestly, I was a little bit worried about the color. Then once I put it on, I considered returning it. I'm still not sure that I will really ever have a practical use for this, or that I really want to stick with it due to the color. But, it does have some nice points about it...and being told that I look like a sexy dessert wasn't bad either. This is an interesting item with a nice vintage look, but...hmmm.
With the right hair, hosiery, makeup and accessories, this would probably look a lot better. But I can't get past feeling that the color could compliment me better. If it were whiter, rather than yellow-toned, it could still be "nude", and would look more suitable on my skin.
Follow-up commentary
2 months after original review
I still think this is okay, I don't hate it, but I don't like it as much. I just have better chemises that I find to be more flattering, so I prefer those to this. This isn't a bad item, but it doesn't get as much wear as some of my others.
This content is the opinion of the submitting contributor and is not endorsed by EdenFantasys.com

Thank you for viewing
Tres Sexy nude chemise and g-string
– babydoll and panty set review page!