Shaping and Chafeing
This snug bodysuit is a steal for it's shaping qualities, durability, and low maintenance cleaning needs. The sizing can be tricky if you're extra curvy or a member of the IBTC, but it does its job by tucking in problem areas such as love handles or a fuller waist. The snap closures are comfortable, and the straps are both adjustable and removal for versatility. Definitely a great value for those of you who are looking for something a little different and sexy.
Published:
Pros:
Shaping, Durable, Easy to wash, Adjustable straps, Snaps stay closed, Slightly stretchy
Cons:
May be uncomfortable for prolonged wear, Cups too big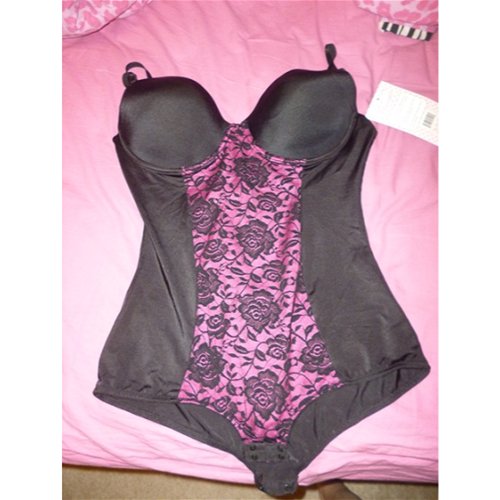 This garment will ship to you in a plain plastic bag, nothing too fancy. When unwrapped, it'll be tagged with a tag that has the model wearing the garment on the front and a few facts about the product itself. When looking at the different sections in the entire piece, there are no stray threads or fraying from the get go, and everything seems to be in tact and in good condition. However, just from looking at the cup sizes, I knew I had gone a size too big and because of my body proportions being a little on the odd side as you'll see later in the review, this fit tightly around my stomach and too big around my chest. The cups are decently padded and are comfortable against my chest, but since they are a good cup size too big, offered no support for my chest.
The entire piece is a little scratchy on the seams and for my easily-chafed skin, not something I'd wear for a long period of time. The material is durable and for the most part very soft, but some of the seams just rub against the wrong areas and make it slightly uncomfortable. I found that the material is fairly stretchy, but still fit me tightly around my stomach. I ordered it in an XL just to be on the safe side.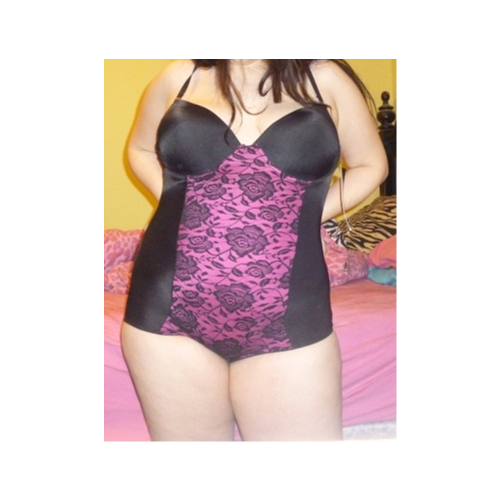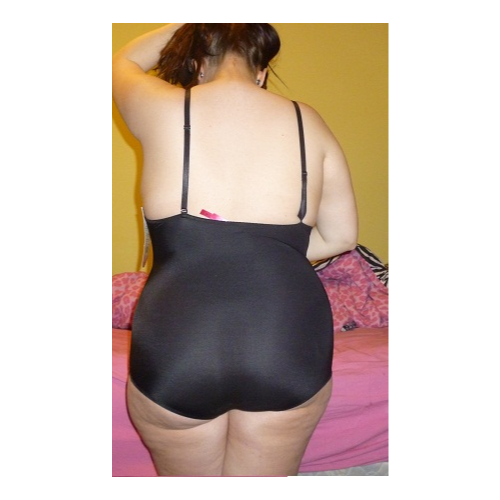 The lace panel on the front has fairly nice detail up close.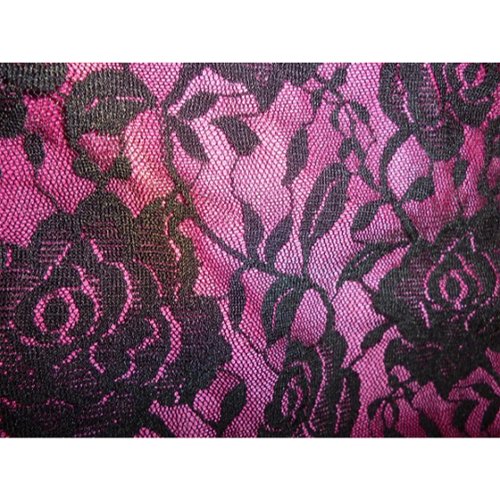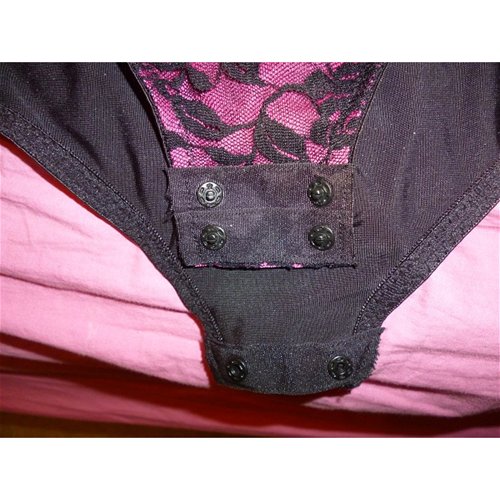 Here are my measurements for those of you who'd like to compare.
Chest -
40''
Waist -
38''
Height -
5'0''
Legs -
21''
around
The straps are adjustable, but it didn't help me any with the cups being too big. They're also removable so you can go for a strapless look if you prefer, or criss cross them in the back, so you have some freedom as far as the strap placement goes. This is my first Seven 'til Midnight piece, so I was unfamiliar with how their sizes match up to the size chart and probably should've ordered a size lower. However, it probably would have been too tight around the stomach then, and thus, just frustrating. This garment all together was almost too tight around my lower section. I had to manipulate it to snap together. What I mean by this, is that I had to pull the garment down to snap at a smaller area of my legs, then wiggle it back up with a bit of effort and then it fit just fine and snuggly. The snaps do hold together pretty well, though they're plastic and I was skeptical that they'd just come undone, as it's fairly obvious I'm pushing this product's limits on size quite a bit.
I feel this product is still great for women with fuller figures, but those who are a bit smaller on the plus-sized scale than myself.
The inside of the piece is a hot pink color that matches the underside of the black lace panel in the front. There are two tags attached to the back, one of which that includes material information and washing instructions. The product is 92% polyester and 8% spandex. This is what gives it a stretchy feel, but it still hugs your waist in places to give the "hour glass shape" the product claims to give on the tag. Washing instructions are simple. Hand wash cold. Do not bleach. Do not iron. Line dry. Simpler than most lingerie I've come across, that's for sure.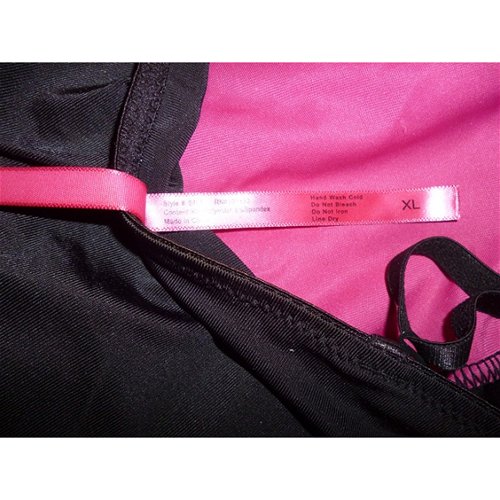 Now, as far as the whole "true to how it looks on the very photoshopped model" aspect, I'd give this a small round of applause. I personally feel it is very much true to how it looks on the model, but for bigger girls, this one isn't going to nip and tuck everything you may want to hide. You definitely aren't going to get as much of an hour glass figure as the model has if you're close to my measurements and size because, well, when you have a lot of extra, it can only be tucked in so much. I think this garment does a good enough job to be considered decent. I've tried pairing this with shorts, but because it's so skin tight, I wound up looking a little too 80's work out video and nixed that idea fast. I'm unsure what I want to pair this with, but I'm sure I'll find something. It's too pretty to just forget about because it isn't the most flattering on my body frame.
For an average weight, evenly proportioned, even slightly curvy standpoint - this piece is an incredible value. The mixture of polyester and spandex make for a shaping effect, though it's far from your average Spanx.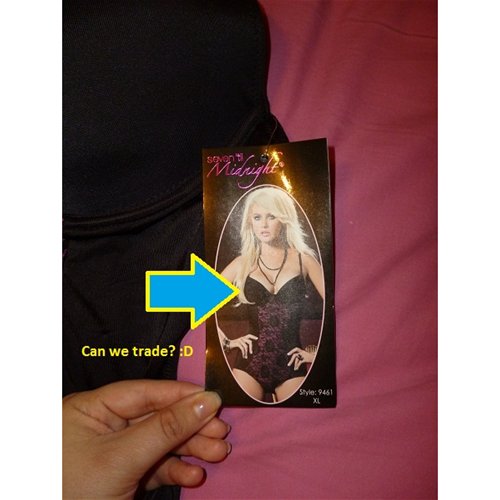 Experience
I've run into a real love hate relationship with body suits as a chubbier figured lady. I am short statured and enjoy reviewing pieces like this, despite my own embarrassment of including helpful pictures for those of you who are too afraid to purchase something because the reviews given don't have any photos, videos, or really any inclination as to what the piece actually looks like. This can be frustrating when model photos aren't reliable in the least. I really hate how this garment looks on me, but I think it's really a waste to toss it to the back of my closet and forget about it just because it isn't the most flattering. As I've stated in the description above, I feel this product would be best for someone fuller figured but on the smaller plus sized scale.
Follow-up commentary
1 month after original review
The cups still being far too large for my chest, I just haven't found anywhere to wear this. It's frustrating, because I originally loved the design and the idea of it overall, but something being too big for my chest is rare and much harder to work with as far as lingerie goes. I wanted to break them down and sew them to be smaller, but it's too much work for something I paid such a small price for. Maybe my niche will be in the next body suit I try.
This product was provided free of charge to the reviewer. This review is in compliance with the FTC guidelines.

Thank you for viewing
Undercover lover bodysuit
– teddy review page!