Show Stopper??...maybe just to laugh at me!
I really was excited about this, it looked great on the other contributor that did a review on it, but I believe she was a C cup. Since this had no support at all for me I wouldn't recommend it to anyone over a C-cup with natural breasts if that's important to you. If my son didn't decide to play shake the chocolate milk next to it and get some on the cups I would have returned it, but now I'm stuck with it.
Published:
Pros:
comfortable, cheap, underwires, pretty
Cons:
total lack of breast support, horrible craftmanship,runs small in torso
Scanning between several different items trying to choose what to purchase this time around, I ended up picking this chemise after seeing how great it looked on another contributor and being attracted to the girly color and design. I was excited to get it in the mail and thought for sure I made the right decision. Hell, I was already daydreaming on what thigh highs and shoes I was going to wear with it, and how I was going to suprise my man with it. Well all that daydreaming came to a hault once I recieved it and tried it on. I'll explained to you the pros and cons of the La bella vida babydoll and you can take it from there if it is something you would want to spend your hard earned money..or points on!
The La bella vida babydoll and g-string was delivered to me folded up in a clear plastic bag that was sealed. It wasn't a thick plastic but since it has the sticky seal I decided to keep the packaging for storage for my thigh highs. After taking it out of the package I glanced over it quickly and noticed that there was quite a few loose threads. Mind you that was only at quick glancing so I decided to inspect it more thoroughly before I tried it on...my initial response after doing so was, "What the f**k!!!". There was loose strings, bunched up threading, and uneven stitching all over the place! I have had issues with Seven Til Midnights craftmanship in the past but I have to say I think this was the worse I have ever seen by them. You would think that a company would take more pride at making their products, knowing that the best sales are by the mouths of their customers. The only other rant I'm going to say about the craftmanship is that it looks like their sewing machine went crazy on them and they had to yank this piece out of it!
Ok, enough of my complaining for now, let me describe this chemise to you...rrr..I mean babydoll. I say that because to me this looks more like a chemise than a babydoll so excuse me if I call it that here and there. What attracted me to it was the bubble gum pink color, and how it oozes feminity with the ruffles and bows. It has adjustable bra like shoulder straps in the back and half way over your shoulder it turns into two thin spaghetti straps. They attach on to the padded and molded underwire cups in the front and in the back to a straight line of elastic (where there is black zig zag stitching). The cups are so pretty with black strips of lace, and a pink ruffle running along the top of each one. Also, a cute little black bow sits right inbetween them.
Being made from 90% nylon and 10% spandex (excluding the trim) the body to this is soft, stretchy, and semi sheer. The shape to it is an A cut, where it starts out smaller by bust and flows out some by the hips. Their is a two tier ruffle (made from the same material) with black stitching that runs along the whole bottom of this chemise.Three small black bows sit at the bottom of this, two on each side where the hem is and one right in the middle of the back. The front of the chemise is longer than the back and has a U shaped bottom, where as the back cuts up to more of a V shape and is shorter to fit above your booty and enhance it.
The g-string is typical as you would get with most sets. It is the same color pink sheer material( excluding elastic and cotton liner). As I just mentioned it does hasve a cotton liner inside. I couldn't tell you if it is comfortable because I haven't tried it on yet, but it looks like it would fit fine and would be true to size.
As with most lingerie it is recommended to hand wash in cold water and to line dry. It also states to not iron this piece!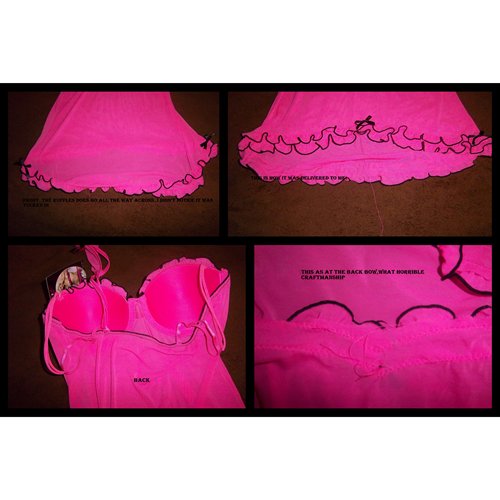 Experience
The style and colors to this I have no problem with, that's why I bought it. However I do have some issues with the design because of the way it is lacking complete breast support. I feel that if they had a bra style strap in the back or even thicker elastic (besides from a tiny strip), and the shoulder straps being completely adjustable besides for half there wouldn't be any issues. Instead my breasts look like a sagging mess, which I don't know about you but I don't find to be very attractive.
As you can see in this picture that my breasts weigh it down so it overlaps the top of the chemise. Also, I was slightly bloated and my breasts swollen when I took these pictures, but it is to tight for an Xtra Large which left me anything but feeling sexy in it.
As I had just mentioned I had ordered this in an X large instead of a Large that I normally would get. I did so because generally with a large my breasts fall out of it and I had the option of getting something that would actually fit them! Thinking the body would be loose which I was more than happy with thinking it wouldn't highlight my chub if it was flowy. As you can tell it is also far from being loose on me.
My size are:
155lbs.
size 10-12 (depending on style of clothes)
38 D-DD (depending on brand)
Seven til Midnight makes this in I believe 4 sizes. Being-Sm., Med., Lg., and Xl.
Cup Bust Waist Hip ~~~These measurements for XL~ 24" from top to bottom in the front
Small 2 - 6 A - B 32 - 34 24 - 26 34 - 36~~ 22" from top to bottom in the back
Medium 6 - 10 B - C 34 - 36 26 - 28 36 - 38 ~~~ 18"from one side of the bottom hem to ther
Large 10 - 14 C - D 36 - 38 28 - 30 38 - 40 ~~~ 14 1/2" from one side of torso to other
XLarge 14 - 16D - DD38 - 40 30 - 32 40 - 42
XL G-string~ 15" waist, from ont side to other
being in a T shape g-string 7 1/2" in length
So I believe that the cups are true to size but the rest runs small by a size or two.
Follow-up commentary
5 days after original review
I tried this on again and it still saddens me with the total lack of support. I was hoping that maybe the swolleness in my breasts played a factor in why they were so weighed down but I guess not. It doesn't matter how much weight I lose my breast size stays the same. With that said it will never look like anything but a mess on me, so I think I'm going to scrub again the chocolate milk my son stained it with and if I can get it out I'll give it to my other friend who is a C cup. Maybe it will work for her.
This product was provided at a discounted price in exchange for an unbiased review. This review is in compliance with the FTC guidelines.

Thank you for viewing
La bella vida babydoll and g-string
– babydoll and panty set review page!