Show stopping your heart tonight!!
I do enjoy this piece, I was just disappointed to find so many loose treads and bad stitching. I would have expected better quality from this Seven' Til Midnight. This was a great piece just not enough care put in to the piece. It does go from S-XL, so there's no plus size, but it does have some stretch to it. I still recommend this piece for anyone who likes to show their junk in the trunk. Even though I had some issues with mine, I still recommend this piece. I give it 3 out 5.
Published:
Pros:
Sexy design, Bright colors, Open bottom in back, Adjustable straps, Underwire
Cons:
No plus size, Might expose to much bottom area, Lots of loose threads, Bad stitching
Use
- La Bella Vida Baby-doll and G-string by Seven' Til Midnight is designed to wear as lingerie. I like to wear it because it makes me feel sexier. This sexy little number with or without the g-string can be worn before, during, and after sex.
Material/Texture
-This Baby-doll and G-string is made from 90% Nylon and 10% Spandex. The texture of them both is Mesh. I love all of these together, these two pieces feel very soft almost a silky feeling. The baby-doll feels great against the hubby's body as well as mine. He told me that the feel turns him on just as much as the actual piece.
Design/Shape/Size
-This babydoll design is girly and sexy to me. Girly due to the main color which of course is pink, and sexy because of the design itself. The straps (5in up & 10in down) on each side of the baby-doll have two strings, and at each end they loop around a eye hole that also is attached to the adjustable part of the straps. I'm going to start with the front: it does have under wire which is nice, gives your breasts support, but I wish it came with a little padding. The cups are 6in long & 7in wide and they both have a 1in wide pink ruffle outlined with a black trim. On the cups themselves right underneath the ruffle there is a 1in wide and 7in long beautiful black lace. The design for the lace honestly unknown. In the middle of you breast you will find one little 1in black bow. Then we go down to the bottom of the baby-doll. There are two sets of pink ruffles that over lap with a black trim. These ruffles go all the way around the baby-doll and finish it off. You will also find two more 1in black bows on each hip. The front, besides the cups and ruffles is a solid pattern, the back is also a solid pattern till you get to the very bottom where the ruffles are. The ruffles in the back are raised up high enough to show your entire butt also there is one more 1in black bow and it would fall at the top of your butt crack. So all together you have 5 little black bows that are not removable, unless you're crafty, which I'm not. plus I like bows so they will stay. Now the shape of this is straight down or formfitting. It will hug all your curves and show off your booty! I have pictures with measurements, and they were the same on and off. Now to get to the sizing part. The sexy baby-doll comes in four sizes which are as followed S, M, L, and XL, I got the L.
Seven' Til Midnight Sizing Cart:
Cup Bust Waist Hip
Small 2 - 6 A - B 32 - 34 24 - 26 34 - 36
Medium 6 - 10 B - C 34 - 36 26 - 28 36 - 38
Large 10 - 14 C - D 36 - 38 28 - 30 38 - 40
XLarge 14 - 16 D - DD 38 - 40 30 - 32 40 - 42
My Measurements:
Cup C Bust 36 Waist 28 Hips 41 Torso 13 Weight 159 Height 5'7 Jeans- 10-11 Tops- M-L Dresses-M-L.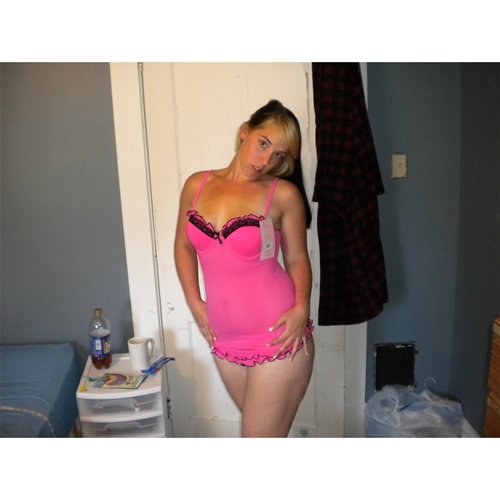 front length 22in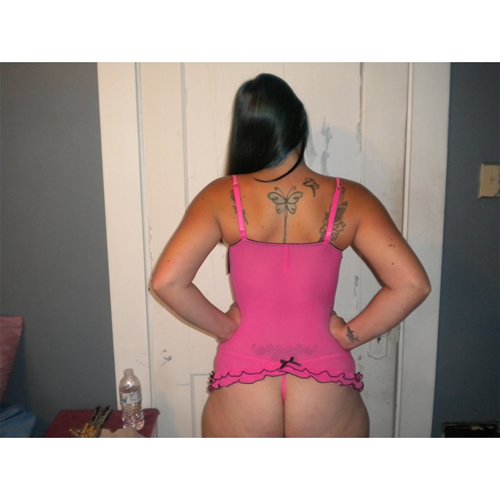 back length 13 in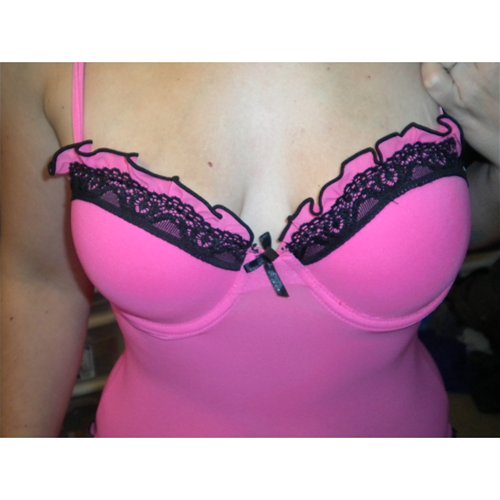 cups are deep
seam 15in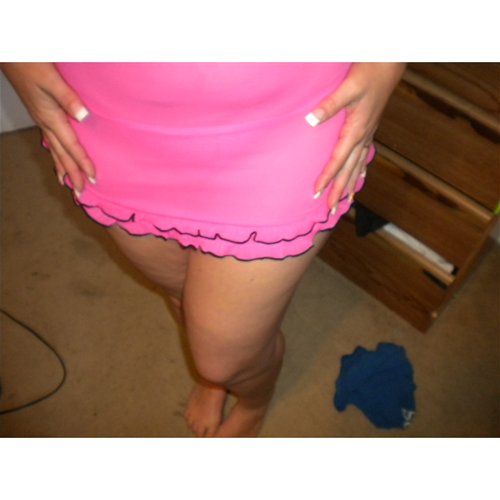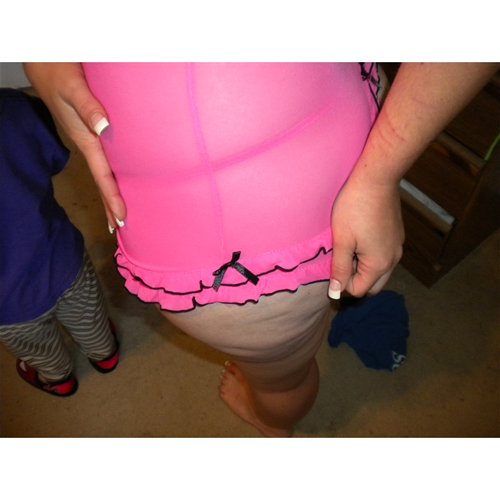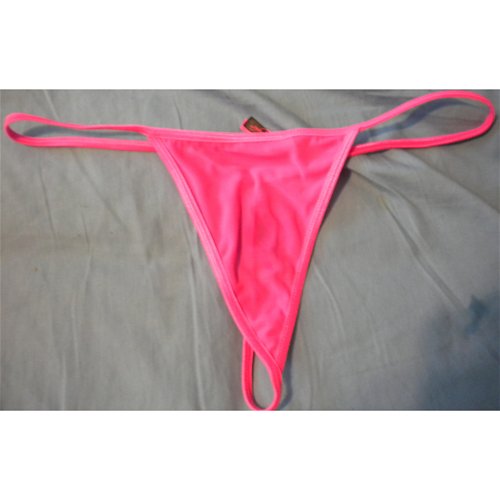 side-side 14in unstretched/stretched 23in whole way around 30in panty 7in long and 4in wide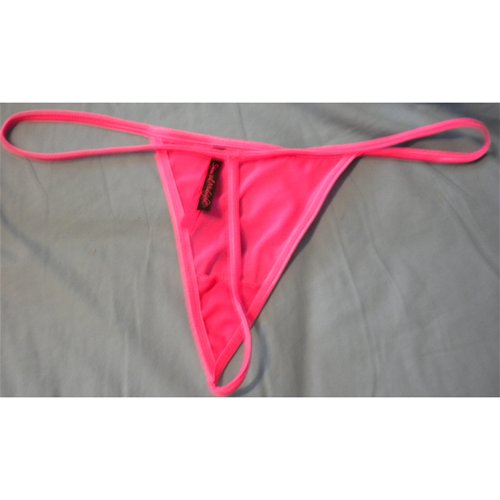 g-string 7in
wonderful pantyliner 2in long and 1 1/2 in wide
Functions/Performance
- La Bella Vida Babydoll and G-string really only has one functions and that is the adjustable straps. Performance, even with the loose threads and the bad stitching it did hold up pretty well during sex. Also I stretched the g-string as far as I could and it went back to its normal shape. There were no loose threads and I heard no ripping on the g-string. Even though the baby-doll had loose threads I still decided to give it a little tug. The baby-doll is also stretchy. I didn't hear ripping or tearing also no new loose threads. It also went back too its original shape.
Care/Maintenance
- The baby-doll is to be hand washed and line dried. Also do not bleach or iron this piece. Put this in drawer or hang in the closet if you feel necessary. It isn't a high maintenance or delicate piece.
Packaging
- The item came folded in a plastic bag that was sealed at the end so nothing could get in during shipping. Nothing really great to me just thrown in there with little care. It was suitable for shipping not for storage and because it's plastic you can recycle.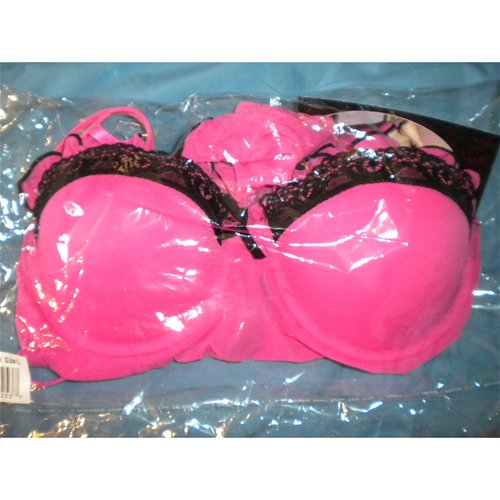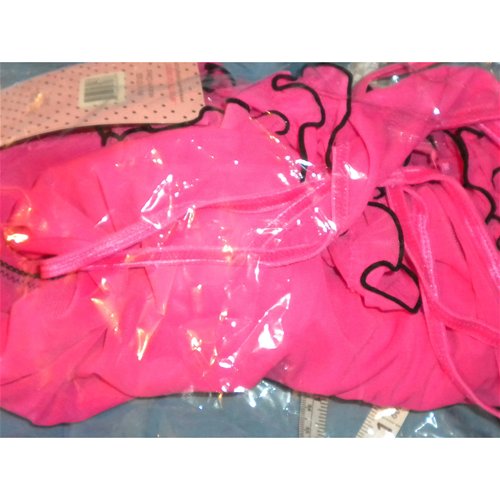 Experience
I really like the color combo pink and black, it's girly yet very sexy. This one is simple and sexy in the front and then when you turn around it's like damn. Your bottom is completely exposed, which to me is very sexy. The hubby likes the fact that it doesn't show a whole lot till I turn around. His favorite part is the the back and the fact that the butt is so open. It is a very cute piece of lingerie and I feel very sexy when I have it on! The La Bella Vida Babydoll and G-string is part of a sexy collection. You have this piece, the La Bella Vida Bra, Skirt, Garter and G-string, and the Show Stopper Ruffled Bra Set(not sure why they didn't keep this the same as the others). Like the name of the last one mentioned La Bella Vida means "Show Stopper". All three are the same colors pink and black, they also have some similarities. I actually have 2 out 3 and I'm waiting for the Ruffled bra set to come back in to stock and then my collection is complete.
Follow-up commentary
4 months after original review
I still like this one even with the loose threads. I forgot all about them due to the fact it's a sexy piece. I still love the bright pink color and the fact my ass hangs out - that's my favorite part because it drives the hubby crazy. This babydoll is up there in my top 20 favorite pieces, so I still recommend others to try it out.
This content is the opinion of the submitting contributor and is not endorsed by EdenFantasys.com

Thank you for viewing
La bella vida babydoll and g-string
– babydoll and panty set review page!