Side Tie Dress (OS)
The side tie dress is available is black and white, but is only available in one size fits all. The OS sizing does fit those up to a size 16, however those with larger breast beware. The dress is uniquely designed to expose flesh, but it also exposes your breast. There is a lack of support in the dress, but you can pair it with a strapless bra.
Published:
Pros:
Color selection, sexy design, OS fits me, and affordable.
Cons:
Exposes breast, no support, hard to put on, and only on one size fits all.
Function
The side tie dress is a dress that is more ideal for an all adult setting. This dress is fairly short and reveals some of your breast (depending on their size), so the most appropriate settings would be in your own piracy or an adult party. This dress can function as a dress, but if you are uncomfortable with the length you can also pair it with Jeans. Should you be uncomfortable with the side opening you could pair it with an under shirt.
Material and Care
This dress and thong are marked as "Made in China" and is a product of Dream Girl Lingerie. It is made of 92% polyester and 8% spandex. This material has a blocky pattern, which refers to the material being woven into blocks, but this can't be felt on your skin. There is a fair amount of stretch to this material and it feels really silky and soft. It can be compared to bathing suit material. If you hold the material up to the light, you can see thru it and you can see thru it the more it is stretch as well.
The tag recommends to hand wash in cold water and hang dry. I have been doing regular washes with my
Dona Lingerie Wash
, which works really well. This dress has also happened to make it into the washer on accident, but all was well with it, so you can machine wash this, but I recommend on delicate.
Design
This
dress
can be purchased in black and white. Usually I go for black, but the white was really appealing to me, so I got white instead. Starting from the bottom: The bottom is a skirt with a folded piece of material that is stitched along the bottom. There is a seam on each side as well. The top of the skirt has an elastic band stitched all the way around it, but 1/3 of this elastic band will show and also show bare flesh. The rest of the 2/3" is stitched inside of the dress. There are 4 times along the left side of the dress. These ties a stitched on separately and there is a seam marking each one. When you tie there they show bare flesh on the left side, but the right side there is no flesh shown. The top of the dress has an elastic band on it that isn't complete because the top comes together using the ties.
The
thong
is an elastic band for the waist band. This is stitched to the same white material as the dress. There are elastic bands stitched around the edges and a cotton panty liner inside.
Quality
Okay
There are a few places where the stitching is not straight and it is fraying, but overall the quality is okay. There is nothing that effects those who want to wear the dress.
Experience
Sizing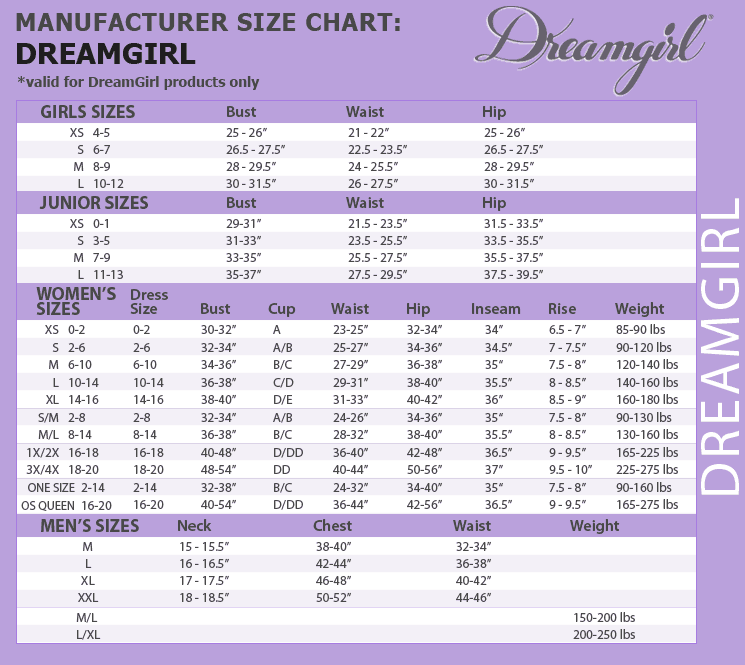 One Size Fits All
Measurements of the Garment (taken while laid flat)

Dress
Length- 26.5"
Hips- 14"- 23"
Bust- 11"- 21"
Waist- 11"-21"
Thong
Waist band- 12"-22"
Front to Back- 17"
Front- 4.5" wide and 6" tall
Back- 2" thick
The ties on the side allow for larger measurements to fit inside this dress, but at the bust level the larger your breast are the harder it will be to not expose part of it.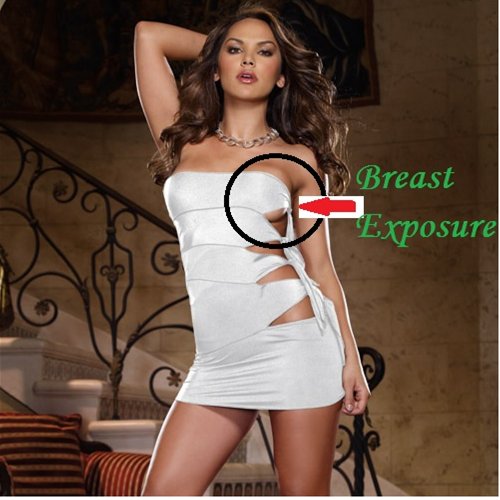 My Measurements
Bust-40
Waist-35
Hips-40
Dress-13
Height- 5ft 3in
Top of Breast to Bottom of Ass- 23"
Weight- 160-170lbs
The dress fits me. The material is meant to be really clingy and the design is meant to show flesh. The only issue I have with this dress is that it exposes my left breast. If I don't wear a bra it really exposes the entire breast, due to the lack of support. This can be fixed with a strapless bra. It can be confusing to get on at first. I recommend stepping into it and tying it from the bottom up, this works out the best. There is room for someone slight larger than I am, but not much. And sadly, there is no plus size. The thong is your basic thong that is fine for everyday use. The front and the back are almost the same size, so it might not fit all.
Overall ★★★★
Overall I am giving this dress four stars. It is really cute and functional for adult uses. It does require a bra for most women, but it is a great dress. It is unfortunate there is no plus size. The OS should fit up to a size 16, but remember your breast will hang out the side just like the models and the bigger they are the more that will show. The length of the dress is fairly short too, so you might want to wear this as a top instead.
Photos
I have the dress paired with
this dress
to not expose anything and for my comfort.
Front: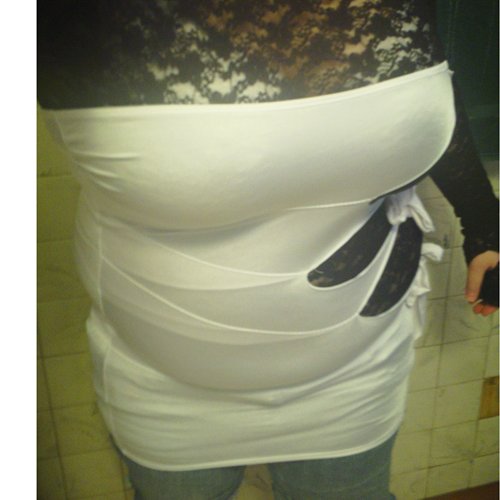 Closed Side:
Open Side: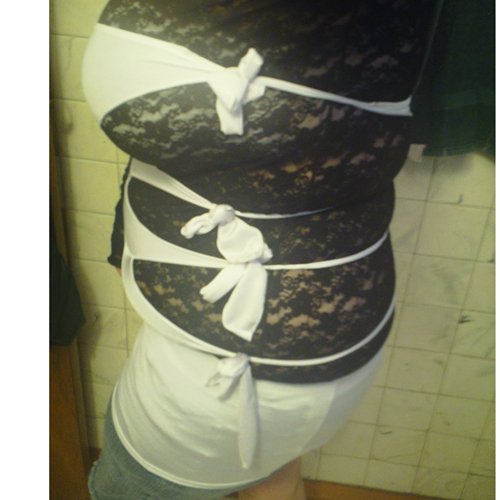 Dress: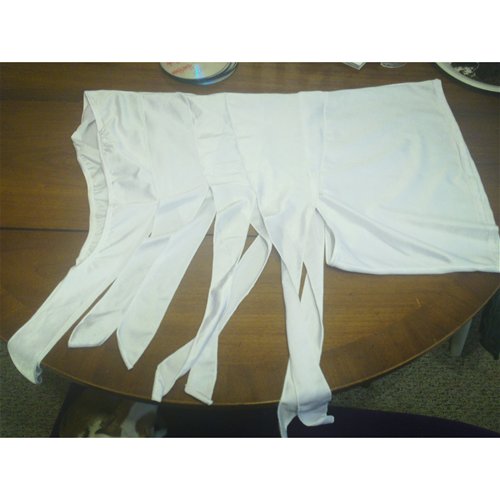 Thong: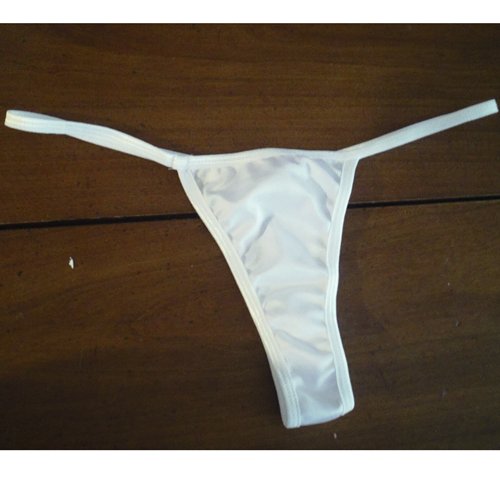 Follow-up commentary
4 months after original review
I ended up gifting this dress out to a friend of mine. She ends up with all the pieces I am not happy with. She loves it.

Her Sizes
38 bust
33 waist
38 hips
C cups

This fits her better then it fit me.
This content is the opinion of the submitting contributor and is not endorsed by EdenFantasys.com

Thank you for viewing
Side tie dress and thong
– mini dress review page!