Simple, Sexy, and Easy access.
I personally love them. They are functional enough to wear under clothing, but when the special time comes to do the deed, you don't need to take them off! A sexy addition to any ones collection of panties.
Published:
Pros:
Pretty color, easy access, durable.
Cons:
Not to be worn on the daily, Tag in front may annoy some.
These panties come to you in a cute little Dreamgirl shell. The front having and image of a girls back side wearing it, and the back of a girl wearing it from the front view. While in this shell, you can look at the side and clearly see the panty folded up and inside a cellophane.
Front package: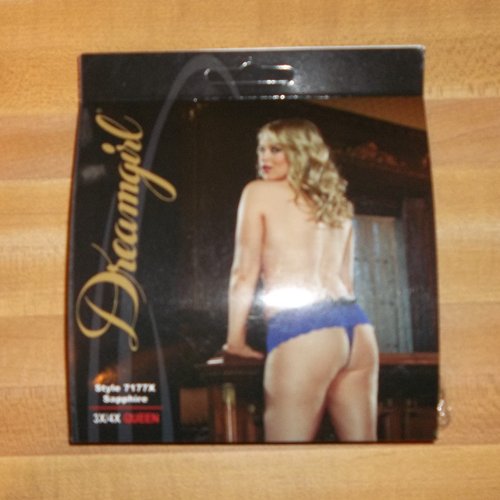 Back package: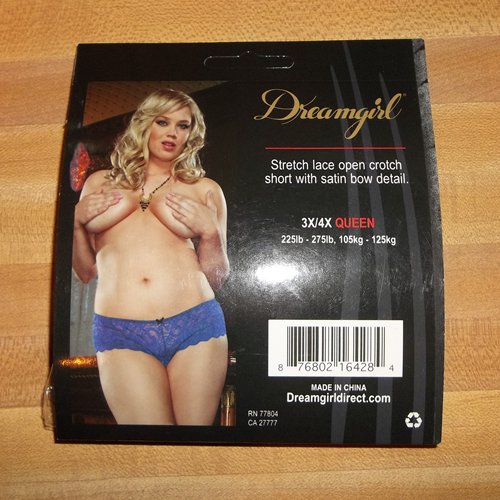 Side view in package: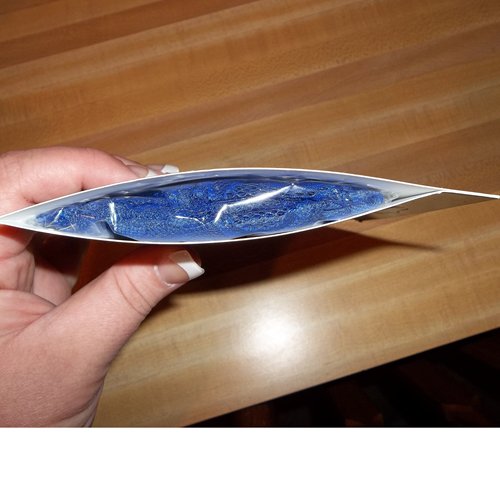 Panties wrapped in cellophane outside shell: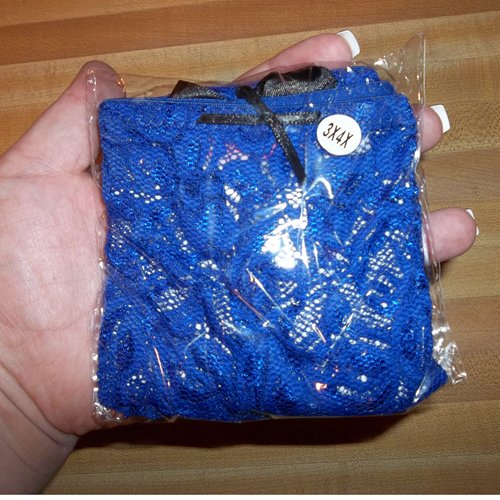 These panties are blue with a hint of purple, sapphire was a perfect name for this color. There is a black bow in the mid front at the top, as well as a smaller bow on the top mid back. The panties themselves are made of polyester and spandex according to Eden, but the inner tag states that they are nylon and spandex.
Panties laid out(front):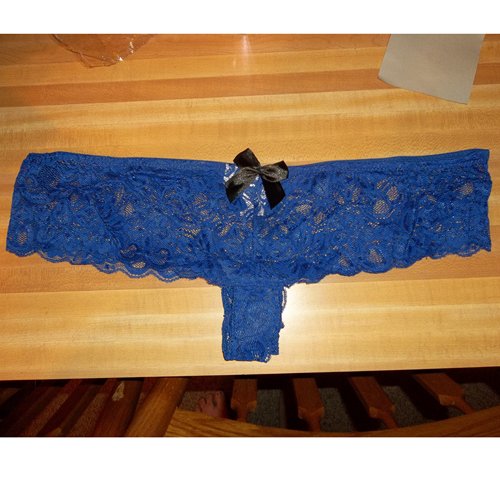 Panties laid out back: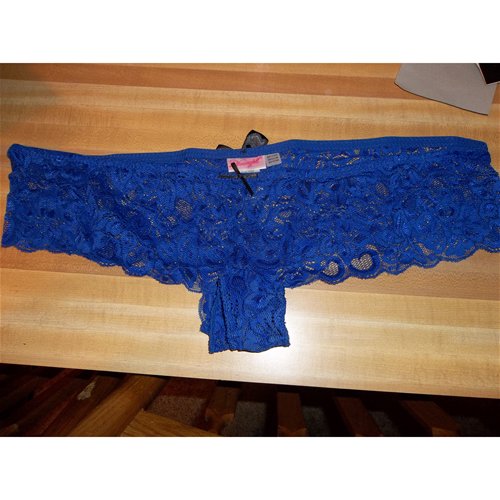 These panties are multipurpose, while they can be worn daily, the piece connecting the front and back that goes over your crotch can be split for easy access for your phallic object of choice. This part where there is two pieces, that can be pulled to the sides go all the way from the front piece to the back, fitting almost like a thong. While I am not into anal, these would be perfect for someone who is. What I'm trying to get it, is that it is not just easy access for your vagina.
Middle without being pulled apart: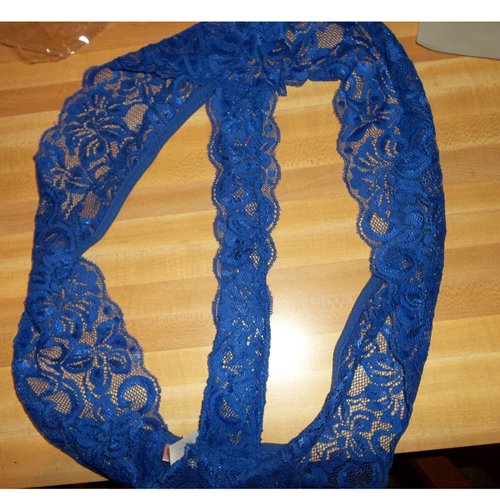 Images of the crotch pulled apart: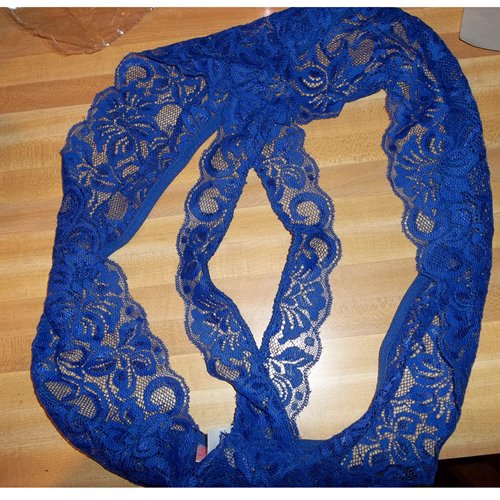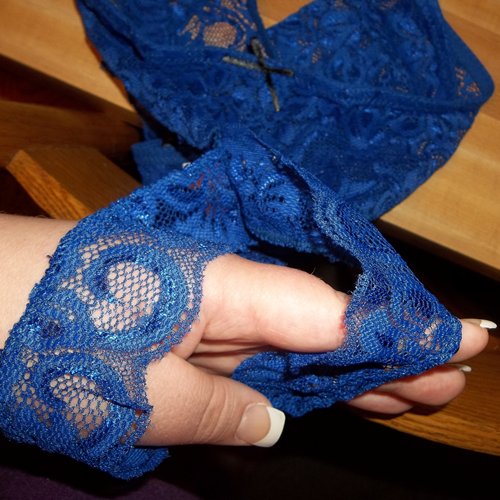 These panties are pretty durable, I pulled on the part connecting the middle strands to the part that wraps around your waist. They look easily torn, but they are much more durable than one would expect.
There is an interior tag in the front that states these panties should be hand washed in cold water. I personally am a daredevil and will continue to wash them on delicate in my washer and dryer.
Mine is a 3X/4X, find your size below:
Dream Girl size chart:
Cup Bust (in) Waist (in) Hip (in) Inseam (in) Rise (in) Weight (lb)
Small 2 - 6 A - B 32 - 34 24 - 26 34 - 36 34½ 7 - 7½ 90 - 120
Medium 6 - 10 B - C 34 - 36 26 - 28 36 - 38 35 7½ - 8 120 - 140
Large 10 - 14 C - D 36 - 38 28 - 32 38 - 40 35½ 8 - 8½ 140 - 150
Sm/Med 2 - 8 A - B 32 - 34 24 - 26 34 - 36 35 7½ - 8 90 - 130
Med/Lg 8 - 14 B - C 36 - 38 28 - 32 38 - 40 35½ 8 - 8½ 130 - 160
1X/2X 16 - 18 D - DD 40 - 48 36 - 40 42 - 48 36½ 9 - 9½ 165 - 225
3X/4X 18 - 20 DD 48 - 54 40 - 44 50 - 56 37 9½ - 10 225 - 275
Experience
Personally, I love them and so does my significant other. I like that I can wear them under a skirt and be so easy access. It is kind of hot that I get to walk around knowing that underneath my pants or skirt, I am so ready for action.
Follow-up commentary
1 month after original review
This pair did hold up a little longer than the pink pair, but I currently have the same issue with these. The crotch as well as the waistband have frayed ends now and don't look nearly as sexy on me as they did when they first arrived.
I have taken much better care of this pair, and they did last me a few weeks, but I currently don't wear them anymore. I feel like this fraying and fringing thing it's doing takes away from my naturally sexy sex appeal.
I recommend these if you are only looking for a short term pair of sexy undies. These will not last through the long haul, but a darn sexy until they start fringing.
ALWAYS HAND WASH THESE! I'M SURE WASHING IN THE WASHING MACHINE WILL MAKE THEM FRAY MUCH QUICKER.
This product was provided at a discounted price in exchange for an unbiased review. This review is in compliance with the FTC guidelines.

Thank you for viewing
Sapphire boyshort with bow
– sexy panties review page!