Simplicity and beauty (3x/4x)
The romance babydoll is very beautiful. I absolutely love it and I would order it again if this one was ruined. I'd highly recommend this without thinking twice. If you want something that is extremely beautiful but also comfortable this is the babydoll for you. As a plus sized women, this is something I can wear without feeling as though you can see every little imperfection.
Published:
Pros
Beautiful, Extended sizes, Comfortable, Pretty true to size,
Cons
No bust support
I'm a huge fan of sexy lingerie Items. I haven't been buying any because I'm currently trying to lose weight and don't want to buy something and it fits now but in a couple months it's going to be too big, but with this I couldn't help myself. I love items like this that are just so simple and beautiful. It doesn't have too many bells and whistles and it looks good on anyone no matter your clothing size. That is something I look for when buying lingerie and I also like items that will hide all my problem areas.
Package?
The romance babydoll doesn't come inside of any type of special packaging. It doesn't come with a hanger nor wrapped in tissue paper. The romance babydoll comes inside of a clear plastic bag. The bag is clear so you can see the item without opening the package. The package is closed by tape running along the back. The bag can be used for storage but it's pointless you should just toss it in the trash.
Material and Care.
The romance babydoll is made out of two materials they are Polyester and spandex. Polyester is a category of polymers, or, more specifically condensation polymers, which contain the ester functional group in their main chain. Usually, polyester refers to cloth woven from polyester fiber. This is what the babdoll is mostly made out of, even the blue ruffles that line the arms, neck, and bottom are also made out of polyester. The polyester is pretty thin and is sheer, so if you aren't into sheer itmes than maybe this one isn't for you. It isn't too sheer but when close up you can see through the babydoll. You could also see your underwear when wearing this, the brighter your undies are the more they are visible.
The second of the two materials is the spandex. Spandex is very strong and durable material, able to be stretched repetitively and still recover original length. It is resistant to body oils, perspiration, lotions, and detergents with no static or pilling problems. Spandex lines is located around the arms and under the bust. This allows for extra room when putting it on. The spandex is pretty stretchy so you don't have to worry about popping the spandex inside.
When needing to care for your babydoll you should always hand wash it. I wouldn't recommend putting it inside of the washer or drayer. The spinning of the washer and the heat of the dryer can ruin your babydoll not to mention something could grab onto it and possibly rip it. You should hang dry it somewhere it can fully dry. You should use warm water and a mild laundry soap.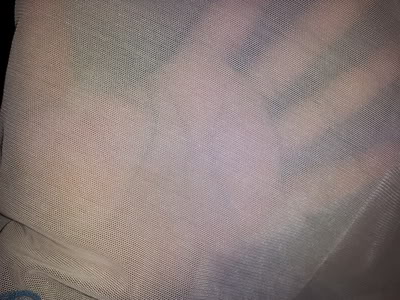 Comfort?
The romance babydoll is extremely comfortable. I'd wear it all over the pace if I could. It feels so soft and luxurious when sitting up against your skin. You don't have to worry about inching or it being too tight when wearing it. The only problem I ran into is the bust area. There are no cups and your breast just sit inside of the babydoll, because they are loose like this it can cause your boobs to fall out when rolling around.
Design:
I love everything about this babydoll. I do wish it was a little bit longer but other than that I see NOTHING wrong about it. The babydoll gives you the comfort of sleepwear with the sexiness of lingerie. The number one thing I loved about this is that it doesn't have those spaghetti straps. I'm not a huge fan of those, this almost fits as if it was a tank top.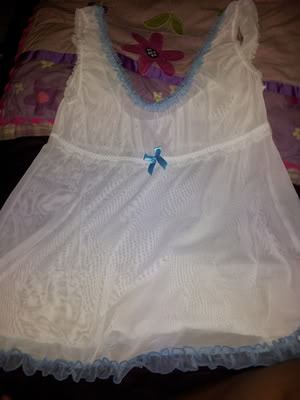 Detail:
The romance babydoll has beautiful detail you notice it as soon as you have it in your hands. The romance babydoll is this beautiful ruffled lace like fabric that runs around the neck line, the arms, and the very bottom of it. It has this pretty lace that crosses under your breast and it's accented with a beautiful blue bow. There were no loose strings and it seems to be crafted very well. It seems as though it will stand up to time as long as it's properly cared for.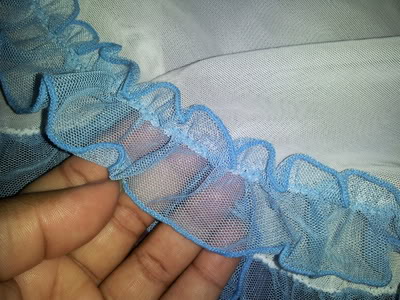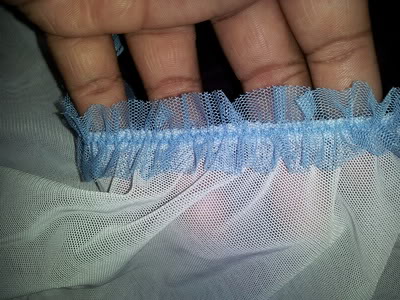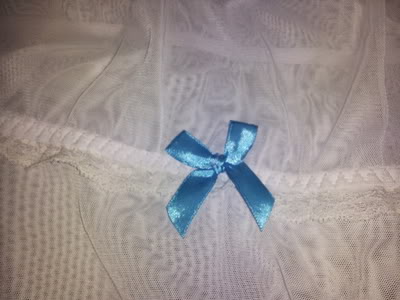 Experience
Sizing:
The romance babydoll comes in sizes small-3x/4x. I personally went with the 3/4x because I worry about items running too small. This actually does run a little bit small but not too small. I could have went with a 1/2x but that may have been a little too form fitting for me. I loved that with this larger size it gave me a little wiggle room.
Measurements of 3x/4x:
Dress 20-22
Cup size D-DD
Bust 46-50
Waist 40-44
Hips 50-56
My measurements
Dress 18
Cup D (large, full D)
Bust size 48 inches
Waist 42 1/2 inch
Hips 58 inches
My measurements are too far off from the actual size of the babydoll.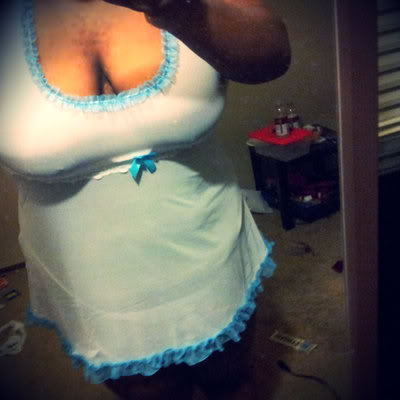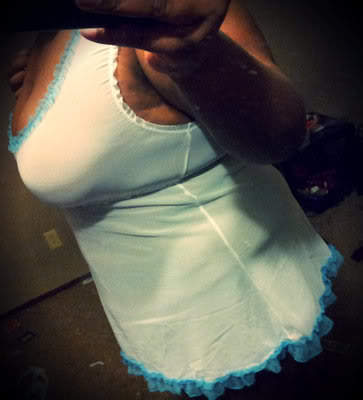 Extras:
The romance babydoll comes with a very simple white g-string. I'm not a huge fan of g-strings. I actually hate them. I find them to be uncomfortable. The g-string that the baby dolls comes with fits very well. I've had babydolls that the g-string was way overly too large. You can wear this with the babydoll or where ever you like.
What I did:
I ended up ordering the matching underwear that is sold separately. I wish they came as one but they don't. I didn't mind spending the extra money because they pair up very nice with the babydoll.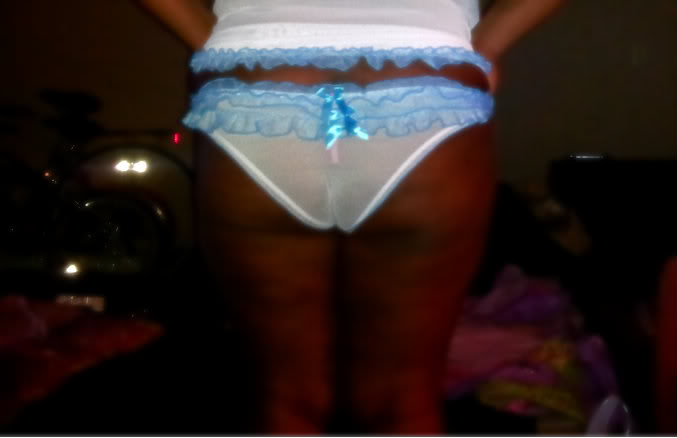 Experience:
I absolutely love this baby doll. This is only my second babydoll and I'm glad I decided to get it. It fits so nicely and feels amazing on my skin. I would order another one if something happened to this one. The price isn't overly expensive. When I put it on for my boyfriend he loved it right away. I loved that he loved it. We did try to use it during sex but my boobs were all popping out and I just ended up taking it off. The lack of bust support does make your breast sit lower than normal.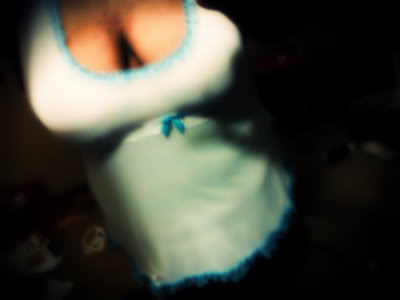 This content is the opinion of the submitting contributor and is not endorsed by EdenFantasys.com
Thank you for viewing
Romance babydoll and G-string
– babydoll and panty set review page!