Six Point Vintage Naughtiness
I am a bit dissapointed by the quality of this piece-the zipper is horrible and the garters don't detach. However, it's a really sexy design. It runs a tad small, but isn't too concerning. Order up if you are on the end of the hip measurement.
Published:
Pros:
Six garter design, Really sexy, Fits well under skirts/dresses
Cons:
Zipper doesn't work well, No give to main material, garters don't detach
I love wearing garter belts because I feel there is something super sexy, yet classy about those straps. This garter reminds me of vintage Betty Paige. And for that, I had to have it. It also isn't dainty, but instead commanding. I also like that the design is more or less stream lined and doesn't have frills that will make it damn near impossible to wear under skirts or dresses. The even cooler thing about the garter is that it has not two sets of garter straps, but three! It also has a unique zip up front with rhinestones. While it looks cool, it's a fucking pain in the ass to zip up due to the quality. The sizing is pretty good too. It's a little off, but the good news is that this garter has an eye and hook closure in the back like a bra. It has multiple settings, so if you order the wrong size, chances are it might still work for you. If you are on the end of the sizing for the hips, order up. Otherwise, you should be just fine.
*Contents/overview: One piece
The Satin Garter Belt comes as one piece wit no removable garters. This is a shame because it would look really cute if you could mix and match different ones. I've got to have at least 20 pairs from Coquette alone. It comes in one color- black, and can be ordered in the following sizes: S, M, L, and XL, and 2X. The sizing runs only a little small compared to the chart, but doesn't run small for Coquette in general.
*Material: Great
This garter belt is made of 100% acetate. I'd never heard of this other than being a liquid, so I looked it up. Acetate fabric is either a synthetic or manufactured fiber that mostly looks and feels like silk or satin. The title of this garter is a bit misleading since it isn't really satin. It is shiny and looks great in multiple light settings.
I don't know how the tag says 100% exclusive of trim because there are a lot of materials that are unexplained. There are a lot of things on this that I would consider trim, but I don't consider the inner lining of the garter trim. It probably makes up a good 40% of the material use and it feels more like cotton than anything else.
The acetate and whatever the inside lining of that is are not very stretchy at all. There is a little bit of give, but not much. There is a spandex band in the back for the eye and hook closure though. The other trim includes the plastic zipper, faux rhinestones, and a bit of felt like material.
*Design/craftsmanship: Good with flaws
Overall, the construction is good, not great for Coquette. I'm actually increasingly becoming dissapointed with Coquette after getting like five of their new pieces featured on Eden. The quality is about the same as other manufacturers. But I like Coquette, because their quality has usually been way better than the competitors. Hopefully for this piece, it's because it is priced affordably.
Getting that aside, there are a lot of cool things bout the design. For size I got, Large, the garter belt is 4 1/2" long at the zipper and 5" long where the garters are sewn. There are size pieces of boning, of what feels like plastic at various points around the garter belt. The front ones are further apart from each other than the back ones. The garters are attached on the inside of the bottom of the garter, right below where the boning ends. Unfortunately, they are not removable. As I stated earlier, it would be cool to mix and match other garters. If I get some free time, I may change this!

The garters are 5" long and stretchy. Attached to the end are metal clasp with plastic plugs that hold the stockings in. There are also short ribbons that lay on the top and the bottom of the garter so you don't see where the stockings are secured. I'd say that the garters are of good quality.
However, the zipper is not. This thing is a pain in the ass and I'm really dissapointed with Coquette for overlooking such an obvious flaw. The zipper is black PLASTIC. Seriously, You couldn't make it metal? Perhaps it is plastic because each tooth of the zipper has a faux rhinestone in it? When you try to zip it, the teeth turn outwards, jamming. It's down right annoying. It unzips nicely though. I suggest putting this garter belt on using the hook and eye closure in the back. There are three selections for sizing.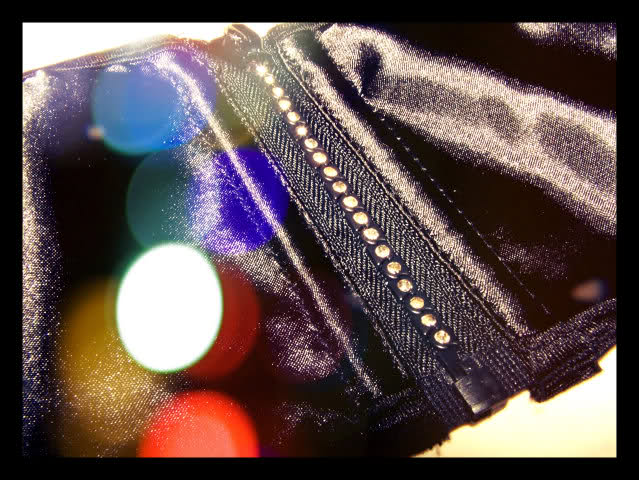 Experience
*Cleaning/care/storage: Hand wash

The tag says to hand wash but research I did says to dry clean. Hopefully, you don't have to go through that hassle. The material is so slick that it is really easy to just wipe down with a damp cloth. It comes on a hanger in a plastic bag. You can use it for storage if you keep everything intact.

*Sizing: Runs a little small, but no biggie

I figured this fabric wasn't stretchy by the way it looks, so I ordered a large. Even though this does run a little bit small compared to the size chart, it doesn't run small for Coquette in my experience. This garter belt is no smaller than other larger sized Coquette garter belts I have tried in the past. After losing some weight, it makes sense that this is a little big on me and I have it on the smallest setting.

A large is supposed to fit about 150-180 pounds, dress size 12-14, 40-42" hips. My hips are about 38" and I weight about ~142. I wear a size 8 jeans. I'd say they were too loose by about a half inch. This means that the smallest size should be about 39". The largest setting adds another 1 1/2". This means that the max hip measurement should be more like 40 1/2" if you consider the small amount of give the band has. So, as you can see, the large doesn't run all that small. It's important to note if you are at the top of the size range. I would order up in that case, otherwise, you should be fine.

So for me, it is very clear I should have gotten the medium. I probably could wear the medium on the middle or largest setting. It does work though. The fabric doesn't look at taut and has some wrinkles because it is too big. I might have to exchange it.

*Re-done Sizing:

Dress size: 10-12
Hip size: 39"-41" (If you are 41" or a bit bigger, this can work, you will just wear it a bit higher on the hips)
Weight: ~145-175

*Conclusion: 4 stars

If I could give this 4.5 stars I would. I want to dock it for the horrible zipper, but not for the slightly smaller sizing. It really is no biggie. I love how this looks since the six straps looks great framing the legs and ass. I hope to see improved designs like this in the future.
Follow-up commentary
2 months after original review
Given that this is a one piece and not part of a set, it isn't getting worn much. If I get a garter belt, I like it to be paired with a matching item or be able to be worn under a lot of things. this can be worn under select items, but it has a lot of fabric and isn't ideal for most situations.

I still love it, though!
This content is the opinion of the submitting contributor and is not endorsed by EdenFantasys.com

Thank you for viewing
Satin garter belt
review page!