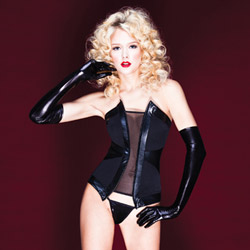 Darque pleather corset
Corset by Coquette
(Size Large) Darque and Daring
Coquette's Darque Pleather Corset is not for everyday wear - unless you are a professional dominatrix. Still, it may be just the piece that you need in your wardrobe for a sexy, good time. Buy it, if you dare...
Published:
Pros:
Sexy
Daring
Comfortable
Cons:
No bust support
Does not give an hourglass shape
When
EdenFantasys
began carrying Coquette's wet look items, I immediately started thinking about which ones I wanted, and what product I would request for my free assignment. As I had about a two week wait before I could make a request, I saw item after item being snatched up by the other, wonderful, lingerie-reviewing contributors. When it came time for me to make my request, there was only one item in the collection left unclaimed...the
Darque Pleather Corset
. This piece was not last on my list of items I would have chosen, but it was close to the end. Just by looking at it, I didn't think it was anything I would ever wear. It conjured up images for me of 1980s Grace Jones (think
A View to a Kill
or the Honda Scooters advertisements if you are old enough to remember them). Yet when faced with the choice of taking this for my free assignment or choosing something outside of the collection, I just had to go for it.
The Basics
The name of this piece implies - no, it outright states - that this is a corset. When I think of corsets, I think of something with a lace-up back that cinches the waist and gives an hourglass figure.
This
is not
that
. This "corset" fastens with the aid of back hook and eye closures - 17 of them. There are two rows of eyes set 3/4" apart. That is as much as you will be able to adjust the fit of this piece, but that's okay, as the material is stretchy enough to accommodate a range of sizes. The product page lists this piece as a "Lycra lined powernet corset with pleather paneling and sheer powernet center front panel." According to the care tag, this is a polyester lined polyester corset with polyester paneling and a polyester front panel - in other words, it says it is 100% polyester, exclusive of trim. Lycra, powernet, and pleather all are primarily made of the same material as polyester, with small amounts of other synthetics added in. In any case, whatever the fabric is, it does not act as shapewear, and should not be expected to give the wearer an hourglass figure as a true corset would. This, to me, seems more of a bustier, but hey, Coquette didn't ask me before they named this piece...or after they named it either. If they want to call it a corset, we will call it a corset.
The design of the corset is quite unusual. There is a black, sheer, mesh panel down the front (the powernet). The width of this panel is 1 1/2" in the middle, and 3" at the top and bottom. On either side of the mesh, plus at the top and bottom, there is a 1 1/2" strip of black, pleather trim. On each side of the trim, in the center, there is a diamond-shaped section of black, pleather material that folds around the wearer's rib cage. Above and below this diamond is the stretchy, black, lycra material. The corset is lined so that it is only sheer where it is meant to be, and also to give a more comfortable feel against the skin. Unlike more solidly pleather pieces made of PVC, the Darque Pleather Corset is not unbearably hot to wear for extended periods of time. It is important to note that there is no underwire or other bust support, and that because of the sheer, front panel, your options as far as additional support are minimized (that is, a normal bra is going to show).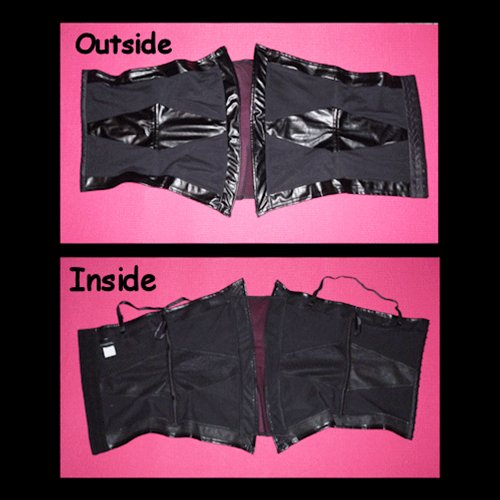 Sizing and Measurements
Eden offers this corset in three sizes: Small, Medium, and Large. The size chart for
Coquette
suggests that for a size large, the wearer should be a size 12-14 (which I am), have a C-cup bust (I'm a D-cup), measure 38-40" in the bust (I am 42"), 30-32" in the waist (34" here), and 40-42" in the hips (40" for me). In spite of being over the suggested measurements in the bust and waist, I had a very strong suspicion that the large would still work for me, given the stretch of the material.
The corset measures 35" across the bust and the hips and 33" at the waist. It is 17" long in the front center (on either side of the sheer panel), then tapers to 12 1/2" on the sides, and 12" in the center back. It has four pieces of plastic boning, two lining the trim in the front center, and one on each side of the corset. The boning does not reach the top or bottom of the trim, instead leaving about 1" without in the front, and 3" without on the sides. There are removable, adjustable shoulder straps included.
Experience
Packaging, Care Instructions, and Storage
The corset arrived packaged in a clear, plastic bag, hanging on a clear, plastic hanger bearing the Coquette name. It had a tag showing different views of the corset attached to it with a safety pin. The care tag says that the wearer should hand wash this piece and hang it to dry. It also notes that the piece was made in China. To store this piece, you may hang it, or fold/roll it, keeping the boning straight, and place it in a drawer.
Experience
Without giving away too much, I will say that in my daily life, I am a professional and must dress as such. As that profession is not dominatrix, it's needless to say that this corset does not fit in with my usual attire. It's a pity. Truth be told, sometimes I do harbor dreams of giving up my button-down lifestyle and becoming a full-time fetish/lingerie model. That way a piece such as this would be business wear. It will probably never happen, but at least I can model this piece for you here. I have paired this with the
Wet look Capri Pants
, also by Coquette.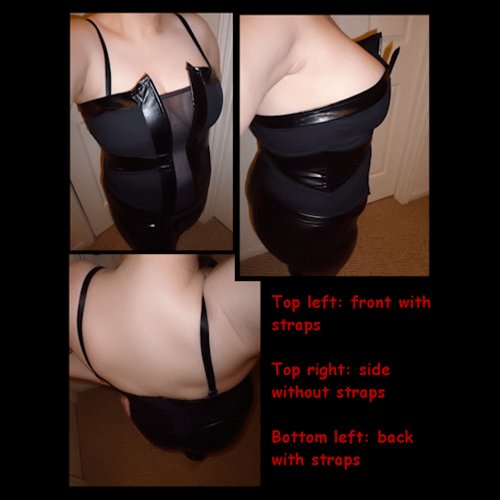 I was able to put this on by stepping into it and pulling it up over my hips, stomach, and breasts while completely fastened. This was possible because of the stretch of the material. If you are an inch or two larger than I am, you will probably be able to do this too...not that you should. The proper way to put this piece on will require a second person to fasten the hooks for you (if you are not a contortionist). Otherwise, you could put this on backwards with the closure in front, fasten the hooks, then turn it around properly.
This fits comfortably - not binding at all. If you wear it without the shoulder straps, you may find that it slips a bit. On the other hand, if you attach the shoulder straps, you will see that they pull at the fabric a little bit. As I mentioned earlier, this piece does not give you an hourglass figure. If you are uncomfortable with your belly area, this corset, with its sheer, front panel, may not be for you. Also, as there will be cleavage showing, if you have a significant cup size difference, this may be visible.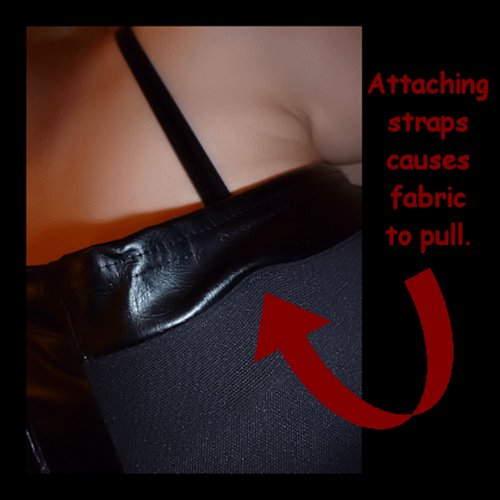 As for the quality of this piece, I noticed a number of loose threads in various places, but otherwise, it appears to be sturdy.
Even though this was one of the last pieces I would have ever chosen for myself, it turned out to be something that I really did like. It is daring, sexy, and fun! I give it an enthusiastic four stars.
Follow-up commentary
10 days after original review
I can't imagine that I am going to wear this outside of the bedroom. I just don't live a life where that is plausible, but still, I really do kind of like this piece. It's fun!
This product was provided free of charge to the reviewer. This review is in compliance with the FTC guidelines.

Thank you for viewing
Darque pleather corset
review page!