(Size XL) How Low Can You Go? Now You Know.
While this dress by DreamGirl has its positive attributes, they can't make up for the fact that it is cut way, way too low and has no bust support at all. It doesn't help that there is no way to adjust the halter top. Nevertheless, it is comfortable, opaque, and figure flattering...below the bust line.
Published:
Pros:
Print hides figure flaws.
Not sheer.
Comfortable.
Cons:
Really low cut.
No bust support.
Not adjustable.
Print isn't for everyone.
When it comes to animal print clothing, the big thing always seems to be leopard. Here at
EdenFantasys
, you can currently find more than 40 items of clothing featuring leopard print (in various colors). If you peruse the site for items featuring snakeskin print, on the other hand, you will find only two:
Queen Cobra
and Dreamgirl's
Maya Magic
. Perhaps there is a reason for this. Judging from the various comments on the product page, snakeskin print is not an overwhelming favorite. I saw this as one of the choices for an assignment, and as I didn't have any snakeskin in my wardrobe, I decided to give it a try, and perhaps change a few minds...or not.
The Basics
Maya Magic features a python print in shades of beige, brown, and black. It has no adjustable fasteners anywhere on the dress, so you can either slip it on over your head, or you can step into it. The top has a halter-style, cowl neckline. A cowl neck means that there are layers of fabric meant to drape loosely in the area between the neck and bust. This may or may not allow for some cleavage to show. In the case of Maya Magic, there is definite cleavage in view. The cowl neckline actually drops below my breasts, exposing way more than is shown in the model's photo on the product page. In the back, the dress is open to the waist, or lower, depending on how long or short-bodied you may be. There is one, thin strip of cloth that holds the back closed so that you will not have any embarrassing clothing mishaps...at least in the back.
The dress is made of 92% polyester and 8% spandex. This gives the material a good stretch that makes it quite comfortable.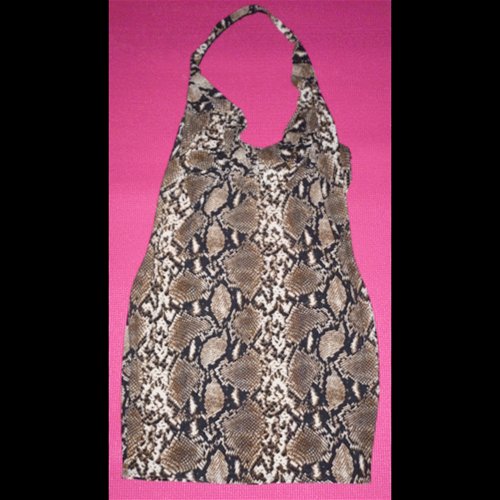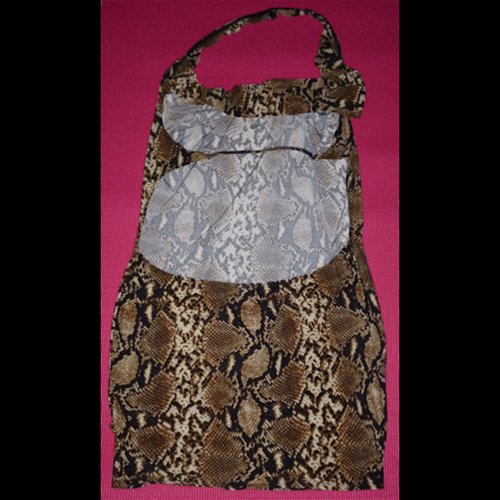 Sizing and Measurements
EdenFantasys offers this dress in sizes small, medium, large, and extra large. EdenFantasys size chart for Dreamgirl does not include measurements for XL, but these are available elsewhere on the web.
For XL
Size - 14-16
Cup - D/E
Bust - 38"-40"
Waist - 31"-33"
Hip - 40"-42"
Weight - 160-180 pounds
I fit in with most of these measurements, though at 42-34-40, I am a smidge over for both bust and waist. My cup size is D, so I am actually on the smaller end there, as I am in the hip area. I usually have particularly bad luck with Dreamgirl items when they are given such general sizes. I normally do better with their corsets, as they tend to use numbered sizes rather than S, M, L, and XL. Since this dress contains spandex, I found myself fitting into it more easily than some purely polyester items from Dreamgirl that I have tried; in fact, it was a little big on me!
The length of the dress is about 34". On my 5' frame, this comes to just about two inches above the knees, but it can be arranged to be shorter if desired. On taller ladies, the skirt will naturally come up higher on the thigh. The skirt measures 14" long in the back. The drop in the neckline is considerable...I measured it at about 12" from the hollow of my neck. To give you an idea of just how low this is, my navel is 15" below the hollow of my neck.
Packaging, Care Instructions, and Storage
Maya Magic arrived on a plastic Dreamgirl hanger - nothing special - inside of a thin, clear, plastic garment bag. It had two tags attached to it. One showed the model wearing the dress, and the other told the material make-up of the dress. It also gave the address and phone numbers for Dreamgirl International.
The care tag on the dress states that the dress should be hand washed in cold water and dried on the line. Personally, I will probably toss it in the wash on a delicate cycle and dry it in the dryer on a low or no heat setting. It does not show wrinkles - seriously, you can wad it up in a ball, and when you straighten it back out, you will not notice a difference - so ironing is a non-issue. Should you have nothing better to do and decide to iron this anyway, I would suggest doing so inside out.
As I said, this doesn't wrinkle, so store it in a drawer if you like. Hang it in the closet on the included Dreamgirl hanger (for as long as it lasts). Either storage solution will work just fine.
Experience
As you can guess, my main issue with Dreamgirl's Maya Magic dress is that it is cut WAY too low for me. I wanted to include pictures, but I did have to self-censor them just a bit. If the halter had adjustable straps, this would have been much easier to wear. I did manage to tie a knot in the neck strap, lifting the neckline considerably. I liked this much better. A person with decent sewing skills could probably fix this easily. As it is though, there is no way to wear a bra underneath, and you will have to use some strategically placed, double-sided adhesive tape to keep "the girls" from coming out and greeting everyone.
Other issues that I have with this is that the size chart seems a bit off. As I have said, this was actually a bit large on me, which has never been an issue for me with a Dreamgirl product before. It is usually the opposite, with the items being too small for me around the bust and waist. I felt a bit like I was falling out all over the place.
The last issue I have with this piece is one of quality - there is an abundance of excess thread that needs to be snipped off.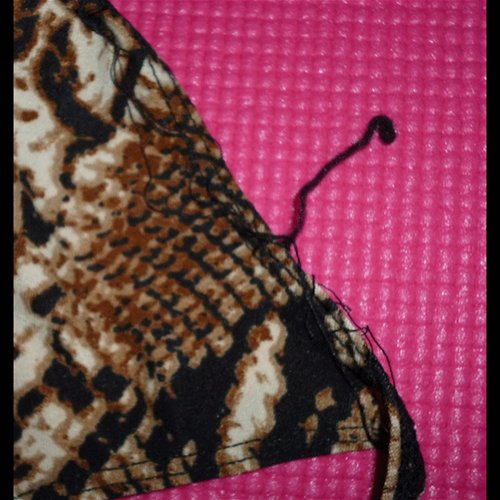 There are things that I do like about this dress though. For one, it is a lot less sheer than other dresses I have bought on EdenFantasys. This is not to say you should wear hot pink panties underneath, but you can easily get away with wearing flesh colored or black panties with this dress. Another great thing about this dress is that the snakeskin print hides figure flaws marvelously. That is always a plus for those of us with a little extra tummy pooch to disguise.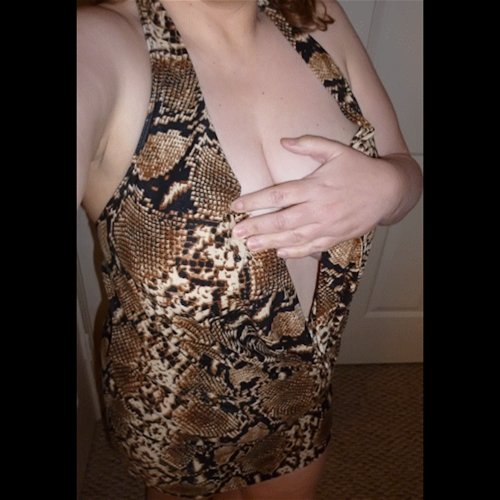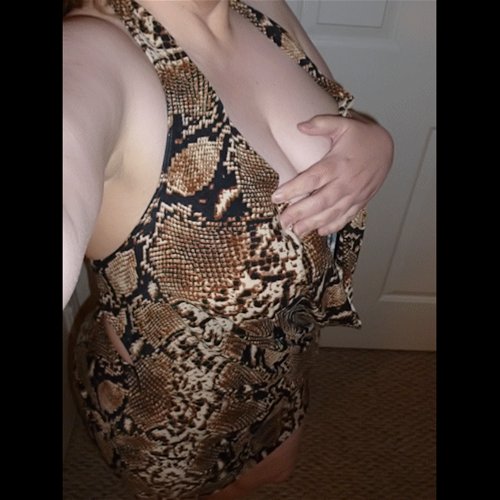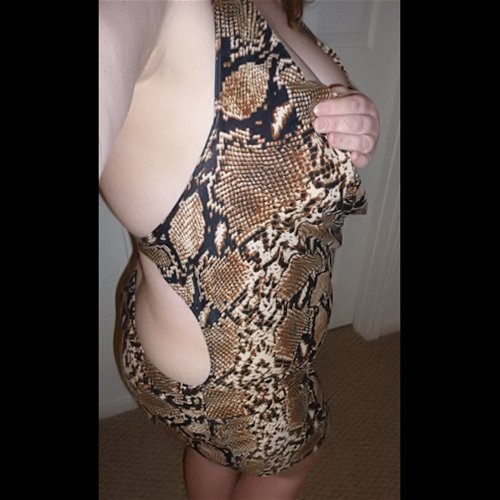 Overall, I would say that the Maya Magic dress is okay, but not great. I give it three stars.
Follow-up commentary
2 months after original review
While I liked this dress in theory, in practice, it just didn't play out as I expected. With the halter top's strap not being adjustable, I just couldn't wear it out anywhere. I am all for flashing a bit of cleavage, but this was ridiculous! No, it was cut far too low for my comfort level, and it would definitely have defied the 2013 Grammy Awards' dress code...
This product was provided free of charge to the reviewer. This review is in compliance with the FTC guidelines.

Thank you for viewing
Maya magic dress
– mini dress review page!