(Size XL) Wallflowers Need Not Apply.
This hot, little number is sure to grab the attention of everyone in the room. If you want to blend quietly into the background, buy some other bustier.
Published:
Pros:
Eye-catching,
Comfortable,
Sexy.
Cons:
Shoulder straps fall off,
Neckline gaps,
Perky nipples will show.
Many long years ago, when I was in college, I took a class in nonverbal communication. It was probably one of the most useful classes I ever attended. We spent a week studying the psychology of color choices. Blues and greens are calming. Yellow is cheerful. My favorite color, however, has always been red. Red symbolizes energy, power, passion....It speeds up reaction time. It increases respiration rate and raises blood pressure. It draws the eye. It draws attention. If you choose to wear red, you want to be seen. If you choose to wear
Coquette's Wetlook Bustier with Padded Cups
, you
will be
. Fair warning.
The Basics
As a bustier, this piece is designed to smooth the figure, but not to cinch the waist as a corset would. This particular bustier is fire engine red with black accents - hot. It is a wet look piece, meaning that it has a shiny appearance, as if wet, obviously. The outside of the bustier feels somewhat rubbery, like latex, while the inside has more of a rougher, polyester feel. Despite the feel of the fabric, the material is actually made up of 80% nylon and 20% spandex. As you can probably imagine, the use of these two materials in this bustier means that there is a lot of "give" to the fabric. It is quite stretchy.
Thin, vertical stripes of black material act as accents while also housing the eight pieces of plastic boning hidden underneath. More black stripes act as trim around the top, bottom and shoulder straps of the bustier. The front of the bustier fastens with 16 large sets of hook and eye closures. The interesting thing about these closures is that the hooks are arranged to face
outwards
, rather than towards the body, as you usually see (think of bra clasps). This does make it slightly more difficult to fasten the hooks into the eyes, but it also guarantees that these hooks are going to stay fastened. The back of the bustier features ribbon lacing and eight sets of grommets. The ribbon that is included is incredibly long to allow the lacing to be wide open across the back if desired. If this is not desired, the ribbon may be trimmed to a shorter length.
Oh...and in the ongoing tradition of misnaming products, this bustier does not have padded cups. It doesn't have cups, padding, lining, underwire, or any other form of breast support.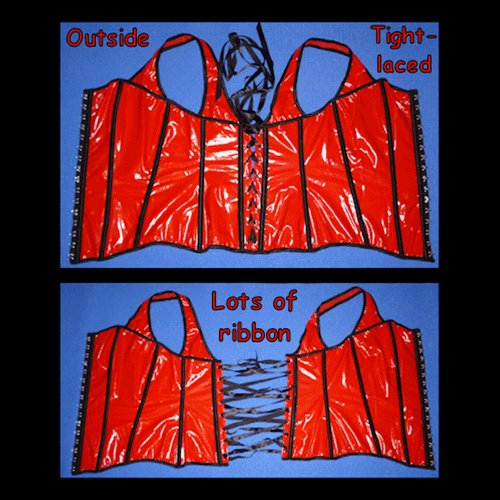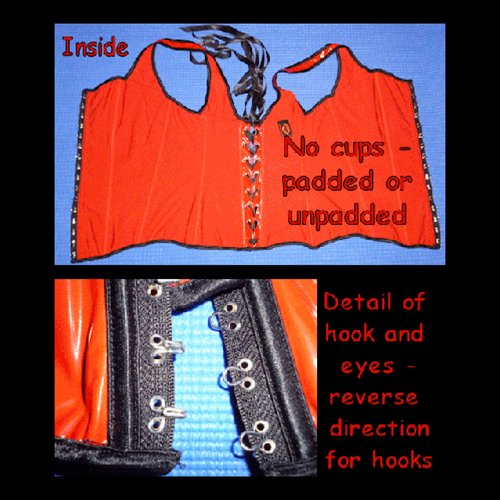 Sizing and Measurements
EdenFantasys
offers this bustier in sizes small, large, XL, and 1X/2X. Yeah, there is no size medium. Don't ask me why. I can't explain it. I had to decide between the large and the XL. If you look at the
Coquette size chart
, you will note that the large is for size 12/14, C cup, 38-40" bust, 30-32" waist, and 40-42" hips. I wear 12 pants, but 14 tops, am a D cup, and am larger than the given measurements for bust and waist, though I am at the small end for the hips. Overall, it sounded like this might be a little small for me, so I went for the XL: size 14/16, D cup, 42-44" bust, 34-36" waist, and 44-46" hips. For this size, I fit in at the lower end for bust and waist (at 42" and 34"), and I can expect the hip area to be loose.
For measurements, with the back laced completely closed, this piece is 32" around the chest, 30" at the waist, and 36" at the bottom. For length, it is 17" from above the bust to the bottom at its longest, and 12" at its shortest (in the back). The shoulder straps are 4 1/2" across where they attach to the bodice, but narrow to 1" on top of the shoulders. It has a bit of stretch though, so it could extend a little beyond the suggested sizes given above...and that is before you take the ribbon lacing into consideration. If you look at the picture on the product page, you can see that this piece is meant to be worn with lots of bare back showing through.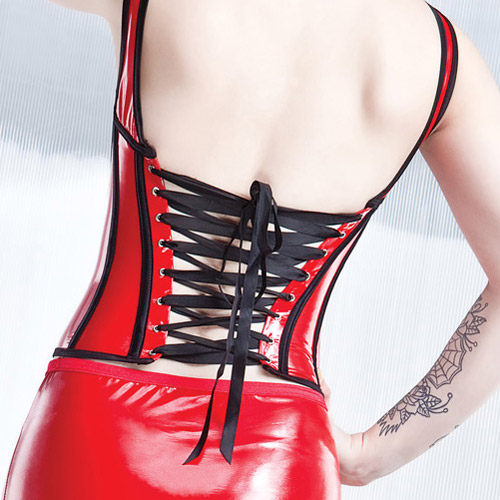 If you extend the ribbons as much as possible, you will add a good 7" around the bustier. I am going to say that because of the ribbons and the stretch, anyone with a bust measurement between 32" and 49", a waist between 30" and 41", and hips between 36" and 51".
Experience
Packaging, Care, and Storage
This piece arrived in a clear, plastic bag on a clear, plastic hanger with the word Coquette on it. It had a tag attached showing a picture of a model wearing the product. The care instructions simply say "Hand wash." The shiny outside of this piece should be easily cleaned up with a damp washcloth as needed. For storage, since this has shoulder straps, you could hang it, or you could fold or roll it to store in a drawer. Just be careful not to damage the boning.
Experience
There are lots of good things to say about this piece. I wore it for over an hour (standing, sitting, rolling around in the bed), and I found it to be quite comfortable. The fabric is not extremely breathable, so it has the potential to get a touch warm after a while. It is definitely a very sexy bustier, and an attention grabber...at least, I had my SO's
complete
attention.
As I am on the low end of the given size range, I had the ribbon lacing closed almost completely. This is not the way it is meant to be worn, but I prefer to show less skin, so this worked well for me. The downside of this was that there was an excessive amount of ribbon left over. I will probably trim this off to a more manageable length.
The only negatives I have about this piece have to do with the shoulder straps and the neckline. Both are a little loose. Unless I pull the straps over towards my neck, they will slide off my shoulders. The neckline does not lay flat against the skin, so the view from above...well, it's an eye full. That does remind me...one more potential problem with the bustier...as it is one, thin layer, if your nipples are erect, an outline of them will be visible. I would suggest ordering some
pasties
if you plan to wear this in public. I suppose I should mention a few stray black strings that need to be removed, but those are no big deal, nor is the slight noise (one "bee") that accompanies movement...sort of like walking in parachute pants.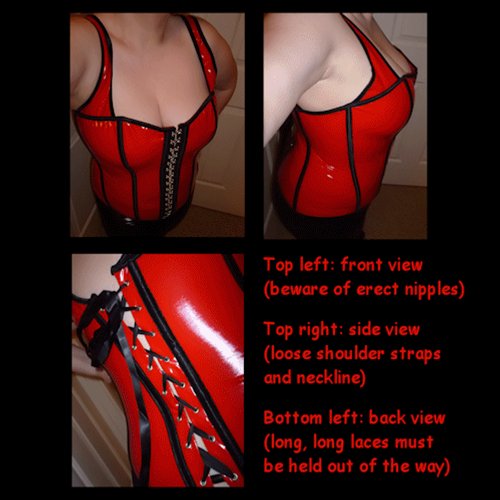 Overall, I love the Wetlook Bustier. Even given its minor problems, I would give it a 4.5 if I could. Since I can't, I am going to round up to a full 5 stars.
Follow-up commentary
3 days after original review
My SO loves this piece almost as much as I do. He calls this my "kinky spiderwoman" look and says it "accentuates the assets." He is a big fan of "the assets." In my book, this bustier is a total win! If you only buy one piece in the Wetlook collection, buy this one!
This content is the opinion of the submitting contributor and is not endorsed by EdenFantasys.com

Thank you for viewing
Wetlook bustier with padded cups
– corset review page!