Sleek and seductive
I can find no fault with these gloves! The price is reasonable, they look great, they fit well, and they have plenty of room to stretch. I had wanted them since they first came to Eden, and I'm glad I got them before they went out of stock again! If you are thinking about getting these or gifting them to someone, I say go for it, they are great! I have no complaints!
Published:
Pros:
Sexy, elbow-length, great for BDSM/dress-up, can use touchpad devices while wearing them...
Cons:
Some unfinished stitching on the elbows - though it is not anything terrible, by any means.
These gloves come packaged in a plastic sleeve, with paperboard cutouts inside of the gloves to help them retain their shape.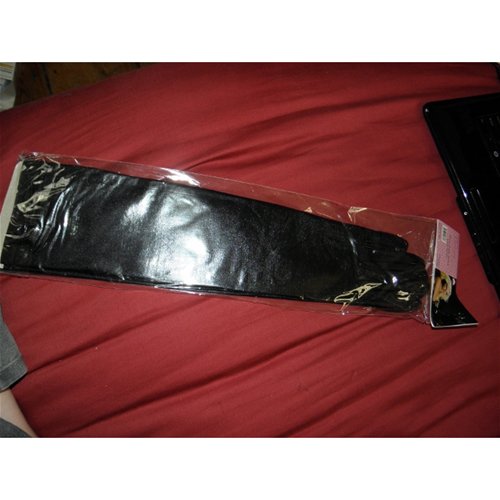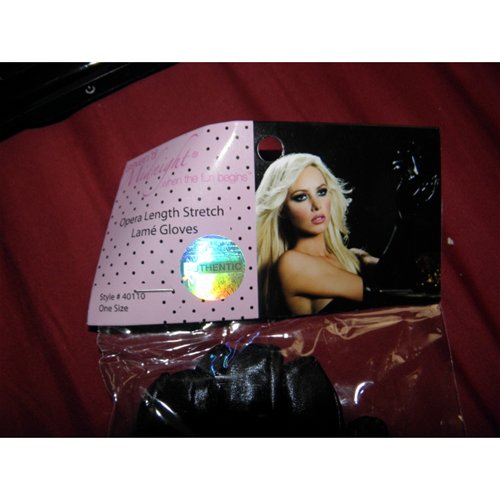 When I first took these gloves out of the package, they kind of had to be peeled off of each other since they are made of this shiny vinyl-like material. They are not sticky to the touch though, so not to worry! The material of these reminds me of the Coquette wet look items, it looks and feels exactly the same. After looking at the fabric and putting them on, I actually thought they were from Coquette, but then I looked at the package again and saw that they are actually from Seven Til Midnight. According to Eden, these gloves are polyester/spandex, though the gloves have no care tag in them that gives that information. (Just to add, Coquette's Wet Look items seem to be Nylon/Spandex, even though they seem to be made of the same exact fabric.) I intend to wear these with some of my wet look items, and I plan on getting more in the near future...these would just go SO well with all of them! If you were pulling together a sexy gift bag for someone, you could get these and any of Coquette's wet look pieces and wrap them up, that would make for a great gift! I know I would love it!
Another thing about the fabric is that it is "lamé", not "lame". I noticed the product name creating some confusion under the comments on the product page. The "e" needs an accent over it, it changes the meaning and pronunciation entirely...and I mean, come on, you'd be crazy to think these gloves are "lame"! They're fabulous! It is pronounced "la-may", as you can hear
here
.
Lamé
is a type of fabric, it refers to metallic fabric. Though, these have more of a vinyl-look than a "metallic" look. Basically, the texture looks shiny, almost wet.
I did not notice any odor from these gloves upon taking them out of the plastic. However, upon putting them on and cupping my hands over my face while wearing them, they had a fresh-out-of-the-factory smell on the hands. I am sure the smell will fade, it isn't a strong or overly-chemical scent so it is very tolerable. I almost didn't notice any cleaning instructions at all, since they don't come with a tag inside them. Then I noticed in small print, on the bottom corner on the back of the label on the package: "Hand wash separately. Drip dry, do not bleach. Made in China." These would be very easy to store. Also, these gloves are warm when you wear them, but I don't think they would be suitable to wear out during a snowy winter.
I did notice that both gloves had some undone stitching on the elbows, but I don't think that it is anything that will damage the gloves or make them less wearable.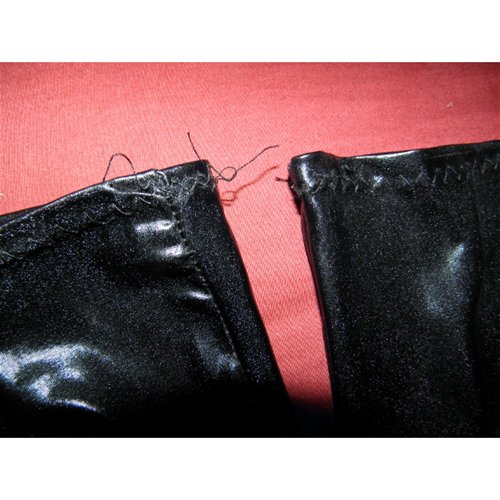 I like that these are actually elbow-length on me! I have somewhat long arms, though they are very narrow, so I wasn't sure these would actually live up to their name. These gloves are 16.5 inches.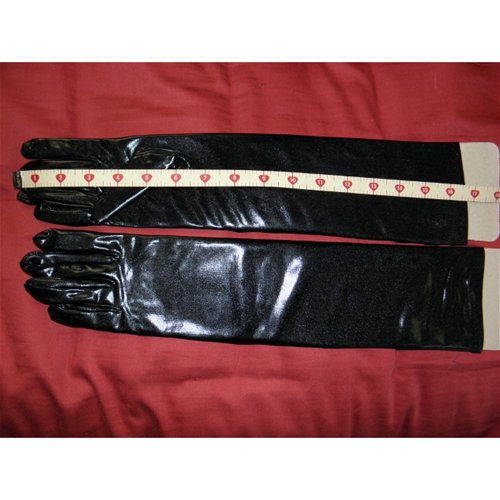 I have very thin hands and forearms, and these cling fairly well, but have plenty of room to stretch and are not tight or uncomfortable. I do notice that the are a bit loose on my wrists, though I have 6 inch wrists so I kind of expect that anytime I wear anything that goes over my very slender wrists. My hands are rather small, but these fit well, and I know they would fit someone with hands/arms significantly bigger than mine. When I stretch the fabric out, there is not cracking, peeling, or anything like that as you might expect with products that have this look. It is not fabric with a layer of cheap, black glossy coating over it. I do not see any issues like that coming up with these as I have stretched them just to test the durability of the fabric and the fabric stretches right back with no splitting, creasing, or any issues at all.
The look of these is great to add for BDSM, or a dominatrix. They would go great with a costume or a sexy outfit. Another added bonus - I can even work the touchpad mouse on my laptop while wearing these gloves, without any problems at all! Since it works with my laptop, I can only assume it would work with iPods and any touchscreen gadgets you may have as well. How convenient! I hate having to take my gloves off if I want to use my laptop or use any of my gadgets!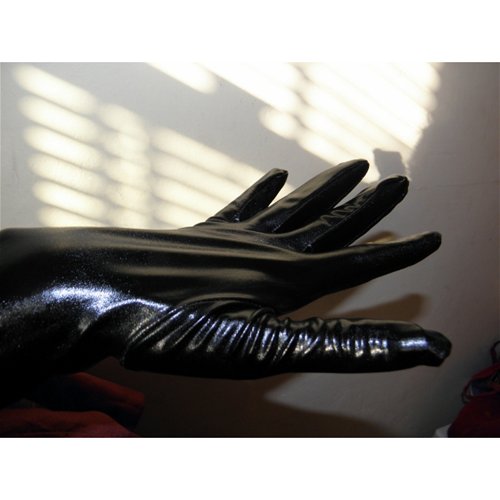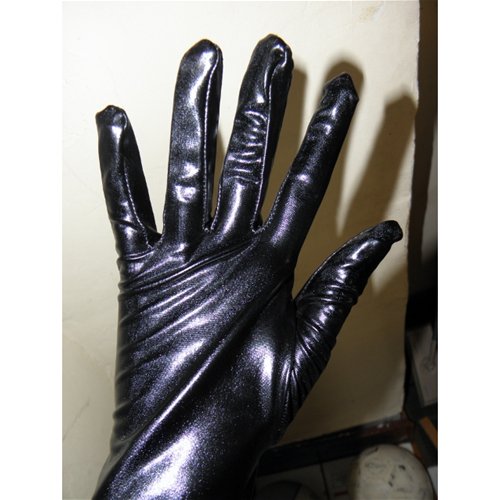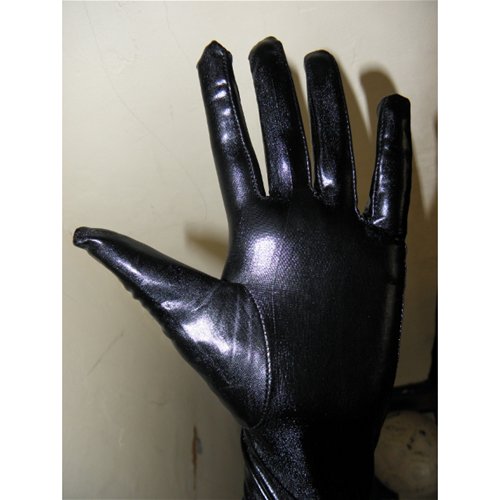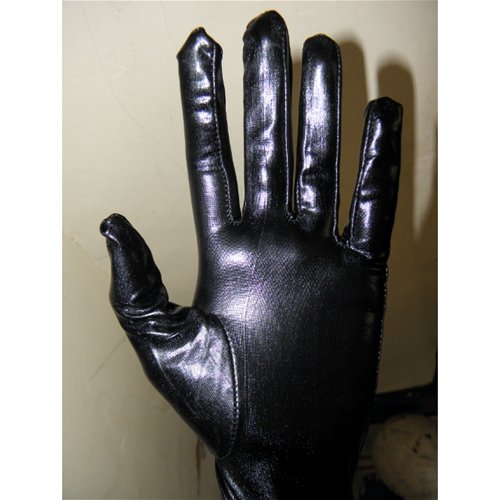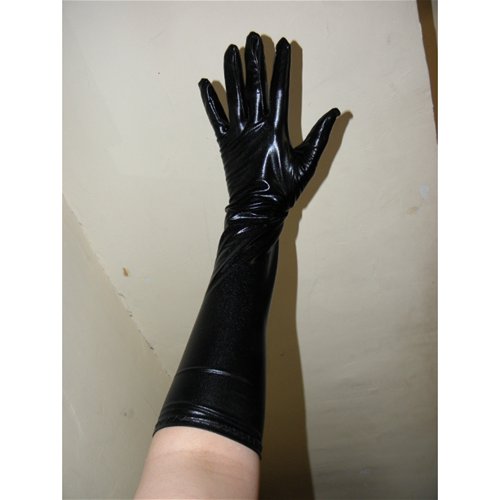 Follow-up commentary
23 days after original review
I like these, and they have come in very handy for me. I've gotten to wear them so much more often than I thought I would. However, I noticed today that the fingertips are beginning to show signs of wear...and I have not had them long! I noticed today that slippery-looking sheen on the gloves has worn off on many of the fingertips. Still, these are very wearable, but if they are wearing out at this rate they may not last long. I am planning on getting Coquette's Wet Look gloves to compare. I have a feeling those may hold up better than these, as I have not had that problem with Wet Look, though the fabrics look exactly the same.
This product was provided at a discounted price in exchange for an unbiased review. This review is in compliance with the FTC guidelines.

Thank you for viewing
Lame opera length gloves
review page!