So Close To Perfect...
These are my new favorite bottom piece, especially to wear under mini skirts. If you're an average size you will probably find these to be long-lasting. However, I don't think the seams were meant to withstand larger figures, even if they feel loose on you. Although others have stated the material is breathable, be aware that they are NOT as light as cotton.
Published:
Pros:
- Cute
- Goes with Everything
- Good Price
Cons:
- Seams May Not Hold Up
I purchased Coquette's Wetlook Capri Pants in 1x/2x. Although most people probably wear these alone, I specifically bought them to go under my mini skirts. Because I'm a bigger girl, this lets me wear my favorite cute gothic styles without nauseating the public. Overall, I LOVE these pants! Some improvements could be made, but I'm hoping these will last awhile longer.
PACKAGING
These arrived in a cheap clear plastic bag on a hanger. There is a sticker on the bag that I believe is for warehouse use. A photo tag is attached to the actual garment by a plastic fastening. This was weird as other garments I've purchased from Coquette were attached with a string and safety pin. However, the plastic fastening is easily snipped off without damage. This is NOT discreet, but being a non-lingerie clothing item this shouldn't be a problem.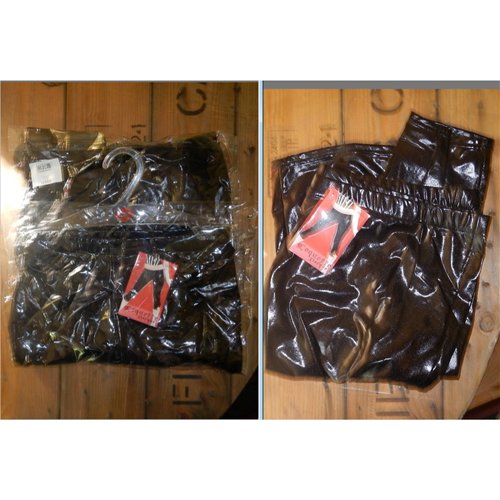 FIRST LOOK
When I removed the garment from the bag I was immediately afraid it wouldn't fit and/or be uncomfortable. They have an almost vinyl feel straight out of the bag where the material sticks to itself and is stiffer than expected. DON'T WORRY! I found out that these go on softer and after some wear and washings the material becomes softer and it's not uncomfortable.
There is a typical garment tag on the back inner lining. Instead of being close to the band though, this tag is about 3" down. I've noticed no problems with this irritating my skin or indenting the look on the outside. As far as I can tell, it is NOT safe to try and remove this tag without damaging the garment.
The garment has lots of stretch to it and creates a shiny sheen. When the garment is brand new the sheen is more like vinyl. However, once it's been washed the sheen cools and becomes more like leather. This is something you definitely need to keep in mind! If you're hoping for something that will stay super shiny, you will not be happy with your purchase.
Material:
80% Nylon - 20% Spandex
Exclusive of Trim. (I see no trim, so perhaps this is always included?)
Dimensions of 1x/2x
Waist Band Unstretched: 18"
Waist Band Stretched: Up to 24" (48" Around with Room)
Total Length: 24"
Length From Crotch Down: 18"
Bottom Cuff Unstretched: 7 1/2"
Bottom Cuff Stretched: Up to 11" (22" Around with Room)
The inside of the garment is not shiny like the outside. It's a bit softer to make it more comfortable wearing it. The seems both inside and out are located at the waist band, down the outer legs, down the front and back, and around the cuffs. The stitching LOOKED well done, but became a problem later.
Coquette 1x/2x Sizing
Weight: 200-230lbs
Waist: 36"-40"
Hip: 46"-50"
Dress: 18-20
My Measurements
Weight: 240lbs
Waist: 40"
Hips: 50"
Dress: 22
I've never had a problem fitting into Coquette's 1x/2x and this proved the same. There was plenty of room for me to grow (giggles). I do have tiny legs for my form and the bottom of the pants were a little too loose because of this, but it helped it to tuck into my knee high boots. Those around my same measurements shouldn't have any problems.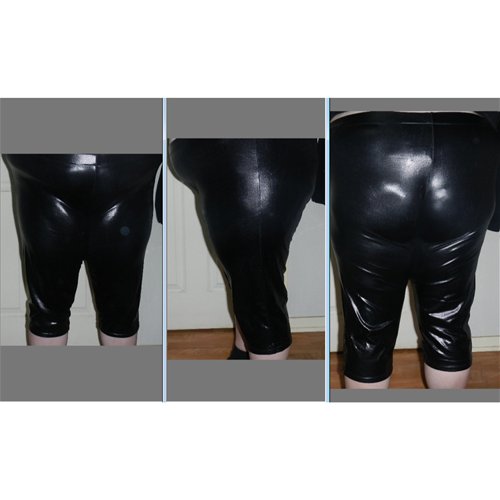 CARE
The tag says to Hand Wash. Does anyone still do this? I personally didn't even notice the tag and threw them right into the washer with other items. The garment wasn't damaged at all being machine washed. The tag doesn't state how to dry, but if it's hand washing then it most likely needs to be hung to dry. The first two times I washed mine I hung them and it only took a few hours for them to air dry. The third time I had forgotten they were among my other clothes and threw it all in the dryer together. So far with the one time there was no damage or lint straying.
I would recommend you machine wash on delicate and then hang to dry. Do not use any form of bleach.
Experience
These did exactly what I needed them to do; cover my fat to allow me to wear my cutesy gothic styles. However, when I first put them on I heard some stretching that I figured was normal. These do NOT fit tightly, so I assumed it was the fabric itself. On closer inspection, especially after a few wears, I noticed that the seams are actually stretching and breaking. This would be fine if I was trying to fit myself into a item that was too small, but the garment is actually a little loose on me. After about 6 wears now and 3 washings there are loose threads along the waist band.
I'm really disappointed with this. These pants are adorable and something I'd like to be able to wear for a long time, but it looks as if I'll get a bit more than a dozen wears before I need to replace them. Perhaps these pants were just not meant to be in plus sizes? I would buy a size up and wear them baggy to prevent this issue if I could, even if it would defeat the purpose of these pants. They are SUPPOSED to look as if they are a second skin. Oh well, I can only hope these will always be in stock so I can keep replacing them.
Below is the pic of what I like to use them for. You could pair these with many types of short skirts, petticoats, and add a corset or bustier as well. Tons of options to wear these if you don't want to wear them out alone! Big girls like me like to have some cover up!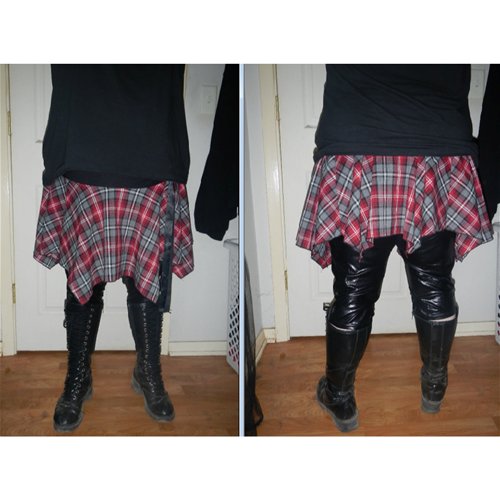 Follow-up commentary
2 months after original review
These have actually gotten even softer the past couple months and are easier to wear, however, this also makes them less shiny. The seams have also started breaking. That SUCKS! But I still love these and plan on getting more pairs for when the other needs to be discarded. If you don't mind the flaws, this IS still a great piece in my opinion...just could have been done a lot better.
This content is the opinion of the submitting contributor and is not endorsed by EdenFantasys.com

Thank you for viewing
Wetlook capri pants
review page!