So Where Do I Wear This?
The Lycra Gathered Dress features gathering at the sides for a slimming effect to the waist. It has a beautiful silver threading done in the lace cups for a sparkly effect. It looks pretty on, but I just can't figure out what to do with it. Is it for the bedroom or cocktails? Since my husband thinks it looks too much like I should wear it out and I think it looks too much like I should wear it in, it simply doesn't get worn anywhere.
Published:
Pros:
Slimming to waist, Pretty silver threading, Stretchy material will fit range of sizes
Cons:
Gap at cups, Some loose threading
I love the
Glitter Accented Chemise
in this same line, so I just had to pick this one up. The Lycra Gathered Dress by Coquette comes with just the dress. It isn't underwire, so those with bigger busts may long for extra support. It looks beautiful on, but I had a hard time deciding if I was supposed to wear this in the bedroom or out.
PACKAGING
The dress arrives on a hanger. It is wrapped in a plastic bag for protection. The hanger is one of Coquette's padded ones, which are super nice.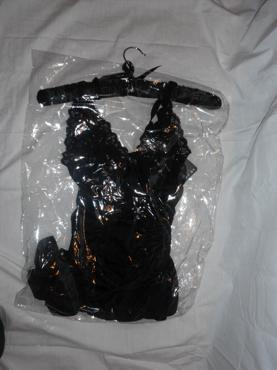 SIZING
I have this in a medium. For the medium, my bust should measure between 36"-38" and be a B cup. My waist should measure between 26"-30". My hips should measure between 38"-40". My dress size should be between 8-10. This also comes in small and large.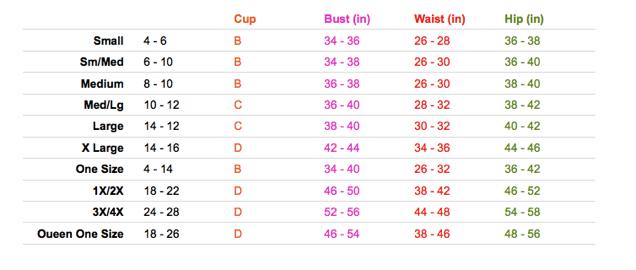 The medium is 26.25" long. Under the bust is 12.25". The waist is 11". The hips are 12.75". Each cup is 8.25" high and 5" underneath. The straps are adjustable.
My actual measurements are 28" at the waist and 39" at the hip. My bust is 34DD/36D. My dress size is a 6 with a few size 4's and 8's scattered in there. This fit me in some areas. It was a little clingy at the hips, but nothing that was so bad I wouldn't wear it. The waist fit perfectly. The bust had a gap issue at the side. There was extra material on the sides that would need to be taken in to make the bust area fit properly. This has the effect of making my D/DD chest look small, a hard feat to accomplish. The front of the cups fit fine, it's just the sides that are an issue. It's also a bit longer on me than what it appears in the product page photo.
It's a stretchy material and should fit the full size range fine. However, the gaps at the cups will likely cause an issue for most cup sizes. Note that the stretchy material does have a slight clingy effect, so those that don't like that may want to pass on this.
MATERIAL
The dress is made of 80% nylon and 20% spandex exclusive of trim. The material feels like a less slick version of bathing suit material. The material isn't thin or overly thick. It's a nice weight and thickness for wearing comfortably. It's not see through at all. It's not as slick as a bathing suit, but still has that feel that shiny material has to it. It feels nice against the skin and not at all itchy.
The material has a lot of stretch to it. This stretch is at the seams as well as the material of the dress itself. This will allow it to fit a larger range of sizes. It does cling a little, but the gathering of the material creates a slimming effect that counteracts this.
DESIGN
The cups are done in black lace which has accents of a silver lace. This silver lace is sparkly. It's not a glitter like you'd find in a drugstore, but a shimmer effect. It's like a silver threading done through the lace. It's very pretty. It adds a nice pop of sparkle without being cheap or overwhelming.
In between the cups is a rectangle rhinestone. It is .75" long and .5" high. It's attached via two threads and could likely be easily removed if you don't like it. It's not super expensive looking, but doesn't look overly cheap either.
The middle is done in a gathered style. It gathers in two places. Each of the sides gathers about 2.5" in (unstretched). This creates a very slimming effect on the waist. It also adds a nice touch at the bottom as it means it isn't a perfectly straight line.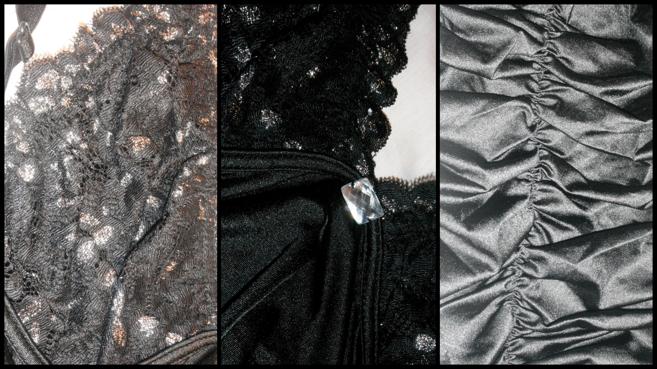 QUALITY
The seaming all matches up nicely. I couldn't find anywhere on the dress that the seams didn't come together or one overlapped in an odd way. However, there were a few spots where threads were loose. I'm always concerned about loose threads as this could pose a problem down the line with things unraveling and such. Coquette normally has excellent quality and I would say that this one is still good, but not perfect.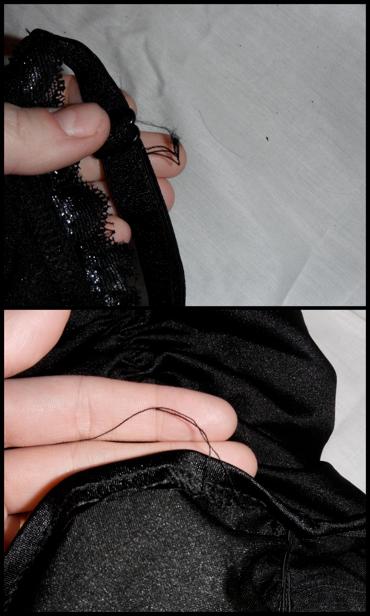 CARE
This should be hand washed in cold water. It should be line dried. It should not be placed in a drier or bleached. It should not be ironed.
Experience
I bought this dress for the bedroom. When I showed it to my husband, he asked me where I was planning on wearing it. So now I'm a little confused as to if this is a dress to wear to a cocktail party or as lingerie. It's not see through or anything, so I suppose you could wear it out. However, it's part of the line that includes a
chemise
and a
bra and panty set
that are clearly for bedroom use. I'm just confused what to do with this, so it's just been sitting there getting no use. My husband thinks it's too much like a cocktail dress for bedroom use and I think it's too bedroom for a cocktail dress.
I also have issues with the bust area. The gap at the sides is an issue. It's not a huge issue, but it's enough of one that even if I wanted to wear this out, I wouldn't without alteration. I'm also not a fan of things that make my bust look smaller since that's my favorite part of my figure. It's a little clingy on my hips, but nothing terrible. It does wonderful things for my waist, I will say.
Overall, I guess this is okay. I love the design of it. The gathering is one of my favorite design things in lingerie and clothes in general. I also love the silver threading in the cups. I just will never get any use out of it since I can't seem to figure out what to do with it. It's really a shame because it is a pretty dress.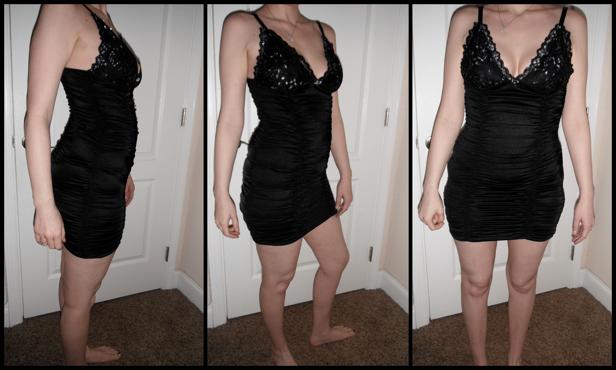 This content is the opinion of the submitting contributor and is not endorsed by EdenFantasys.com

Thank you for viewing
Lycra gathered dress
review page!