Soft and Incredibly Comfortable
This Bustier is a very comfortable way to feel sexy and girlie without any fuss. The material are lovely and mold well to many body shapes and sizes. The design works well for larger breast sizes and the hip area is very forgiving. If you have curves, this bustier will love them.
Published:
Pros:
Soft materials, forgiving. Excellent fit and sizing, Sexy & Feminine without being a hassle
Cons:
A little shorter than expected, Simply doesn't WOW me, No matching pantie?
Out of all the new lingerie pieces, my boyfriend picked three, and this is one of them. I too had it on my wish list, but probably would have waited to get it if he didn't like it so much. I added it because of the center panel which can elongate and slim the look of the waist. It looks girly and flirty without being too over the top and has underwire cups. I love how comfortable this piece is, the fit is great too. I just wish it was a little longer.

*Contents/overview: Two pieces: Bustier, garters

This Mesh and Lace Bustier with boning by Coquette doesn't come with the stockings or matching pantie. For the price I would have expected a matching pantie. It's not hard to match with this though. The sizing is great and so is the fit. It comes in S, M, and L sizes in one color combination.

*Material: Two pieces: Bustier, garters

This is made of 82% spandex and 12% nylon exclusive of the trim which is the plastic boning, and metal closure hooks. There is mesh and lace. Both are amazing stretchy, conforming, and comfortable. The materials are very soft, even the lace. The plastic boning is flexible and also comfortable. The materials are see-through. While they are thin, they don't snag easily and feel of high quality.

*Design/craftsmanship: Excellent

The front has a solid body broken up into three panels. The one going down the center is the purple mesh, with two even black lace panels on the sides. They stop under the arms and then the mesh continues around the back. The lace is gorgeous! I love that these sections are large enough to really show the flowery pattern. Where the sections are separated in the front is boning. There are only two pieces in the entire bustier and they are mostly for looks and keeping the front flat. They won't cinch you in any way. They go from the center bottom of the bra cups all the way down to the lace trim. The lace trim goes around the entire bottom of the bustier. I hate when a design has it only in the front! It comes up higher at the points where the garters attach or detach. This creates a unique look that can further elongate the torso by having a more tunic style. It goes down further of the abdomen as well.

The cups have full underwire that separate the breasts and go all the way under the arm pit. The cups are demi cut and have no additional support (although it is a good amount) or padding. The cups mold and stretch to large breasts well without looking strained. They too have lace trim, but this trim is flat instead of ruffled like the bottom of the bustier. There are adjustable spaghetti straps that attach at the top of the cups and go over the shoulder to back just like a bra. It is also worth mentioning that there is an extra piece of fabric between the cups that keep them from folding in on you.

The back has a two rows of hook and eye clasps that go down the center with a black band that does not stretch. The hooks clasp into the eyes from right to left, so it is easier for a right handed person to put this on themselves (by reaching behind them) than it is for a left handed person.

The garters are pretty standard and are fairly well made. they have plastic and rubber closures. I prefer silicone and metal, but these fell well enough constructed.

*Cleaning/care/storage: Hand wash, plastic bag with hanger

The tag says to hand wash only, but I was able to put this through the wash on a delicate COLD cycle. I placed it in a lingerie bag. If you don't have one. You can put it in a pillow case and tie the end. Hang or lie flat to dry. If you keep the plastic hanger it comes with, you can use that for storage in your closet. Since it only folds one way, it will only fit in a long drawer, or a shallow one sideways.
Experience
*Sizing/fit:
Pretty dead on, almost perfect
Knowing that this material is forgiving, I chose M. I sometimes have to get a L in bustier or corset styles from Coquette due to the lack of breasts support. This one has underwire, so I wasn't worried. The medium ended up being pretty dead on in their sizing (for Eden's AND Coquette's
newer size chart
). The fit is excellent. I only had a few minor complaints, nothing that'd keep me from recommending this.
The medium on Eden's chart says it'll fit a 8-10 dress, B cup, 36-38" bust, 26-30" waist, and 38-40" hips. The Coquette chart only has one difference. It says the medium will fit a 28-30" waist which is more accurate. I weigh ~142 pounds (size 7/8); curvy but fit, with size 36 D breasts. I wear this on the smallest hooks. It fits perfectly in all the places that count. There's plenty of room for someone a bit larger too. Any smaller, this might be baggy (size 6 is probably fine in a small on the larger set of hooks).
The cups fit me perfectly. The fabric molds around hard nipples too, which looks super hot! The waist fit well and didn't pull. My waist is about 30". This flattered me well. The hips were a little large if anything. I say this because the center part that comes down is a bit baggie, like it isn't stretched enough to lie flat. This is only a small complaint.
My biggest gripe is that this isn't as long as it is on the model. This makes it not elongate my torso as much as I wanted. It still looks great though. Wearing the garters and tightening them, can pull this down more. I found that this flared out the lace on the sides, and that was not a better look.
Putting this on is easy because of the stretchy material. I fastened it while off and then slipped it on over my head like a tank top. I took it off the same way.
My Re-done Chart:
My Re-done Chart:
For the medium - Order down if you're in between]
Dress: 8-10 (12 if your waist fits this chart)
Cup: C-D (C is probably most comfortable)
Band: 34-38"
Waist: 28-32"
Hips: 38-40"
*Possible accessories: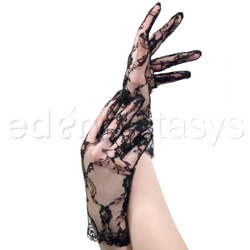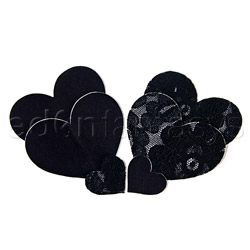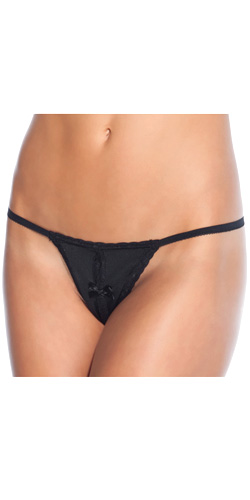 Wrist length lace gloves,
Black Heart Nipple Pasties,
Crotchless Panties
*Conclusion: 4 stars ****
I'm giving this 4 stars because it didn't make me feel as sexy as I hoped. I blame this more on the style than I do the fit. On the model it totally looks like something I'd love, but on me, it simply doesn't feel enough like me. It's hard to explain. It still is sexy and very comfortable. It fits well and the design is good too. I reserve 5 stars for lingerie that really makes me want to strut my stuff. This just doesn't do that as much as other pieces do.
Follow-up commentary
2 months after original review
This is not a piece I want to keep in my permanent collection. I have held onto it but have only worn it twice. If it didn't have the bottom ruffles, I would totally be wearing this more, under clothing. It has held up perfectly and doesn't show wear to use or washing. The color is still just as bright. The quality is good, it's just not as much my style as I thought.
This content is the opinion of the submitting contributor and is not endorsed by EdenFantasys.com
Thank you for viewing
Mesh and lace bustier
review page!