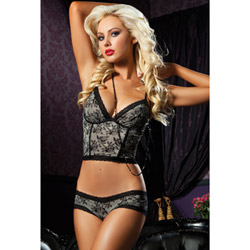 Scene stealer bra and hipster
Bra and panty set by Seven 'til Midnight
Soft and stretchy, but not for me.
I wish I had a big spool of this fabric to make sheets and pillowcases and pj's out of, it's so soft and comfortable. Unfortunately, the design of this set just doesn't work with my body, so while I'm sure the panties will get some use, I'm going to have to do some alterations on the top if I ever want to wear it.
Published:
Pros:
*Soft, comfortable, beautiful fabric.
*Panties with a butt!
Cons:
*Very little bust support.
*Will not fit D-DD cup like it says.
As I'm sure some of my fellow reviewers will agree, the hardest reviews to write are often the ones where you neither love nor hate a product, but just find it kind of OK. This is definitely one of those reviews for me, but I'll do my best to break down the pros and cons of this set so you can form your own opinions!
The Scene Stealer Bra and Hipster set is made by Seven Til Midnight, or as I like to call them, "11:53". It's a two piece set, but neither the top nor the bottom really fits the description of "bra" or "hipster". The top is more of a short camisole with boning, which ends about 7" below the bust. If you have a stomach like the model in the photo, the short length is probably fine, but if you (like me) have a little more going on in the belly area than you'd like, a top that ends just *above* the largest part of your stomach can be a little unflattering. Although the top does have built-in underwires, I would in no way call it a bra.
Along that same thread, I also wouldn't call the panties hipsters. I mean, I've never seen them wearing big black glasses or skinny jeans, and not once have they mentioned a band I've never heard of. (I'm sorry. There had to be a hipster joke in here SOMEWHERE.) These are really just basic full-coverage panties. That said, they are really cute, soft, and comfortable full coverage panties! As much as I love the selection of lingerie on Eden, it can be really tough to find panties that *aren't* crotchless, thongs or g-strings, so I get pretty excited when I find CUTE panties that actually have a butt!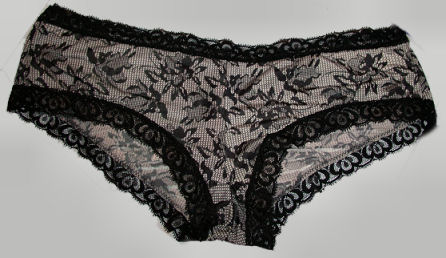 I like big butts and I can not lie.
The fabric that this set is made of (90% polyester, 10% spandex) is one of the best features. It is incredibly soft and stretchy, and feels great against the skin. I would love to have a camisole or chemise made of this! The tag says to hand wash in cold and line dry, but I think you may be able to get away with tossing the panties in the delicate cycle of the wash. (I probably will.) Even the lace that decorates the edges of the panties and bottom of the bra top is soft and stretchy. I can only hope STM uses this fabric for something else in the future!
One note about the fabric: On my screen, the set looks grey and black, but in person, it is a pale beige and black. I'm pretty pale, and the beigey shade matches my skin almost perfectly. The photos will look different on everyone's monitor, but I wanted to mention that in case anyone else thought it was grey, too!
The fabric is also nicely opaque, even though it is very thin. You can see through it if you hold it up to the light, but when it's against your skin, nothing really shows through.
This set comes in sizes S-XL (although at the time of writing, EF only has L-XL.) I ordered XL in hopes that would mean the top would actually fit my breasts (it didn't), so now I'm wishing I'd ordered the Large since the XL panties are quite big on me, and they're the part of the set I'll actually use. I'd say the panties of the XL are on par with a size 8 panty. I'm a size 10/12 in pants, and they're a bit loose on me, but not to the point of totally falling off. If the panties were available for purchase separate of the top, I would definitely order a few pairs in a smaller size!
According to STM's size chart, XL should fit sizes 14-16, D-DD cup, 38-40" bust, 30-32" waist, 40-42" hips. The size chart is pretty close on this one, but could use a few changes. I'd say 14/16 is pretty spot-on, but there is NO way the top will fit a D-DD cup. I'm on the large side of D, and even with the very stretchy fabric, it doesn't come close. I'd say a medium C would fit this best, but anything in the B/C range would probably work. The underwires were *almost* long enough to cup the bottom of my breasts as they should, but the triangles of fabric ("bra cups") just didn't cut it. My nipples are covered, but there's a whole lotta boobage hanging out on both the top and the sides.
Experience
(continued)
Other than the bust area, the top is much too large on me. I wear a 38 bra band, so I'd expand the size chart to 38-42", since this was a bit loose on me even on the tightest of the 3 rows of hooks. You can definitely up the waist measurement, too, since this doesn't extend far down your torso. I have a 33" waist and the lower half of the top was almost baggy. A size large top would have probably fit me better overall, but since the bust on the XL was too small, there's no real point in exchanging it. Laid flat, the top is 32" across at the bottom and will stretch up to 40", so it will fit a pretty wide range.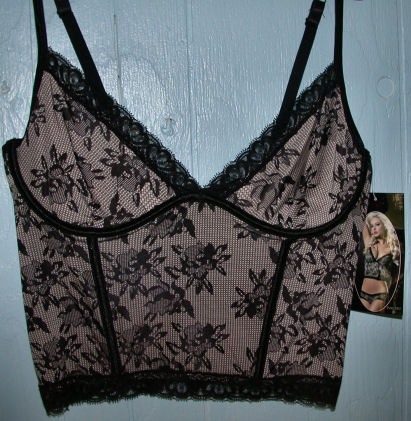 The top is only 8" tall from the center of the bust down, and 8" tall where it hooks up in the back. If I wore it with the underwires actually up where they should be, the length of the top stopped about 4" above my navel. I found that I could pull it down a bit so that it almost came to the top of my navel, but that drug my breasts down with it, which just wasn't pretty. I would love if the top was about 6" longer! I know they were going for a specific look with the short length, but a longer version would be more flattering on a wider range of shapes.
The 40-42" hip measurement is probably pretty accurate- mine are 39" and these are large on me, but wearable. They measure 16" across the waistband when laid flat, and will stretch up to about 21". Each side is 4" tall, and there is a nice 2"x3.5" cotton crotch liner. The only negative I have found about the panties is that there is a really large seam that runs right up the center from front to back that could easily get irritating if it rubbed up against your skin too much.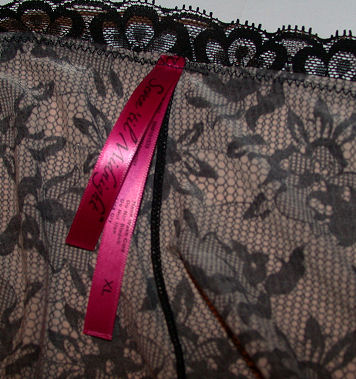 Seam of Possible Doom
If you're around a size 14/16 with a C cup and 40" hips, this might be a perfect set for you. I really wish it had worked better with my body, because the fabric is really comfortable and pretty. I'm thinking about doing some major surgery (aka alterations) on the top to remove the boning and underwires, and maybe even remove the hooks in the back to just make it into a soft little camisole. I know I'll never wear it as-is, so I might as well have some fun with it!
Follow-up commentary
4 months after original review
Since my review, I've washed the panties from this set in the machine on the gentle cycle about three times, and they're still good as new. Yay! (I still haven't gotten around to altering the bustier, though!)
This product was provided at a discounted price in exchange for an unbiased review. This review is in compliance with the FTC guidelines.

Thank you for viewing
Scene stealer bra and hipster
– bra and panty set review page!