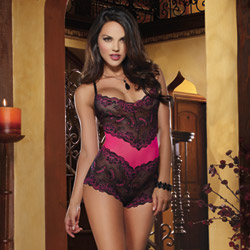 Come Hither romper
Teddy
by DreamGirl
Soft, sexy, beautiful...perfect. (S)
This romper is a beautiful and flattering piece that anyone, teddy haters and lovers alike, can enjoy. It's sexy but also comfortable and has a cotton liner for extended wear!
Published:
Pros:
price, soft, pretty, boyshorts, nice pattern and details, doesn't feel snaggy, adjustable straps
Cons:
adjustable straps won't adjust to accommodate very tall people
Immediately when I saw the Come Hither Romper by Dreamgirl, I was surprised I liked it, but I was actually obsessed with it. I had never paid attention to teddies before, but with the romper style I really liked it and I even threw another teddy (the Paisley one by Seven Til Midnight) in my cart alongside it. I waited around to buy it at first, and then when I saw only the small was left in stock, I jumped on it, not wanting to lose my chance! I'm so glad I did.
This is a one-piece with a racer back of thin bra-like straps, boyshort bottoms, and an open back but well-covered front. I saw a few negative comments about the pink stripe, but I think it adds to the design. V shapes are also slimming and help to break up the parts of the body in a flattering way, so in addition to adding some color, it also helps this piece look better on people.
The lace, and especially the pink mesh, is very soft and made of 92% nylon and 8% spandex, which allows for some stretch, especially with torso length, a common problem for rompers. It is hand wash cold and line dry only. This is what I will do with it as I do with all of my lingerie.
The boyshort bottoms feature a diamond-shaped pink cotton liner. This is great, so the romper can be worn under clothing without fear. I definitely intend to do this! With the liner, it could also be worn for extended wear around the house teasing your partner since it is so comfortable. It's about 4 inches long and 2.75" wide. Diamond shaped liners can sometimes be too small or get annoying, but this one hasn't caused me any problems thus far and served its purpose well. It was located in the proper location, too. Nothing is worse than a liner in the wrong place.
The pink is vibrant and bright, which contrasts well with the black. My pictures aren't good at displaying this at all so don't make that sway your decision. This is a really beautiful piece. I had no idea that the pink flowers on the lace would be shimmery, but they are! This is done really tastefully, and does not look like sequins and glitter hot messes at a 3rd grade craft party like some stuff I've seen marketed to women as "sexy." This catches your attention but still looks really classy.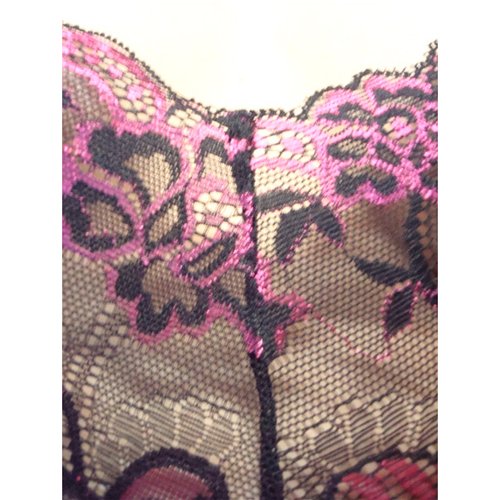 In case packaging interests you, this piece came in a plastic bag with a Dreamgirl hanger. The Dreamgirl hangers aren't padded or anything, but I actually really like them so I like to use them to hang regular clothes. The romper also came with a 13" ribbon on each side to be used to hang it but they were just ridiculous and there was no way to keep them on the garment without them hanging out looking hella awkward so I cut those off immediately after measuring them!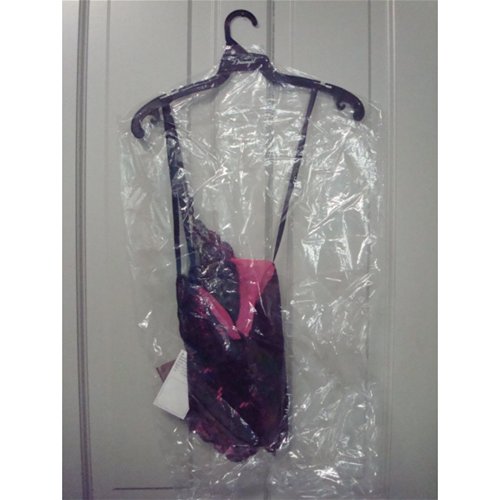 This romper is hard to measure given the shape of it, but I did my best. If this is confusing just ask. The top of it above the pink stripe has an odd shape that is basically like half of a boyshort. Honestly it easily could be the same boyshort piece just placed at the top because it has the same cut. Just picture it that way. I measured from the end to the middle seam you can see on the pictures and then multiplied by two to get the whole way across. Again, if this doesn't make sense, ask!
Measurements:
Liner - 4" long, 2.75" wide
Width at top of romper (neckline) - 12" across
Width of black area directly above pink stripe - 18.5"
Height of top half (above stripe, taken down the middle seam in the front of the garment) - 7.9"
Pink stripe - 11" wide, 2.75" tall
Boyshort hip sides - 7" tall
Leg holes - 10"
Boyshort waist - 12.5" wide
Straps at their longest - 21" long
Experience
(cont.)
The straps seem like they are super long but even as a 5'2"ish person this is actually a perfect fit for me with the straps adjusted to 20" long, so basically their full length. I would be careful with this if you are very tall so that you don't have a camel toe. You may want to consider ordering up, but if you are stick thin you may not be able to fill out a medium. My measurements are a 32C, 26" waist, and size 0/2 dress. I always buy small or extra-small items. For lingerie I have always bought smalls and this fits me great. Larger busted women should be aware that there is absolutely no support in this romper. There are not even cups, so you will really just go wherever your boobs want to go. As a small C that's not really a problem for me so I don't mind it. You also won't have the problem of gaping cups. However I think it could be hard to keep your nipples from showing if you are very large busted. So, for those who are tall or heavy up top, consider a size up at least for the small.
I love this romper. I think it's fairly priced. It is very soft, not scratchy or itchy at all. I think I would sleep in this even, especially since it has the liner. I love it and can't wait to wear it under clothes to surprise my partner! I just need to be careful what I wear it under if I do not want to wear a bra, and also to hide the racer back. I love the open back, the shimmer on the pink detail, the softness of it, and just the details that went into it. It has a great cut, I love the boyshort bottoms, and it is just all around a GREAT piece. Another reviewer commented that it was hard to get off, but I thought it was pretty simple personally. I just slide the straps off of my shoulders and it slides right off of me with a little wiggle! If you are considering this but on the fence, buy it! I never thought I would buy a teddy or romper but I absolutely love this and will definitely buy more in the future.
Here are pictures of how it fits me, with some white underwear underneath of the front view so as to not expose too much!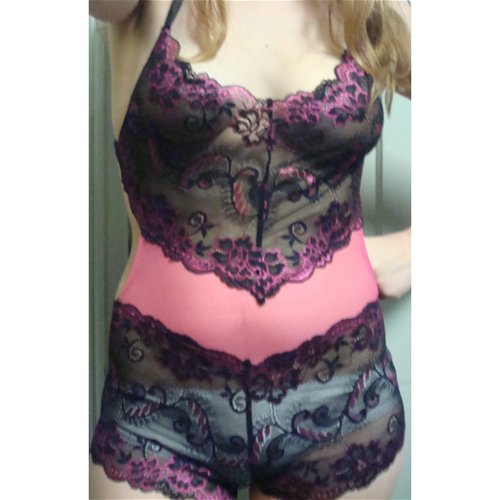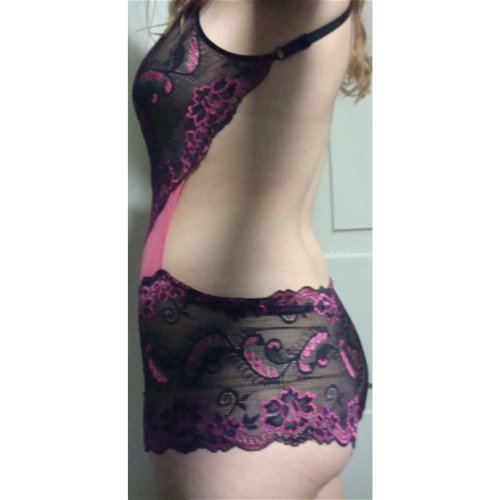 As you can see, even though it is sheer, it actually hides a lot, and exposes the back the most, which is an area most people don't really hate on themselves. The stomach and butt are both well covered, so people paranoid about those regions will really like this piece, especially with the slimming pink V on the front.
I am giving this 5 stars. For the price this is great, and it's also just so soft and comfy. I can't wait to show it off to my partner, who is sadly out of town despite my recent lingerie orders. Watch for a follow up review for that reaction!
This product was provided at a discounted price in exchange for an unbiased review. This review is in compliance with the FTC guidelines.

Thank you for viewing
Come Hither romper
– teddy review page!