Sparkly nips
I think these pasties have a unique look, and they are elegant and sexy. I had considered getting them for a while, but the price put me off. I wondered, where and when would I really find a time to wear these? They would be great for any sort of burlesque performer, but these would be best for a special occasion of some kind, since they can only really be worn once.
Published:
Pros:
Pretty, sexy, different from typical pasties, comes with a belly button decoration
Cons:
one-time use, no adhesive info, pricey, may not fit all nipples
The packaging for these is very minimal, and easy to store until you are ready to wear them. The small sleeve that these pasties comes in is very travel-friendly. If you were hoping to bring these along with you on a sexy vacation, these would easily fit in a suitcase or purse. You might even be able to fit this thin 7.5" x 4.5" in a large jacket pocket! I do really like the simplistic design of the package and the red and black colors. The packaging isn't all that discreet. On the back, it says 'rhinestone nipple covers' in ten different languages; though, unless someone picked up the packaged and looked closely, there is nothing overtly sexual or obvious aside from this small print. Once the flap is opened, there is an image of the pasties on a woman's breast, so it is not at all discreet once you open it up.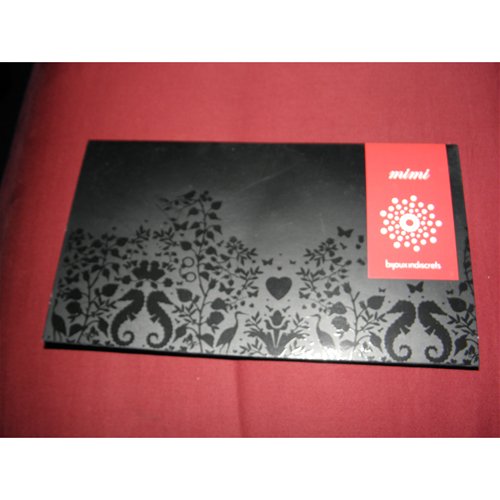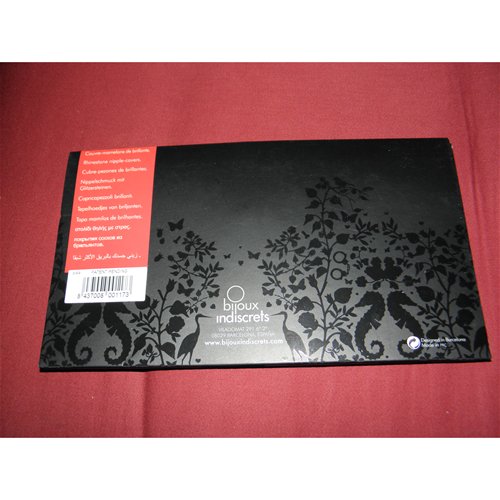 I think the clear crystals on these would be a unique way to spice up a wedding night. These would be a great addition to a bachelorette party gift basket, and would make for unexpectedly sexy bridal lingerie. The crystals are connected by a sort of adhesive webbing that is very stiff, so the shape of the design can't really be stretched out or warped when applied to your body. In a way, that makes these pretty foolproof. I was worried that the adhesive webbing would have a jelly-like consistency, and it would stretch and pull when applied, and would not look as pretty or symmetrical once I got it on my body. I do not like that there is no real info included about the adhesive. Actually, I thought there was no real info or directions included on the packaging at all, until I noticed a small image in the corner of the inside flap that made me realize that I could pull the flap up without destroying the package, and the directions were under that flap that was glued down at the corners. If I hadn't noticed this tiny image in the corner that implied that the flap could be lifted, I never would have noticed this and I would have continued to assume it was just the way the package was designed, to have a thick flap hiding the pasties underneath.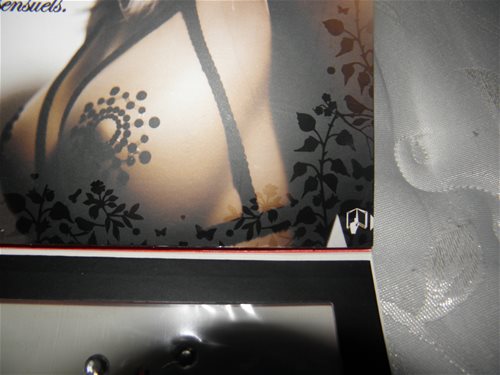 Underneath this flap is directions for wearing the pasties, in 3 different languages. I can see just fine, but I do not like how small the text is here at all; it is almost unreadably small. It says, in a nutshell, that the pasties are meant to be worn one time only, for no more than 6-8 hours.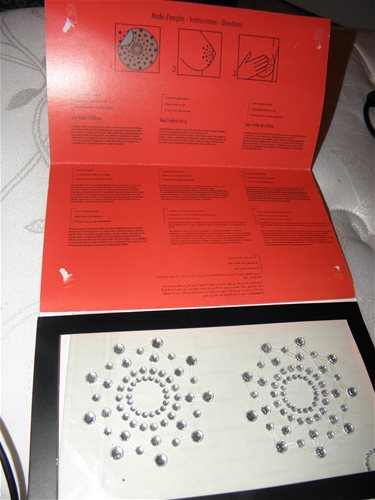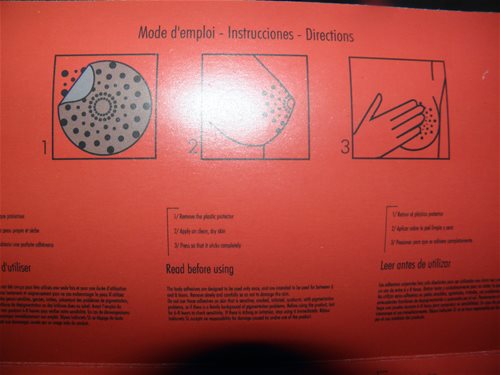 The space inside of the ring on these pasties, which surrounds the nipple itself, is about 3/4". If your nipples are wider than this, you will likely have trouble with these. If they are smaller, not a problem, and you should be able to wear these comfortably. The nipple is supposed to fit inside of this ring, and as I said, the adhesive webbing is not stretchy, so it won't accommodate anything bigger than that. This design is a lot less modest than traditional pasties, since the nipples are not actually covered, but they are are exposed and accentuated. These pasties aren't really pasties, since the nipple is exposed and highlighted when you wear them. These pasties are more of a fun, sparkly, nipple decoration. They are interesting to look at, and they draw attention to your breasts. If you are really modest, you probably won't want to wear these.
I wasn't sure what the third piece included in this set was at first. There are the two pasties, but then there is a small matching circle of rhinestones included on the corner of the sheet they are stuck on. I realized after a moment that this must be an extra decoration, meant to be worn around the belly button. depending on the size and shape of your belly button, this extra bit may not look ideal. It is a simple, small, circle, that would fit a belly button just under 1".
The adhesive did not cause me any skin issues, and I have very sensitive skin. Though, I really do wish there was more info on the adhesive included, especially for those of use who have super sensitive skin. After applying these, you kind of forget you're even wearing them.
Experience
I really, really wish that these could be worn more than one time. The adhesive really only will stick on once, and if you wear them for an extended period of time, take them off, and try to put them on again, they won't really stick. This does not come with any sort of extra adhesive to re-stick them either. For me, this one-time wear makes them not really worth the price tag. They are sexy and different, but I have pasties that I got from Coquette that can be worn over and over, and the adhesive stays sticky on the back of those - and they were under $10! I have to wonder if maybe eyelash glue could work in an attempt to wear these more than one time, but I have not tried it. These are pretty, but unless you want to invest the money into something that could only be worn one time, you might want to just get regular pasties that can be re-worn.
This content is the opinion of the submitting contributor and is not endorsed by EdenFantasys.com

Forum
| Discussion | Posts | Last Update |
| --- | --- | --- |
| Pasties | 6 | |
Thank you for viewing
Mimi rhinestone pasties
review page!