Spicy Nights Are Not Just for the Parisian
The Parisian Teddy, makes me want to scream oh la la, it compliments my body in all the right ways making me feel sexy, strong, and elegant all at the same time. The colors help to create a sweet yet sassy look while the fabric has enough give to hug all the right curves without making them look more severe. This teddy makes me want to fly to Paris tonight, but who says they get all of the fun?
Published:
Pros:
Great breast Support, Looks amazibng, Ajustable and Removable Garters,
Cons:
Hard to get into without help, Needs to be Taken Off for Sex
First Glance: The Parisian Nights teddy is designed by Dreamgirl, it is a a thong style teddy. It is two different colors, a light pink and black lace. The front is comprised of a strip of pink fabric with black lace on top, while the sides are made of a plain black lace that is see through. The cups are comprised of the same pink fabric with black lace. The cups are slightly padded with a rigid under wire, the tops of the cups have a portion of black lace. The back portion of the teddy is a unique and cute design. At the top is a hook and eye fastener this is on a slim strip of lace, the eyelets are set up in three rows of two. Below this is a portion of laced up pink ribbon. The ribbon is done in a crisscross style similar to shoe laces, tying at the bottom. The bottom portion is comprised of a thong style that is cut into an angle rather then a straight cut. There are two sets of detachable garters, two in front two in back, These are a slip clip style. Fully extended the garters measure 14 & 1/2 in. without the clip portion, when the garters are fully compressed they measure 7 & 1/2 in. This gives a large range of heights that can wear this piece.
Medium
Size:6 - 10
Cup:B - C
Bust:34 - 36
Waist:26 - 28
Hip:36 - 38
Weight:20 - 140 (lb)
My Sizing:
Size:9
Cup:C
Bust:36
Waist:33
Hip:37
Weight:145
Fit: This wonderful piece has many things going to help compliment the body. The stretchy fabric helps to flex to the body without becoming restrictive and unflattering. It sat smoothly over my bumpier parts complimenting rather then cutting in and making them show even more. The breasts are greatly complimented due to it having both padding and underwire to help lift and buff the girls to great heights. As a C cup I do find most that lift to do so to much or to even cut into my breast this teddy did not do either of these and lifted and actually seperated them nicely creating a wonderful curvey figure vs a monoboob. The cut on the bottom is very unique and is a high cut instead of a more square cut this helps to make the legs look longer then with most teddys helping even more to compliment the body.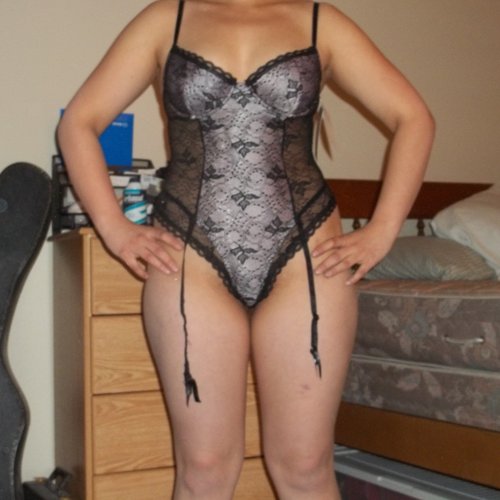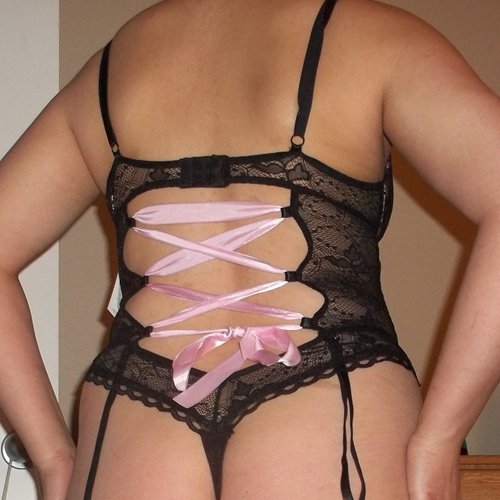 Care: The teddy is made from 90% polyamide, and 10% spandex, this means that for cleaning you would want to hand wash in cold water, don't use in a dryer or bleach on it. You wouldn';t wash it due to the spandex will come apart and you will have small stretchy strings all over it. Hanging to dry is best as well.
Experience
The sexy evening I had planned started out rough with this teddy. Trying to get it on by myself was a bit of a fiasco, due to it both tying and clipping it is very hard to do both by yourself. The bow ties at the bottom rather then top making it hard to reach when on. The clip is very similar to a bras clip but due to it being a teddy you can not flip it around after clipping. I found myself getting tangled in the teddy when trying to turn it around so surprising my love with it became pretty hard to do when I needed his help to even get it on. You can scruntch it up and slide into it like a dress but the fabric has much less give and does feel like it could rip doing it this way.

As for sex once it was on this was also a bit difficult, since the set does fit snuggly and is also a teddy its hard to have sex with the piece actually on. The fit of the bottom makes it hard to simply slide the fabric over without it cutting into the skin of either person. Taking it off though can make for a very hot eavening and can add to the excitement of the night.
This product was provided free of charge to the reviewer. This review is in compliance with the FTC guidelines.

Thank you for viewing
Parisian nights
– teddy review page!