There, butt for the cut... (size Large)
Parisian Nights by DreamGirl is a flirty, feminine, pink satin and black lace teddy. The snapping crotch allows you to easily wear it throughout the main event, so you'll be feeling sexy from start to finish! A lace up ribbon back allows you to customize your fit, and feel pretty while doing it. Whether you're coming or going, on your back or on your knees, this teddy will move with you and stay comfortable.
Published:
Pros:
Underwire cups, lace-up customizes fit, true to size, can be worn during sex, all bust sizes
Cons:
Thong's cut in back may be unflattering, snaps can be difficult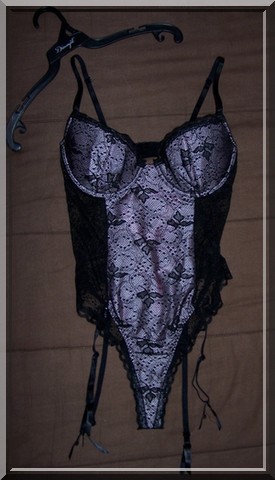 *Use
This teddy is worn like a one-piece bathing suit. Step into it, pull the straps up over your shoulders, & adjust the ribbon tie in the back just how you want it. Simple!
*Material/Care
This garment is 90% Polyamide & 10% Spandex. If you've never heard of polyamide, it's often called nylon. The body of the teddy has very little stretch to it.
Care instructions are "Hand wash, line dry". While that would be best, I'll be tossing this in a mesh lingerie bag & sending it through the machine on gentle cycle.
*Workmanship
Like other lingerie I've received from DreamGirl, this teddy seems well made. All the seams are well sewn & there are no loose threads. The snaps along the crotch are especially sturdy, & the underwires seem like they will stay right where they are long-term.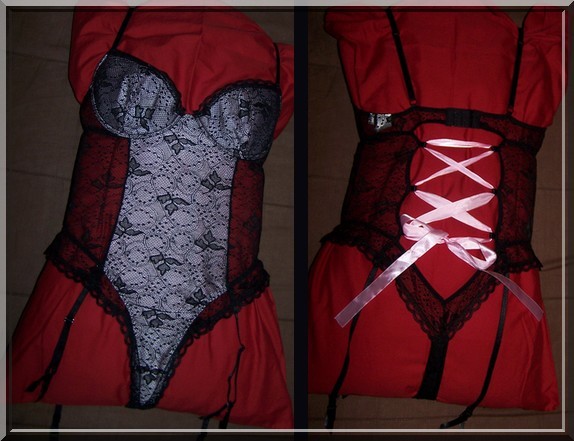 *Is it different from the pictures?
The product pictures makes this teddy look like it is purple and black. But like the product description says, it is actually PINK and black. The satin lining in the front is pink, as is the ribbon tie up in the back.
I would also not call the cups "push up". They are lightly lined.
*Design/Measurements
Over all, I really like how this teddy is designed. I like the combination of sheer lace and opaque fabric panels. I also like that the garters are removable. The cups provide some support too.
My favorite aspect of this teddy is the pink ribbon lace up feature in the back. The lace up is fully functional, & allows you to customize the fit of the teddy a little. It isn't a corset, so it won't cinch in your waist or anything. It will, however, allow you to adjust the fit of the teddy throughout your midsection if you need a little more room, or a little less. One note: the pink ribbon is slick, & is prone to coming untied. Be sure to tie it in a double bow if you want it to stay secure. You'll need to untie it and loosen it to put the teddy on & take the teddy off.
The shoulder straps adjust with metal sliders from 10" to 19".
The lightly lined cups are underwire with one seam up the middle. They're 6" wide & 5 ½" tall.
The measurement from between the cups down to the crotch of the teddy is 21", while the sides (from armpit to the top of the leg opening) measure 11 ½". That shows you how very, very high the legs are cut on this piece. They remind me of the bathing suits from the 90's show Baywatch.
The bra closure has three different sets of eyes to choose from, like any standard bra. But, if that's not enough adjustment for you, you can also use the 70" pink satin ribbon to tighten everything up a bit.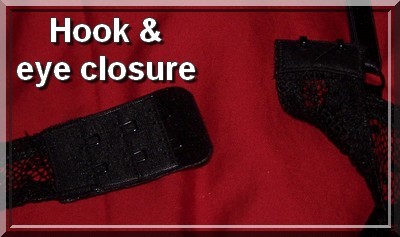 The thong measures 12" long, with three snaps connecting it right in the middle. The front half is 2" wide, and the back half is 1" wide.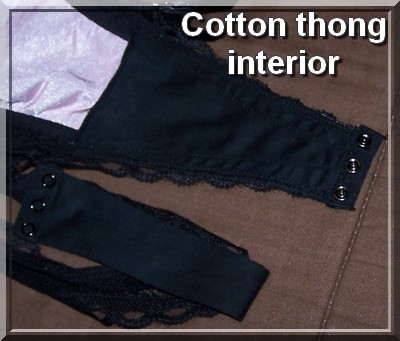 The garters are your standard issue garters. They adjust with a small metal slider & the closure is metal and rubber. Both sides of the closure are covered with black satin ribbon to add a cute, feminine flair.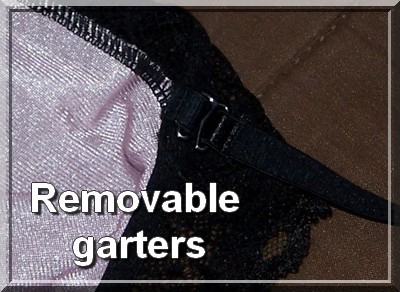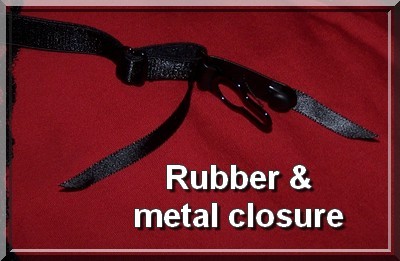 *Fit/Sizing
I will include the sizing charts from Eden and from DreamGirl's website. While they are nearly identical, I noticed that they differ in their waist and weight listings for the size Large. I have added my measurements in blue on Eden's sizing chart. I found the garment to be very true to size.


While my full C cup bust fit nicely in the cups of this teddy, they could definitely accommodate up to a D cup. I also found that it seems that the teddy would look just fine on a much smaller bust as well. When I put the teddy on my pillow for pictures, the empty cups didn't pucker, buckle, gape or look funny in any way. So I would recommend this piece to bust sizes A-D.
I am 5'6" and my torso (from shoulders to crotch) measures about 25 ½". The torso of this piece fits me perfectly. The leg cut outs, however, are too high for my taste. They are cut up to the same level as my belly button, well above my hip bones.
Those who don't landscape down below will have hair poking out around the edges, so keep that in mind. The cut in back also is not necessarily the most flattering. It is cut so high that it can actually change the visual dimensions of your backside, making even a round, compact rear look longer and flatter than it would in something with a different cut.
Experience
*Experience

~Hers
Over all, this is a beautiful piece, and most of me feels sexy in it. It's also extremely comfortable in a variety of positions, and with the snapping crotch nothing gets in your way. Those snaps can be really tough to undo & re-snap though. So you'll likely need both hands to manage them.

While this teddy won't camouflage any major figure flaws like tummies or love handles, it doesn't really highlight them either. I also really love that it provides some bust support. Now don't get me wrong, it is not as supportive as a good bra, and it won't leave you feeling like you've really been lifted up. If you want lots of support, this is not the piece for you. But it's a nice change of pace from some of the chemises and bra sets that have no underwire and no support.

Honestly I love EVERYTHING about this teddy except how the thong is cut in back. While high cut sides on these kinds of garments are said to "elongate the look of the legs", they do the same for butts. Long legs look nice, sure, but long butts? Not so nice. I even googled "high cut one piece thong bathing suit" and none of the women in any of the pictures looked good from behind in this style, even the swimsuit models. Even the sexy model from DreamGirl's butt looks longer and flatter in this teddy than it probably is in real life.

I spent most of my time wanting to be seen from the front or the sides when I was wearing this. That made me sad, because the selling point for me was the ribbon lace up back, but I didn't want to be seen from behind because I was self-conscious about my butt looking long and flat. How sad!

She gives it: ★★★★ 4 out of 5 stars

~His
My re-butt-al. (See what I did there?)

I've heard the concerns about the strangely cut thong of this teddy. But let me tell you: that lace up back is so hot, I didn't even notice if her butt looked long or flat (which I have trouble believing anyway, but that's another story). That's coming from a bona fide ass-man too! I just couldn't take my eyes off that pink satin ribbon criss-crossing her whole back. It was very sexy.

Now, onto the snaps in the crotch region, I wish all lingerie had snapping crotches! Just the idea of being able to undo those three little snaps with my mouth was enough to keep my mind occupied for a good while. I love that she can leave this teddy on and still have access, plus with the crotch unsnapped, I don't think she's worried about how flattering the cut of the thong is on her butt.

Over all I like this teddy very much. It isn't my favorite piece, but I definitely really like it.

He gives it: ★★★★ 4 out of 5 stars
This product was provided free of charge to the reviewer. This review is in compliance with the FTC guidelines.

Thank you for viewing
Parisian nights
– teddy review page!