Spring is for flowers, not flops!
This babydoll from Escante is a gorgeous piece of lingerie. It is comfortable to wear and feels soft against your skin. Girls with a larger chest may want to avoid this piece because there is no support. The lack of stitching on the cups was disappointing as well.
Published:
Pros:
-Lovely colors
-Comfortable and soft
Cons:
-Cups are not made well
The Spring babydoll is a lovely piece made by Escante. This babydoll comes with a matching ivory/lavender G-string. It arrived on a hanger, with a plastic cover over the babydoll. All that was attached was a small cardboard tag that had a picture of the model in 3 different poses and said "Escante" across the top. The tag was easy to remove with a pair of scissors. I would not recommend pulling the tag off, because this could cause the babydoll to rip. I keep my babydoll hung up on the hanger that came with it, so you can use it's original packaging to store it.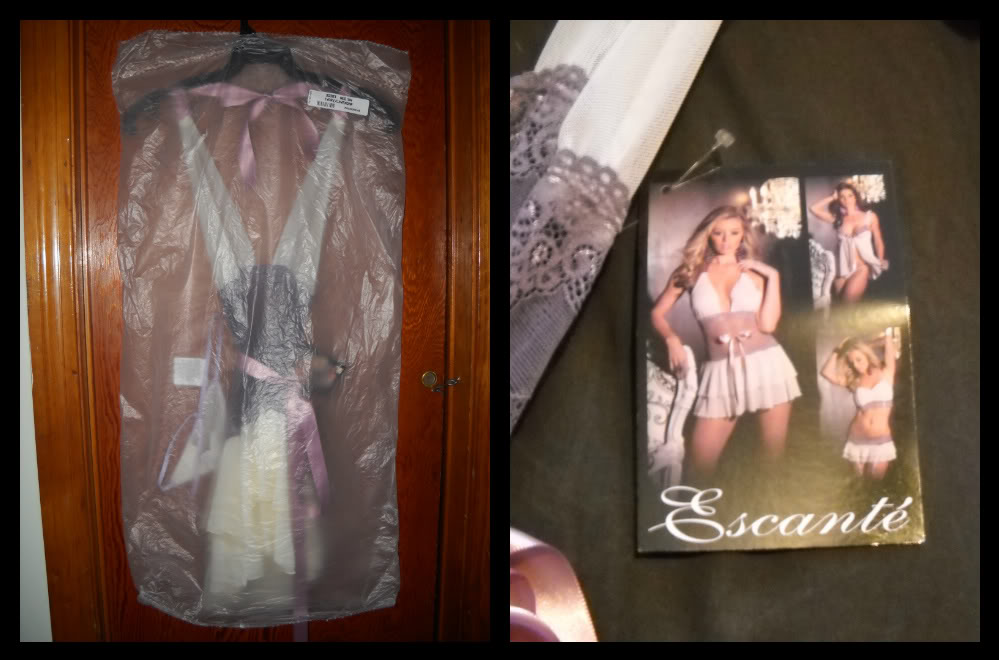 This babydoll is made out of 91% nylon and 9% elastane. The tag says that this garment should be hand washed in cold water. It is advised to only use non chlorine bleach as needed. You should hang this on the line to dry, do not wring or twist. You can iron this at a low temperature but only if necessary. The g-string is made of 91% nylon and 9% elastane. The same care instructions that are on the babydoll are also listed on the panties.
I really love the look of this set. The babydoll is white and purple with a satin halter top strap. The straps are not adjustable and should be tied into a bow. The middle of the babydoll is purple lace. It is very soft and feels lovely against your skin. The pattern on the lace is very hard for me to describe so here is a picture of it so you can see how it looks.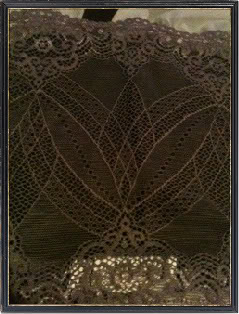 There is a pink satin ribbon that needs to be tied into a bow around your waist. The ribbon isn't bad. It is easy to tie and stays in a bow fairly well, without much effort. I say without much effort because if you're anything like me then anytime you tie a bow it looks all messed up. For once mine didn't! The pink ribbon can be removed from the babydoll as it is not sewn onto the fabric. The only downfall of the ribbon are the ugly, stretchy ties on the side on the babydoll. I did not notice these until I opened the package once it already got to my house. If I had noticed these in the pictures, I would not have ordered it. The ribbon slips into the ties on the sides and they help the ribbon to stay in place. I understand why they are there, but I don't like the way that it looks.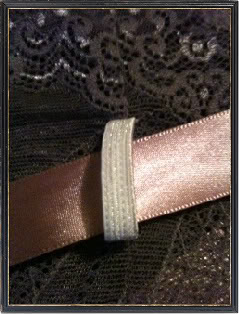 According to Escante, a medium should fit anyone with a 34-36 inch bust, 28-30 inch waist and 32-34" hips. The sizing is about right, but I do feel someone with up to about a 34" waist could wear this comfortably. I wear a 36 D bra, and have 36" hips and a 32" waist. Even though my measurements are a bit higher than what Escante recommends, this piece fit me great everywhere, except giving me the support I need for my breasts. According to the product page, the cup is a one size fits most. Escante's size chart says a medium should fit a B to C cup. I figured I would have some issues with my boobs spilling out. I did not have any issues while I was standing up; my breasts fit okay into the fabric. Laying down is a different story, though. There is no way my breasts wanted to stay in this top. I got so frustrated this piece came off within 20 minutes of me putting it on. There is no underwire, so I wouldn't recommend this piece to anyone with a larger chest like me. There is really no support in this piece. It looked amazing while wearing a bra, but that defeats the purpose. I would assume about a B or small C cup is the most you will be able to comfortably fit into these.
The material they used on the cups I feel is misleading from the picture. My fiance agreed once he saw my babydoll and the picture. The picture on the product page makes the cups looks beige and non see through. The cups on my babydoll were completely see through and honestly looked as if they were made of a completely different material. The cups also have unfinished edges. The material looks as if it was unevenly cut with a cheap pair of scissors. The cups are stretchy and with a good amount of pull they do not rip but I feel that if pulled hard enough and/or over time, the cups will start to rip. Here is a picture of the cups themselves.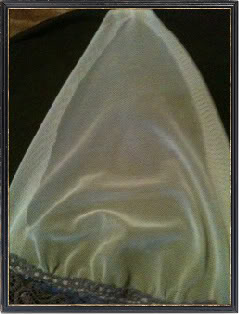 Experience
The rest of the babydoll I feel is made decently well. The skirt has stitching around the bottom of it and looks adorable. It is also pretty stretchy so could fit a wide variety of hip sizes. The only issue I have with this piece are the cups. I could deal with no support but the fact that there is no stitching to reinforce the sides upsets me. I am also very upset with the differences between the pictures the company provided and the actual product its self.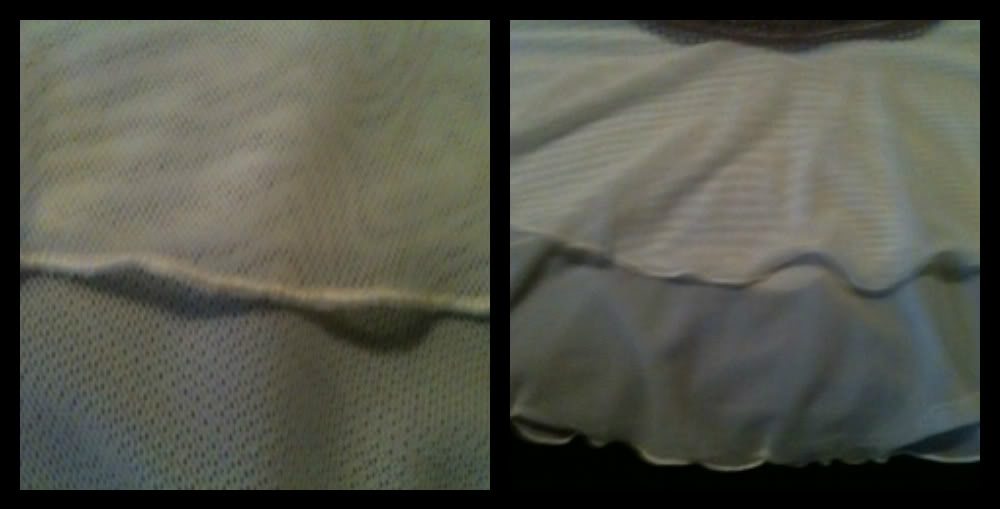 On the other hand, the g-string that comes with the babydoll seems to be decently made. It is the same ivory and lavendar as the babydoll. The panties are the one part of this that I do love! I'll keep those and throw them in with my everyday ones or even wear them with other lingerie I have. The g-string does have a uncomfortable, large tag attached. If you happen to have 30 seconds to waste and a pair of scissors, the tag is easily removable.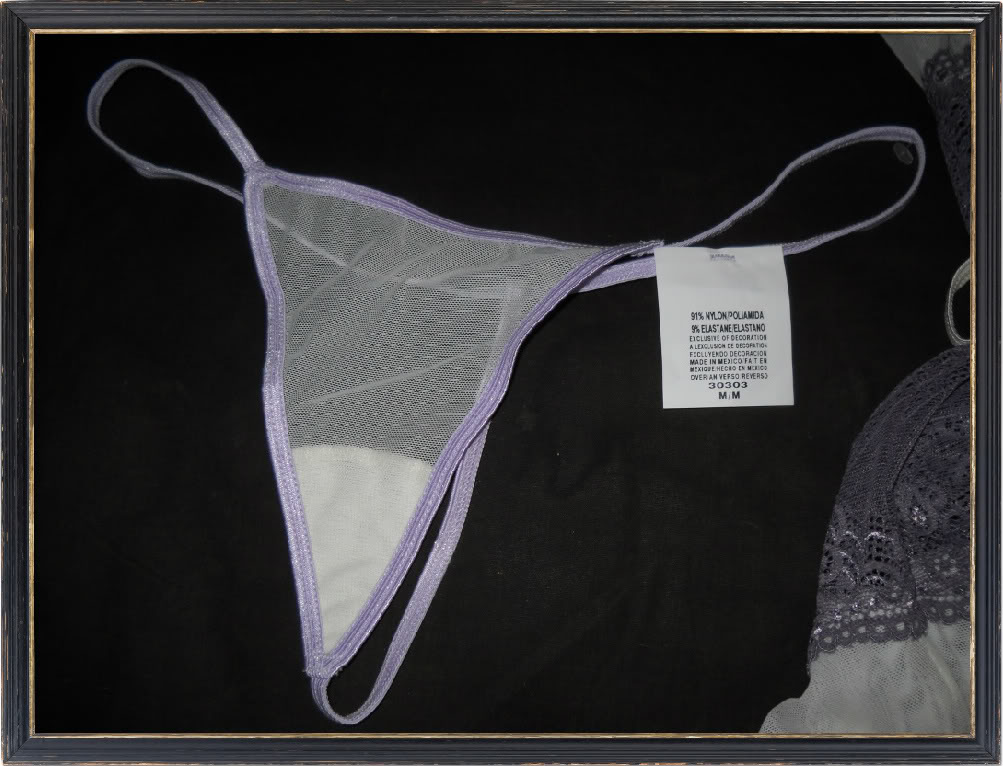 The babydoll is lightweight and small. You could easily put it on a suitcase or even your purse and bring it on the go with you if you wanted to.
I'm upset because I really loved this piece. I thought it would make a fabulous addition to my growing lingerie pile. I thought it would also be really cute to wear out with a white tank top underneath. I will not be doing that. I am trying so hard to make myself love this but it just isn't happening for me. I'm sure any girl with a B to small C chest would look amazing in this. I found out this piece clearly is not for me but I hope anyone else who decides to buy is happy with it and has better luck than I did.
Here are a couple pictures of me wearing this piece with a tank top underneath.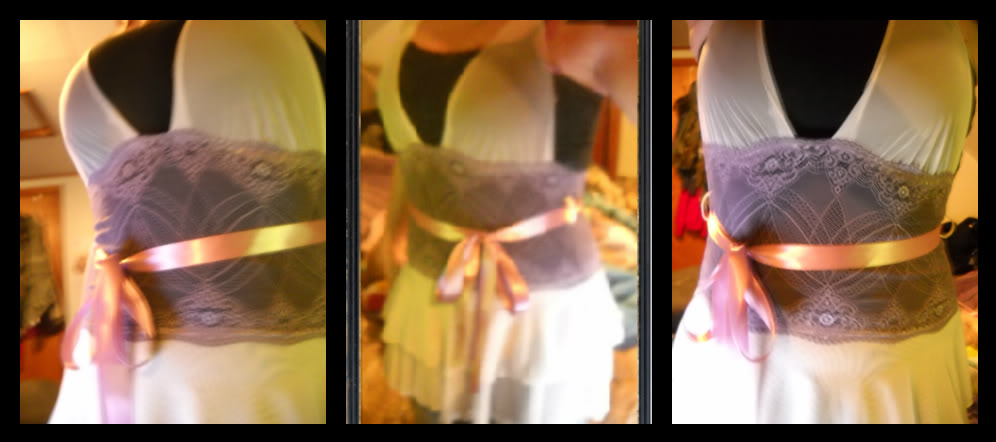 I would have absolutely loved this if I could pull it off with a bra to get some extra support, but it just wouldn't look right with a bra underneath.
This product was provided free of charge to the reviewer. This review is in compliance with the FTC guidelines.

Thank you for viewing
Spring babydoll
– babydoll and panty set review page!