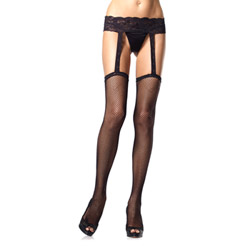 Red fishnet garterbelt stockings
Stockings
by Leg Avenue
Stalking the Stockings
Soft, sensual and feminine the Red Fishnet Garterbelt Stockings by Leg Avenue offer a fairly inexpensive alternative to the more traditional garter belt and stockings combo. One drawback is you cannot adjust the length of the garter. This set fits well on shorter, rounder legs and looks really amazing with lingerie.
Published:
Pros
Soft and very feminine,
Beautiful color,
Good fit
Cons
Waist band tends to want to roll,
Cannot handle machine washing
I have always been very self conscious about how I look in skimpy clothing. This attitude baffles the men in my life, hell it baffled even my father! I have been trying to rearrange my thinking so that I see myself through the eyes of the people in my life who actually have complimentary things to say about how I look. Part of that change has been fostered and supported by the community at EdenFantasys. It is great to have a group of people of all sizes and appearances give you mostly positive feedback and just love you through the hard parts. The first reviews I posted with the slightly blurry and out of focus camera on my lap top were met with praise for my courage and loving critique of the lingerie. This prompted me to go completely insane and order TONS of lacy and frilly stuffs to tantalize my guys with. The guys are not complaining.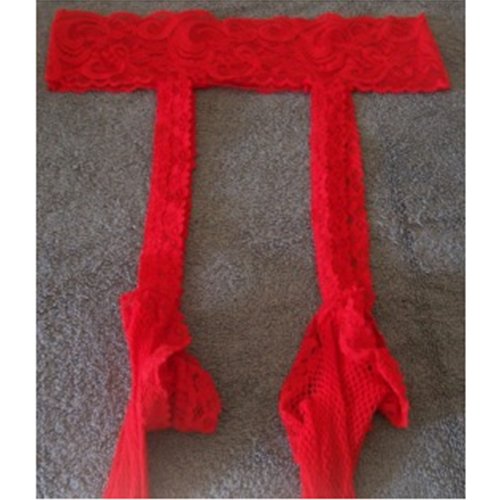 The latest in a flurry of spending power is an all in one garter/stockings combo that I would never have dreamed of trying if I hadn't seen the lovely way it looks on other short and round (Rubenesque?) women. I am always concerned about non-adjustable stocking pieces because I have an incredibly short torso and my legs are not much longer. I stand only 5 feet tall and weigh 190 pounds. I wear a 18-20 woman's dress size and I am still working on getting rid of my "baby belly". I ordered this combo in the plus size and it fits perfectly. The fishnet is very close and nearly opaque on my shorter legs but the look is snug and the stockings don;t have to be pulled up to my crotch to fit properly. There is a lovely stretch of thigh showing, which is the purpose of wearing stockings, isn't it?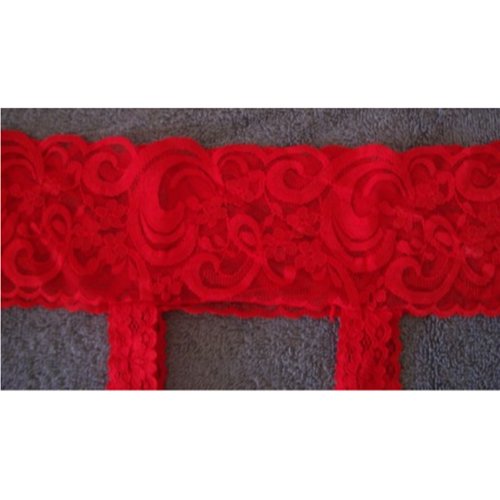 As you can see the band is just plain lovely with it's graceful curlicues and small flowers. The waistband of the belt measures 12 inches (unstretched) and 3 1/2 inches wide. The entire piece is composed of 100% nylon so it is soft and very stretchy. According to the manufacturer the plus size should fit women who measure 31-40 inches in the waist and 41-50 inches in the hips. I am at the highest end of these measurements and this piece fits me snugly but comfortably. The waistband does want to fold in half but it is easy to adjust it so that it doesn't.
The garters measure 7 1/2 inches (unstretched) and, at first, I thought they would be too long but I find that they hold the stockings exactly where they are most comfortable. The garters are not adjustable and taller women might find that this causes pressure to be put on the belt at the waist. I was worried that the stockings would sage and bunch at the ankles but they fit snugly and smoothly all night.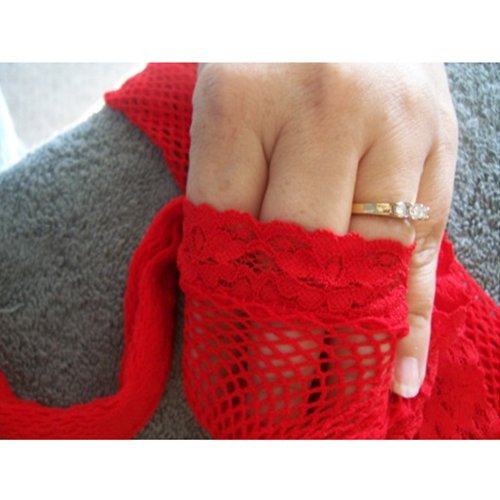 There is a lovely lace detail at the top of each stocking that masks the elastic that helps to hold the stocking in place without sliding down or sagging. There is no adhesive like material to help the stocking to stay put but the lace is soft and doesn't give me "muffin top" so I was rather pleased, all things considered. There was one major flaw in the sewing on my stockings that I noticed right away. There was a string that was left uncut at the top of the stocking where the band meets the garter. I was able to correct the defect easily with a pair of sharp scissors and I haven't noticed any raveling from the repair site.
The entire piece is a lovely and vibrant shade of red that looks amazing against my pale skin. The stockings are super soft and comfortable. The fishnets are small and almost opaque on my short legs but I would imagine they would be much more peek-a-boo on someone who is taller. On my legs there's not much stretch to the fishnets but they look deliciously naughty just the same.
Experience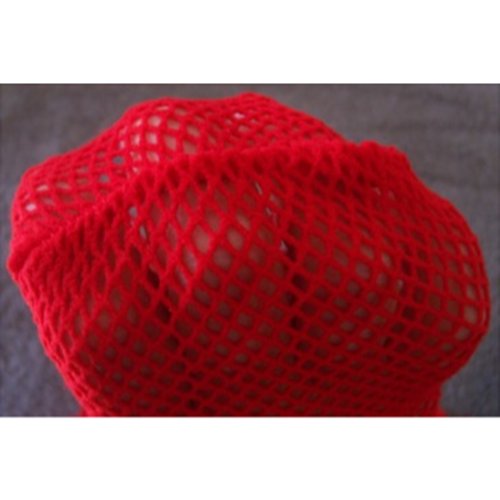 There is a very pronounced toe seam on these stockings. It is not hard and won't bother the toes even in really pointy shoes. The seam makes sure your toes won't poke through the fishnets unattractively and uncomfortably. I expected to get blisters from the seam, as I have had that happen with other hosiery with this sort of seam, but I wasn't bothered by it at all. It doesn't look quite as attractive in peep toe type shoes but with pumps or boots it's fine.
Since these are nylon I would recommend hand washing them only. They are fairly fragile and prone to snagging so I wouldn't wring or twist them forcefully while washing. A simple swirl in cool water with some detergent meant for delicate washables followed by a rinse in running water should be sufficient. I recommend drip drying, as even in a lingerie bag these pulled and warped in my dryer. I only dry my lingerie on the no heat cycle but my first pair didn't fair well through the process. The second pair I hand washed, and then hung on a lingerie rack and they lasted through about 15 wearings before they snagged at a party.
I wouldn't say that these are incredibly fragile; they can stand up to some abuse so don't be afraid that the slightest brush up against some thing will cause them to be ruined. They withstood the sharp back edge of my boots without undue wear. I am also not overly careful when putting on stockings and these never offered me any trouble beyond not handling the wash and dry cycle on my washing machine.
Follow-up commentary
10 months after original review
These are so comfortable and easy to wear. Still love them! The only real problem is I don't have enough outfits that don't clash with the bright red color.
This product was provided at a discounted price in exchange for an unbiased review. This review is in compliance with the FTC guidelines.
Thank you for viewing
Red fishnet garterbelt stockings
review page!