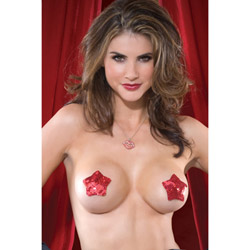 Star shaped pasties
Pasties by Coquette
Star light, Star bright
These sparkly pasties are gorgeous and fun to use. I used them in a boudoir photo session I did not too long ago and are a great fun addition to lingerie. Though if you are looking for pasties to use for a Burlesque show these wouldn't be my first pick.
Published:
Pros:
Shiny, sparkly, a gorgeous shade of red, already comes with adhesive on them
Cons:
A little big, the points kind of poked out off my breasts.
I'm a huge Burlesque fan and I have even taken my own Burlesque classes. I decided that I wanted to put my own costume together for the dances I practiced. This is what made me decide to purchase these pasties by Coquette. I love stars and they just seemed like they would be fun. When I got them in the mail, I was excited. The pasties came in a clear rectangular box, there wasn't much too it and the packaging was clean – no raunchy images but the packaging isn't discreet either. You could clearly see there were pasties in the box (as long as the person knew what pasties were), because they were just sitting straight in there attached to the black cardboard in the box. The packaging did not come with any instructions on how to put on the pasties what so ever, it only came with warnings about the pasties:
• Not recommended with women with sensitive skin.
• Discontinue use if any sign of irritation or rash occurs. If irritation occurs, please consult a physician.
• Do not use on open cuts, sun burned, or sun damaged skin.
• Do not use if you have a skin disorder or skin pigmentation problems or have a family history of skin pigmentation.
• We suggest that you do not wear the nipple covers for more than 6 hours at a time.
When I took the pasties out of the box, they looked so cute – they are a bright, sparkly red, and perfectly covered in sequins. These pasties are a bit bigger; they were able to fill up the palm of my hand (look at picture below). They are about 2 inches from point to the adjacent side. The back of the pasties are covered with a clear plastic to keep the adhesive from wearing out (look at picture below). The back of the pasties seem to be a pink vinyl or pleather type material. The backing is glued on to the front sequined part of the pasties. A great part of these pasties is that they already come with adhesive on them. When you touch the adhesive, it feels very sticky but not gooey or anything like that.
Be sure to remember that breasts come in all shapes and sizes so you may not exactly get an effect like the picture. Now, I will say that I am an all natural woman – I don't have fake breasts. My breasts are not perfectly round or firm. I have 36C breasts, they are soft, they are not perfectly perky, and I joke that they wiggle like a piece of flan. I was very disappointed when I first tried them on – I did not feel like they flattered my breast type at all! I did not want to wear them with my costume at all! Well, I did end up wearing them after all, I wore them during a pin up boudoir photo shoot that I did. The pasties are not perfect (and I am not 100% happy with them in the pictures) but the pictures still turned out beautiful! So they aren't serious business pasties, but they are good for fun.
My main issues with the pasties were that they were huge so they made my breasts look smaller, the points of the stars do not stick all the way down so it looks like the points were sticking off of my breasts. I felt a little more like the pasties like of accentuated the fact that I didn't have perfect perky round breasts. Though, that might have been some of my own insecurities coming through. I wore the pasties for an hour each time and they stuck well, I myself didn't have any problem of them coming off. The adhesive did not leave any residue behind on my skin at all. I do have sensitive skin myself – but I didn't have any issue at all with skin irritation. I am not telling you to use them yourself if you have sensitive skin, you know your body and what does/doesn't irritate your skin. You might want to do a little patch test first to make sure that you won't break out first before placing the entire pasty on your skin. The last plus about these pasties is that as long as the adhesive is good, you can keep reusing them over and over again.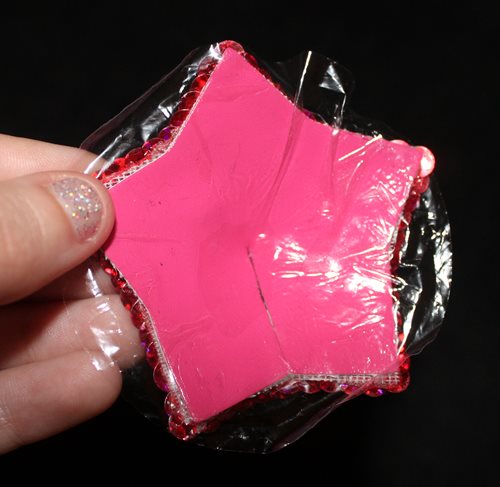 Experience
One thing that I will add is that after the first couple times I wore the pasties, I was not 100% thrilled with them at all. So I went online and researched a bit to figure out the best way to put on pasties so that it's sexy and flattering. Here are some suggestions that I found:

- Find pasties that are relative to the size of your nipples.
- Instead of placing your nipple perfectly in the middle of the pasty, place your nipple a little lower in the pasty. This will help your breasts look perkier. You can always apply make up to cover up any of your areola that may be showing this way.
- Use make up in between your breasts to increase the look of cleavage.

I know you may not want to go through all that if you are just using them for bedroom fun, but it was very helpful information for me when I used them for the photo shoot that I did.
This product was provided at a discounted price in exchange for an unbiased review. This review is in compliance with the FTC guidelines.

Thank you for viewing
Star shaped pasties
review page!