Straight jacket for my cooter
With a major wedgie and a suffocating cooter, the last thing on my mind is sex, and even further from my mind is confidence. This teddy looks irrisistable in the photo, but on me, I look like a tied up ham. Uncomfortable lingerie is one thing, but intense wedgies in front and back, plus feeling downright ugly is unacceptable. Perhaps it's my body. I feel most women are going to be uncomfortable in this. It could be flattering on someone who's super skinny and wants to appear curvier.
Published:
Pros
Looks sexy while sitting or lying down.
Cons
Unflattering.
Not long enough.
Uncomfortable.
I'll start off by saying that my favorite part of this teddy is the stock photo, if that tells you anything. The Polyester/Spandex material is durable and comfortable, but the elastic running through the teddy is uncomfortable. I've struggled with writing this all week so forgive me if my details are scattered. There's so much wrong with this that I'd be better off making a list.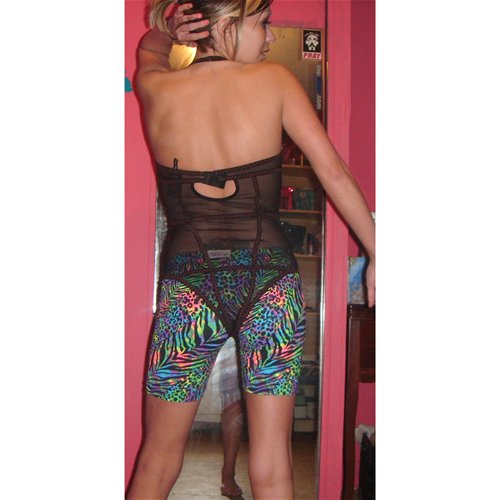 Sorry for the funky picture. I went with exercising shorts that way I don't totally flash ya'll! No, I was not dancing for joy in that picture! See the hook and eye closure and little open space underneath.
You have a 3 rows of hook and eye closures in the back. This allows a few inches more or a few inches less when adjusting tightness in the chest.
The halter ties are thin, overly stretchy elastic strips. The two halter straps are attached to each cup. The strap on the right is adjustable and the left is not. The tightest adjustment will give you a 6" long right strap while the left strap is 7". The longest adjustment is almost 13". The two straps hook behind your neck in the same way a garter belt attaches to your stockings--with the plastic hook sliding into a loop sewin into the fabric. You may find my photos more useful than my words. Something to note about the cheap straps; the flimsyness of them make them too stretchy, which means you have to tie them tight for any support.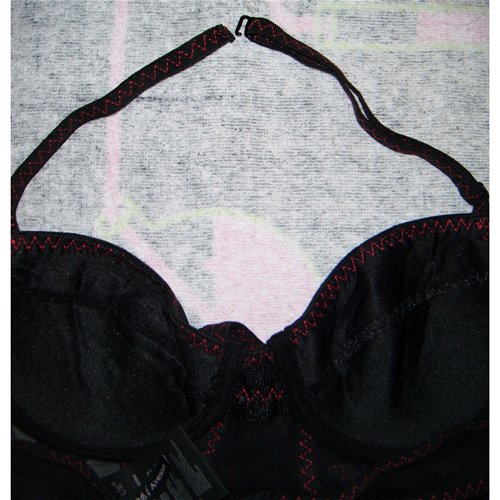 Beware: The teddy doesn't adjust or stretch to accomodate the length of your body. The mesh body is stiff and has little give. The elastic strips running throughout the garment have red stitching and create even more stiffness to the teddy.
My measurements:
Bust: Right: between a B and C cup. Left: 34B
Jean/short/bottom size: Zero
Weight: 93lbs
Height: 5 2"
Waist: 26"
Lower waist, where I'm a bit wider, the love handle area: 29"
Widest part of my thigh, also where the teddy sits: 18"
Rear: 32 1/2"
Let's talk about the bottom portion now.
Since a teddy fits similar to the way a whole piece swimsuit does, I measured the body parts neccessary. The bottom portion is a full bottom, not thong. It still wants to fit like a thong though. Looking at my measurement, note the small butt. The teddy isn't saggy in the rear, even on my small one. It almost looks as if it's digging into my cheeks. The strips of elastic also run through the rear, which create "sections" of my butt, and that isn't totally sexy.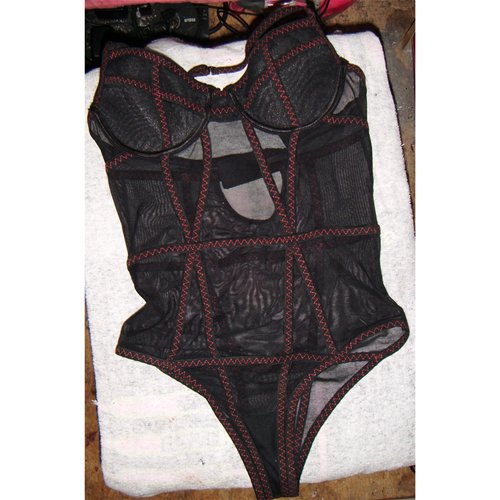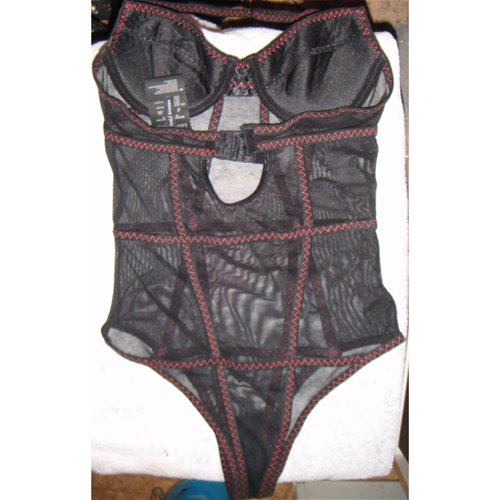 Teddy's measurements:
Length from top of cup to hip: 14"
Length from between the cups to crotch: 19"
Waist: 11"
Hip: 12 1/2"
The rear is 8" at the widest part then tapers to 5" and then 3". This gives you a major wedgie. Add two strips of elastic around each leg, which also runs around to the crotch, and you get not only a major wedgie in the back, but also in the front. The narrow butt and crotch, lined with these elastic pieces are incredibly uncomfortable. They create thickness, which pinches my crotch, and rides far up my bum!
I'm having to devote a lot of space to the butt, there's a lot going on in that area. The crotch has a narrow and short liner. However, it's so short that it will cover the labia, but that's it. This may be a problem for some, but wasn't a big deal to me.
The teddy is mesh and transparent. Looking at it, you'd think it would have a decent amount of give and stretch to it. I expected it to feel like a body stocking. Wrong! It's stiff and has very little give. It will stretch some. In my case, it's too short so the chest area wouldn't lengthen to reach my breasts. I had to do some serious pulling. I can say this is very durable. I'm surprised it didn't rip while trying to stretch it to cover my chest. I managed to get the cups to cover, but in order to do that, it has to ride far into my butt crack, which causes extreme discomfort and feels like my cooter's in a straight jacket. You'd be surprised at how pinchy those two elastic strips are down there!
That pretty much covers the butt part. Too bad the teddy doesn't cover the butt!
Experience
CONTINUED...
Let's talk about boobs now.
While mine are very different in size, they're small enough that they usually fit a "one size fits most." The only problem I run into with my breasts is when one fits fine and the other has extra space left in the garment or vice versa. I usually don't have problems with overflowing.

The bust is about the only part that fits decently. There's underwire and the cups are a tad thicker than the body. They don't have any real padding, but seem to just be made of thicker material. The elastic strips running through the cups will make your boobs feel as if they have poison ivy, but the won't show off hard nipples! Inside the cups, I see nothing that would cause this itchy, pokey feeling, but it's there! It constantly feels as if I have one of those plastic things that hold a tag onto a garment! When you cut the tag off a garment, sometimes that plastc piece stays behind and pokes the daylights out of you. That's what the cups feel like. All over!


For small to average chests, the underwire will be enough support. If you're around a C or bigger, I doubt you'll even get nipple coverage out of these cups. My right breast is between a B and C (it varies) and it fills the entire cup. Any bigger and it would jump right out.

And for the most fitting part of this teddy, the waist. I said it fits, not that it's comfortable or sexy! I've listed my measurements, but I'll give you an idea of my figure. I'm petite, but I have some love handle going on. That area is wider than the rest of my body and I don't love that part of me. However, I'm usually comfortable in teddys as long as they aren't tight around my hips, causing my handles to bulge. I usually fit the "one size fits all" garments perfectly. This did fit me, but was tight in the crotch and not long enough. I believe the teddy is just made narrow in the butt and crotch area. My butt is simply too small to have been to big for this! I'm serious. It's pathetically tiny. In this teddy's case, I don't think it's a matter of not fitting, but more a matter of badly designed, ill fitting, unflattering. That seems to be the problem rather than sizing.

With the elastic strips running throughout the teddy, it looks neat, but tends to "break up" my stomach and butt into sections and looks so ugly. Even worse, the strips are further apart on the hips and "love handle area" so it gives me the appearance that my love handles are even bigger!
Follow-up commentary
1 day after original review
CONTINUED...

EXPERIENCE
There haven't been many times where I felt so un-pretty in lingerie that I didn't even want my partner to see me. There was one time when I put on this awful, red, super high-rise, crotchless teddy and boy did I feel funny looking. I didn't feel ugly though. I was a little embarrassed to walk around in front of him in the funny, old-style teddy, but I still felt sexy. What's sad is, that even wearing that ugly red teddy, I felt better than I do wearing this one.

I was sure this would look good on me. I usually do pretty good in teddies, so when I ordered it I told my partner that he was going to love it! I said "I'm going to look so sexy, it'll blow you away." It was more of a joke than anything, but I did expect it to look good on me. What went wrong? It does not look good on me. I put it on and pulled it as hard as I could to make the cups reach my chest. Finally got it to reach and it sent the entire bottom portion straight up my crack. It was so uncomfortable that I had to hold the crotch area away, downward while standing. Those elastic strips hurt my cooter. I spent an hour wearing it, hoping for a change of mind, and hoping it may become comfortable. I thought maybe it would grow on me and I'd feel sexy. I didn't and I doubt I will ever put it on my body again.


I was so disappointed that I didn't want to show my partner. When he came home, he asked to see it and I told him I lost it. Unflattering lingerie happens, usually I can make a joke out of it, show him what it looks like on and toss it away, but this truly made me feel bad about myself. He insisted on seeing it and said he'd bet money that I still looked sexy in it. "No matter how ugly you think it is, it can't make you look bad," he told me. I said "honey, I'm not kidding. It looks like a joke, not sexy lingerie. It seriously looks like something you'd wear as a joke!" I kept saying that because it really did.

You know when you see those photos making fun of people and what they're wearing? If you've ever seen People Of Wal-Mart photos, you know what I mean. I actually felt like one of those! There was no turning this into something funny or sexy. I almost didn't put photos up, but I thought with a review like this, it's something ya'll have to see for yourself.















This content is the opinion of the submitting contributor and is not endorsed by EdenFantasys.com
Thank you for viewing
Burlesque black teddy
review page!