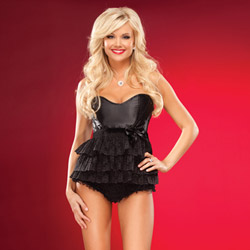 Satin multi-layered babydoll
Babydoll
by Coquette
Sugar and spice and everything sexy!
The beautiful, elegant and sexy babydoll is perfection. From the fit to the feminine design, this is great for girls who like a frilly, sexy piece that can be worn in the bedroom and outside the home. For those who aren't thrilled with this style, but know one who is, this makes a beautiful gift. This is a top I will wear often.
Published:
Pros:
Quality.
Beautiful.
Fit.
Comfort.
Versatile.
Cons:
Straps rubbed me raw.
This can be worn with a pair of matching panties (not included) for the bedroom , but it's classy enough to be worn outside the house. While this doesn't come with a pair of panties, it does come with studry, removable straps. They're like bra straps and can be adjusted. The straps are good if you're going to be moving around since it can become loose. I didn't need the straps to keep it securely on, but when lugging a toddler, the straps are handy. They attach at the edge of the arm pit and rubbed my skin completely raw in minutes!

The durable satin is 6 1/2 inches long from the top of the cup to under the bust. Under the bust is lined in velvet trim with a satin bow pinned on by a safety pin (removable) on the right side. Under the velvet trim, the 3 tiers of lace begin. The first one, 3 1/2 inches long. The second (from bottom of the first layer) is 2 1/2 long. The last layer, again measured from the bottom of the second one, is 3" long. From top of bust cup to bottom of lace is 16" long.
There is U-cut chest. From the dip in the U-cut to bottom of lace: 14" long.
The satin top half is designed similar to a corset with the bones. The 10 flexible plastic bones make this easy to move in and wear for long periods. Five on each side. There are two side by side on both sides, close to the back. Then there are three on each bust. It's probably easier to see the photos for this than my explanation. The bones add a touch of sexy, but they do smash me. The fiirst hour, I was spilling over and squashed flat under the bust. Things loosened up since I wore this all day inside and outside of the house.
The back has two sets of eye hook closures so you can adjust. In the middle area, I needed the tightest (second) line of eye hooks to allow this to fit without sliding. The top was tight! I was able to wear it with the top hooked into the first closures and the rest hooked in the second. After an hour, I had to adjust the top to the tightest hooks as well. If you're large in the chest, I would definitely recommend a size up!
The tag says made of "100% polyester exclusive of trim" (the velvet strip.) Eden's page says Polyester/Satin. No big deal, but there it is. Polyester means it will loosen up. The top portion of the back is not satin, it's a stretchy, material and holds the "over the bra skin" in.
I have the small and am happy with the fit. It took some adjusting, but after wearing for an hour, I've had to use the top and bottom portions on tightest closures. I actually have quite a bit of room in the bottom half and just enough in the top after some wear. It's not tight and uncomfortable (except for the straps).
The straps are great quality, durable and provide extra support. When adjusted to the tightest, the straps are 9" long, including the little plastic hook for attaching. These can be adjusted to 16" long! I measured them laying on the bed, not while wearing. These have a whole lot of stretch to them too! These will be able to fit about any size out there, unless you're just tremendously large up top.
Again, I have the small. I normally wear a size 0 in jeans and am a 34B on my right and an A on my left. This measures: 28" from the eye closure to clasp at the bust, laid flat on hard surface and opened.
Where the velvet strip runs, right under the bust, measures: 26" (again, opened and laid flat.)
The waist measures: 28" Keep in mind, it stretches. Small would probably fit up to a 4 as long as your bust isn't larger than a B. The very bottom measures about 30"
The stretchy material between first and second line of eye hook closures have an inch of space making this easy to fit a bit larger or a bit smaller. Since the bust was a bit snug, I didn't need a bra with this, but if you prefer wearing one, a strapless will go unseen under this.
Experience
CONTINUED...
Since the bust was a bit snug, I didn't need a bra with this, but if you prefer wearing one, a strapless will go unseen under this.

The lace is soft and comfortable and the second layer is slightly pleated. I expected these layers to add bulk to my middle, but it was so beautiful I had to risk it. It does flow a little, but lays flat and doesn't add unnecessary bulk. It conceals my middle instead of sticking to it. There is a silky cami like material attached under the lace. Since it's only attached at the waist and is short, it does ride up, showing some skin under the last layer of lace when wearing low cut jeans. It's very comfortable though and looks stunning! From the stitching to the material and design, it's quite well made.

The babydoll came in a hot pink tissue paper with a cellophane containing the straps. There are tags of a person wearing the piece which wasn't really necessary, but it's there. I just cut them off and trashed them immediately since it shows the rear end!

The inner tag says "Garniture non-comprimises. Hand wash only. Hang to dry. Made in China."

EXPERIENCE:

I admit, I was nervous to try anything Coquette due to their reputation with off-sizing and poorly made items. I couldn't resist this top though. It's beautiful, feminine and classy with a touch of sexy. I was so happy when I pulled it out of the box. It looked beautiful. I put it on right away and thought it looked nice. I like to wear this with a pair of dark jeans and my black lacy heels that have a tiny bow on them. They look as if they were made for each other! The top gave me an extra "pretty" feeling and of course, that's nice. It is a bit short, but since I am only 5 2" it was just right. However, just a tad bit shorter and this would've closely resembled a belly top. Those who are taller or with long torsos, keep that in mind. I think this would look nice under a fitted blazer too.

I like that the top is suitable for most occasions outside of the bedroom as well as inside. I love my gorgeous, sexy lingerie, but I like to be able to wear something lacy and pretty outside too. This is perfect! It works with regular jeans or just a pair of panties for a sexy night at home.

In this, I found myself glancing when I walked past my mirror! My partner didn't exactly jump my bones when he saw me in it, but that's not anything I consider bad. He told me it looked great on me and that he liked it. He said to him, it looked more like lingerie than outside wear, but came to the conclusion that the thought was mostly formed from me first putting it on with bedroom intentions. After taking a look at it on me with jeans, he said it looks nice as outer wear as well (fashion expert! LOL) Expectations exceeded!
This product was provided free of charge to the reviewer. This review is in compliance with the FTC guidelines.
Forum
| Discussion | Posts | Last Update |
| --- | --- | --- |
| Size | 5 | |
Thank you for viewing
Satin multi-layered babydoll
review page!