Super sexy, super fun, but super short.
If you like to look cute and show off everything you ow, this costume will be great for you. It will really draw attention from everyone. You can either use it at a costume party or in a bedroom for flirty sailor fun. Overall, I enjoyed having this costume and I love putting it on. It makes me feel cute and sexy.
Published:
Pros:
Cute, underwire, many sizes available
Cons:
No pockets, too short, thin halter strap
PACKAGING
This costume comes in a clear plastic package on a hanger, and comes with a cardboard insert sporting a picture of a model in the costume. It looks just like the ones you see in your local Halloween costume store. The costume is neatly folded up inside. The dress and shrug are folded around pieces of cardboard. The hat is in a separate little plastic bag inside the package. This package could be used as a storage package if needed. It takes up a very small space and could be put into a drawer or hung up in the closet. This package could be good for gift giving. You could easily place this down into a gift bag. It also doesn't have obscene words or pictures, so it is appropriate for anyone to look at.
FIT
Dream Girl Size Chart
3X/4X
Size 18-20
Cup DD
Bust 48"-54"
Waist 40"-44"
Hip 50"-56"
Weight 225lbs-275 lbs
I own 2 costumes from the Dream Girl collection, both sized 3x/4x, but they fit completely differently. This outfit fits smaller than my nurse costume. I wear sizes 22-24 so I thought I would take a chance with the largest size they had. I wear a size 42C in bras. I'm 5'7" and weighed around 290lbs at the time of wearing this outfit.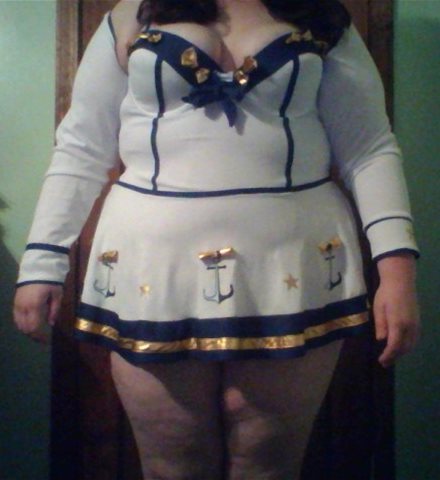 I measured right below the wires in the bra and I measured at 47". I also measured at the blue line that goes across the waist area, and mine was 49". The jacket is 12 inches in length. The sleeves of the jacket are 26 inches long from the top of the shoulder to the wrist.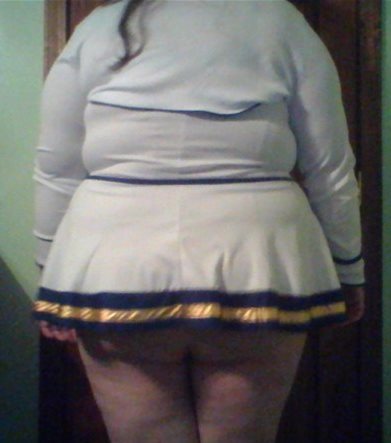 This is the reason I wore tights with it. It's short in the back. Also, the top of the dress ends at same area that the jacket starts.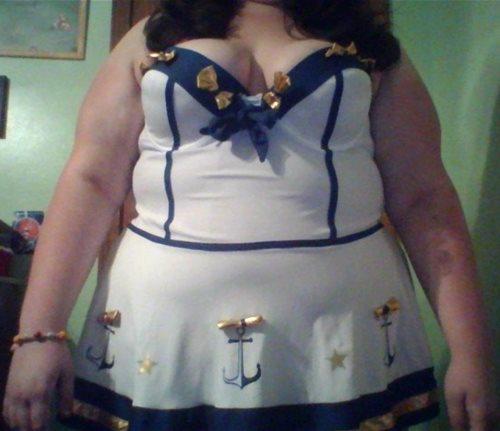 It has the option of jacket or no jacket.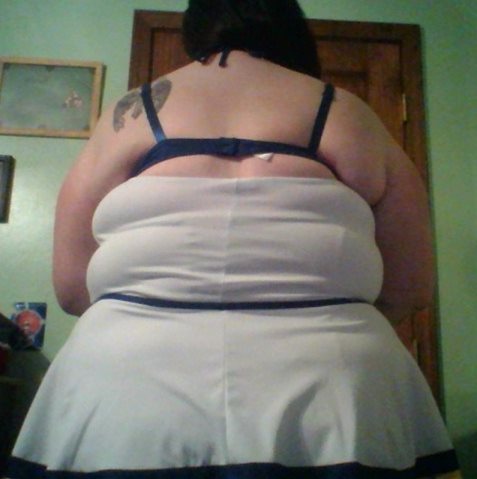 The back doesn't always stay up well. As you can see in this picture, my bra was higher than the back of the dress, but with the jacket it stays covered up.
DESIGN
This costume comes with the dress, shrug, and the hat. The dress is mainly white, with navy blue as its secondary color. The dress is SUPER short. If I had not paired it with tights, everyone would have seen my ass hanging out. The top of the dress is also very revealing. It is really meant to show off the ladies up top. I'll let you look at the pictures to see all the designs on the dress. The shrug is very short in the back. If you don't place it on properly, it leaves a space between the top of the dress and the bottom of the shrug and will show your back. I also found that the shrug did not want to stay up on my shoulders as I wore it. It kept sliding off and this was annoying. I think this may be because of my bigger arms.
The hat is very cute, but it had no way to secure it to your head. It was supposed to just sit on the top of your head. It wouldn't stay in place for me and I didn't wear it with the outfit. The outfit still looked super cute without the hat. It didn't take away much from the effect of the costume since I had the anchors on my dress.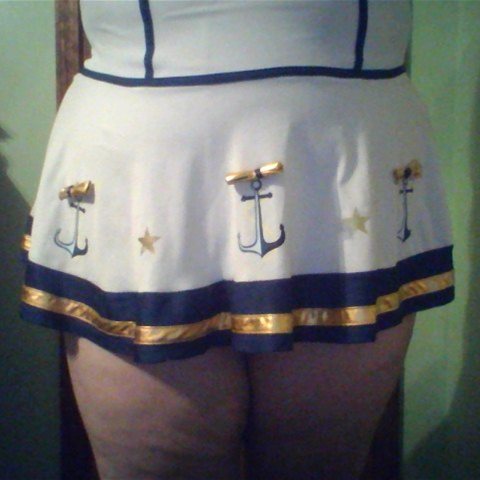 Details of the designs on the skirt: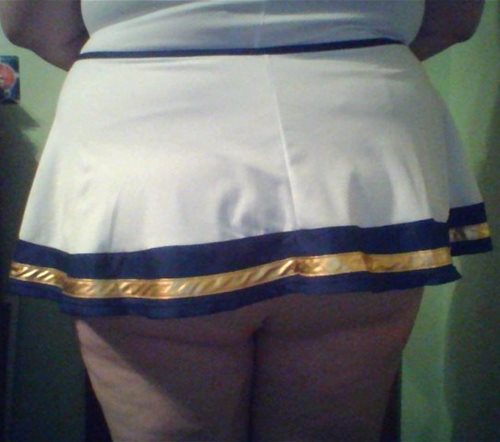 You can see how short the skirt was, and as the night went on it would ride up and I had to keep pulling it back down.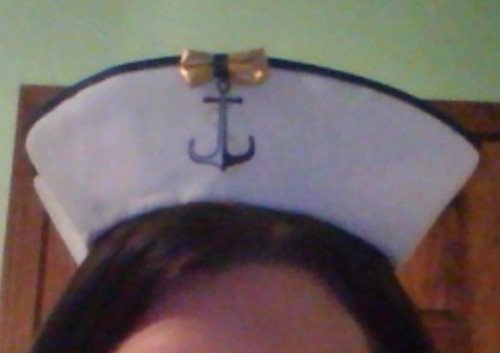 The hat has the same design as the bottom of the skirt, just is a little bit smaller. The hat is 3 inches in height. The diameter of the hat when being worn is about 7 inches.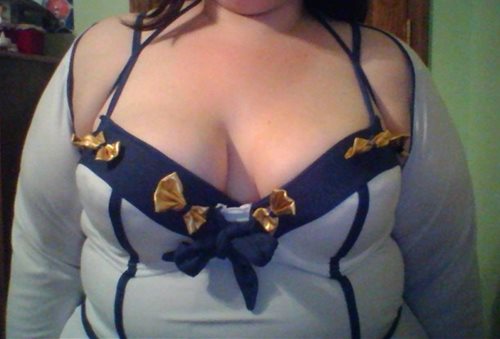 This shows the bow in the middle and the bows around the bust area. This top would sometimes slide a little, but I wore it with a navy bra so it wouldn't be noticed. Also, the way the jacket is coming off my shoulders in this picture happens a lot.
I did not personally wear this during sex or foreplay, but it could be used in that manner. Be a sexy sailor and ride some waves in the bedroom or in the tub. Since the outfit is short, it gives easy access to all areas that you may want accessed. The halter tie top can also be fun and easy to pull in order to let the top down.
Experience
QUALITY AND MATERIAL
This outfit is made from 100% polyester. It is soft and smooth. I didn't have any problems with the quality of the product. It is a breathable material, so it doesn't get too hot while just sitting around in it. It is made like a typical Halloween costume and isn't meant for heavy duty use. I didn't see any areas on mine that had loose thread or areas that had not been finished. The tag says dry clean only, but I don't think that drycleaning is necessary.

I paired the costume with navy blue tights since it was so short and a navy blue bra so that the bra wasn't as noticeable if the top slid down a little.

I wore this costume for Halloween to a party, then went out with a few co-workers to a dance club. Everyone was dressed in the sluttiest costume they could find for the holiday, so with my boobs and ass hanging out I fit right in. I danced in it all night. The guys seemed to like it too. The shrug does get a little hot while inside a crowded room, but when walking on the street I was glad to have the shrug to keep me warm.

I had beer spilled down my back right before leaving, so when I got home I threw it into the washer. I did hang it to dry. I didn't want it to shrink and be any smaller than it already is. Putting it into the washer didn't do anything bad to it. It still looked new when I took it out to hang it up. The beer didn't leave any stains on the fabric.

I gave this costume a 4/5 stars because I loved the design of it, it wasn't too pricey like some costumes can be, it is fine to be worn at a party or in the bedroom, and I had fun while wearing it. I took off a star since it was shorter than I had liked. I also didn't like the thin halter strap that held it around my neck. Lastly, I didn't like having to hold my keys, phone, and wallet in my hands all night. This outfit needs a pocket or needs to come with some kind of purse/bag that matches the outfit.

I would recommend this outfit in a 3x/4x to someone who wears about a 20-22, probably is 5'4" or less so it isn't too short, has C cup breasts, and is around 250 lbs or less. I wouldn't recommend this to teenagers since it is pretty revealing, but this would be great for anyone who likes to dress up in the bedroom for their partner, or it is even fun to just dress up for yourself sometimes!
This content is the opinion of the submitting contributor and is not endorsed by EdenFantasys.com

Thank you for viewing
Makin waves
– costume review page!