Take 'Em Off
Seven 'til Midnight did a great job with this thong! It's stretchy and comfortable. I feel sexy when I wear it and The Husband makes me feel even sexier! It's well made and beautiful too.
Published:
Pros:
+ Comfortable
+ Stretchy
+ Well made
Cons:
- None
This is the most gorgeous thong. I fell in love with the color almost immediately. The fact that the panel was supposed to give you some tummy coverage appealed to me even more. This was going to be my first time ordering from Seven 'til Midnight, but I wanted this on my body. I wanted to be somewhere, talking to someone, knowing that I was wearing these panties.
The Undercover Lover Shaping Thong was wrapped in a clear plastic bag for the first 3 seconds that I owned it. After tossing that aside, I noticed the attached tag included the manufacturer's name, website, and a copy of the stock photo that's on the product page. It also included the size of the thong and the following information:
+ Lace overlay microfiber thong offers smoothing and tummy control
+ Minimal rear coverage leaves no panty lines for added comfort and confidence
+ Pair with any of our control tops to create a slimming, fashionable outfit
What's it made of?:
The Undercover Lover Shaping Thong from Seven 'til Midnight is made from 92% Polyester and 8% Spandex, as listed on the care tag. There's almost two parts to this panty. There's the panel that's made up of the two materials sewn together and the thong. The inside of the panel is lined with a silky colored, fuschia material that feels great against the skin. The outer layer is covered in a lacy, floral material.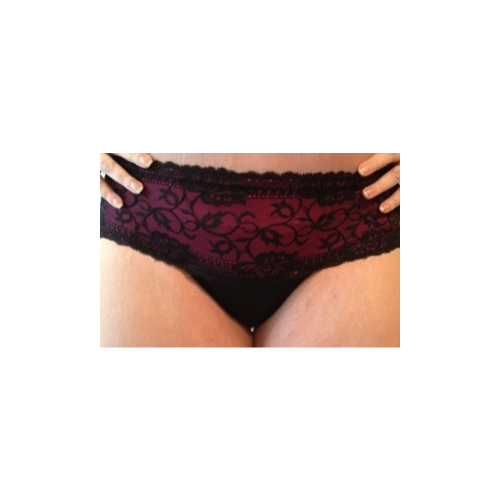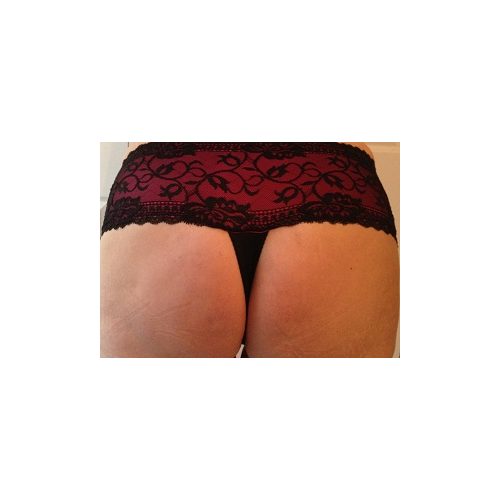 Sizing and Fit:
Seven 'til Midnight's The Undercover Lover Shaping Thong comes in Small, Medium, Large, XL, 1X/2X, 3X/4X. I decided on their 1X/2X and here's their measurements up against mine:
Seven 'til Midnight's 1X-2X: Waist: 36-38 inches Hip: 42-48 inches
My Measurements: Waist: 42 inches Hip: 48 inches
Waist (unstretched) – 32inches
Waist (stretched) – 48 inches
Thong length – 10.5 inches
Panty liner length – 4.5 inches long
They have quite a good bit of stretch to them, so I don't buy the whole 'tummy control' advertising. I do think that the design and cut of the panties are more geared towards those who have tummy issues, however, there's no special "shapewear" that provides any extra belly support. I've heard a few rumblings about the waist cincher that's in the stock photo with the thong. Personally, I'd love it if Eden carried it, but they don't. However, Eden does have
The Undercover Lover Bodysuit
, which is similar and really adorable too.
How well is it made?:
Fortunately, everything looks to be in good working order with this Seven 'till Midnight piece. There are a few areas where it looks as if the lace wasn't lined up perfectly before it was sewn, but nothing seems to be coming apart.
Care and Maintenance:
The tag says: Hand wash cold. Do not bleach. Do not iron. Line dry. These will go into a lingerie bag and then into the washing machine. I don't know if I'll dry them yet. However – I still advise you to follow the manufacturer's cleaning instructions. I store mine in my panty drawer. Just fold them and toss them right in. Although... I don't know why I bother folding my panties because they never stay folded.
When I wear them:
Here's what I hate about anything with lace: you can't wear anything tight with it. I can always see the lacy design through thin materials, so I have to keep that in mind when dressing. However, this thong was comfortable and I was pleased with the fit! It was stretchy and felt nice against my skin. I also like wearing thongs to some of the play parties that I go to. Thongs make it easy for implements used for impact play to get to your ass cheeks without having to put all of your business out there for the entire group to see.
Experience
I paired this with a black bra and wore it out under a black dress. After coming home and while undressing, The Husband did a double take when I turned to hang my dress on the outside of the closet.

The Husband: I like those panties, girl.
Me: Thanks
The Husband: Take 'em off.
Follow-up commentary
3 months after original review
Any pair of panties that catch The Husband's attention are a good pair. These are comfortable and really gorgeous. They've actually held up well. In all honesty, I've just been tossing them in the washing machine. Granted, I've separated them into the delicate pile, but they're still in great shape. They haven't torn, despite being roughly pulled off and The Husband loves how they make my ass look. How can I argue with that?
This product was provided at a discounted price in exchange for an unbiased review. This review is in compliance with the FTC guidelines.

Thank you for viewing
Undercover lover shaping thong
– sexy panty review page!