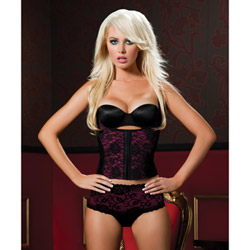 Undercover lover shaping thong
Sexy panty by Seven 'til Midnight
These have potential to be sexy on the right body... but not mine!
Seven 'Til Midnight has a great idea with this pair of panties, but they just didn't work for me. I didn't find them sexy or comfortable -- though perhaps they would've been better in a larger size. I believe that these will be amazing IF they fit you properly. If you happen to get a size that's too tight, you're going to end up with some awful muffin top. So, be smart, size up for this one.
Published:
Pros:
Stretchy, Will hide flaws, Beautiful
Cons:
Hand wash, may not fit everyone properly, high waist may cause muffin top on some people
As someone with a less than perfect body, I had high hopes for this thong. I love the look of thongs, but I have a bit of extra weight on me, and so thongs don't always look right on me. I thought that, maybe, this pair would be different, as it has a high waist. Alas, I was disappointed... That being said, part of my disappointment may be remedied by purchasing a larger size. Still, I don't find these panties nearly as sexy in person as I did online.

Basics:
The Undercover Lover Shaping Thong is made by Seven 'Til Midnight. This thong has definite potential to be sexy on the right body, but it just wasn't very sexy on me. The great thing about this thong is that it lays flat enough to be worn underneath clothes.

Material & Care:
This is made out of 92% Polyester and 8% Spandex. The spandex gives this pair of panties some stretch, but that stretch is limited. The spandex also seems to make it so that these panties really cling to whomever they fit, so they're going to fit you snugly.

The crotch portion (black in color) of the thong, as well the interior of pretty lace portion (the pink bit) is made of a very soft, smooth, almost silky material. This material is very comfortable. The crotch portion also features a cotton pantyliner, making this pair of panties excellent for all day wear.

Laying on top of the pretty pink fabric is a gorgeous lace overlay. The lace is soft and stretchy. It also feels quite durable. Unfortunately, however, the edges on the lace are not finished, so it may end up fraying too soon.

To care for these, you should hand wash them in cold water, and then line dry them. Do not iron or bleach this pair of panties!

Sizing:
This pair of panties is available in a wide range of sizes. You can purchase it in S, M, L, XL, 1X/2X, and 3X/4X. I purchased the large -- though, in hindsight, the XL may have been a better choice.

Anyway, according to the size chart, a large should fit someone with a 28-30" waist, and 38-40" hips. I, personally, have a 32" waist, and 40" hips. Honestly, I didn't even look at the size chart before I purchased these... I wear a large in almost all of my lingerie (sometimes even a medium!), and I have tons of Seven 'Til Midnight pieces -- a large has always fit fine for this brand. So, I guess I assumed the same would be true this time.

In all actuality, the panties do fit... it's just not super flattering, or as comfortable as it could be. I think that it'd be more comfortable if I had sized up.

So, my advice? If you're on the higher end of the size chart, size up!

Design:
This high-waisted thong is very sexy, and it could definitely be figure flattering on the right figure. The high waist portion is meant to sort of hide flaws -- be it love handles, or a bit of tummy pudge. If this fits you right, it will certainly hide your flaws well. Unfortunately, however, if you purchase a size that's a smidge too small, or even slightly tight -- you're going to find that you get muffin top, which is exactly what you're trying to avoid with these!

The panties feature a gorgeous black lace overlay, which rests on top of pink fabric. The black lace on pink gives the panties a sort of purplish look to them -- very sexy! The edges of the lace portion is scalloped, on both the top and bottom.

The crotch portion of the babydoll is black in color, and it's just your basic thong -- not much to that!

Quality:
The quality isn't bad. I am disappointed that the edges of the lace aren't finished, and I did find a few lace threads -- but, really, the quality is pretty good otherwise.
Experience
I really wanted to love these, but I just didn't find them flattering, or all that comfortable. My boyfriend also did not believe that they were very sexy. I do believe that they could be gorgeous on the right body, but I don't have that body.
This product was provided at a discounted price in exchange for an unbiased review. This review is in compliance with the FTC guidelines.

Thank you for viewing
Undercover lover shaping thong
– sexy panty review page!