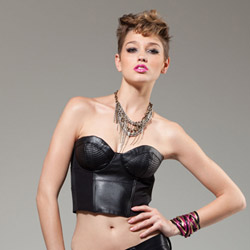 Linden bustier
Bustier
by Forplay Lingerie
The 80s Return
Was rather disappointed when I ordered a small for myself and it was too large... slipping off of me when I let my breath out. The zipper is a nice feature but I somewhat wish that there would have been lacing somewhere so that I could have adjusted the garment to fit me.
Published:
Pros:
Zipper
Elastic sides
Cons:
Need to order smaller
Made for larger breasted women
The Linden bustier by ForPlay arrived in nothing more than a simple box where it was folded over itself and had the tag still attached. The tag is easily removed with a pair of scissors or if you are one of those snag and break people it would likely bust free from the clothing then as well. I tried the bustier on and was sadly disappointed immediately. The whole thing was too big for me and I ordered the small. I have a chest size of 34B, waist of 23" and hips of 36" and this felt large everywhere but just under my bust. The elasticity didn't make much effort to make the garment tighter either. Would I have known all this I would have ordered the smaller size that is normally for those with a 32 bust. I imagine it would have been a much better fit and I would love this product so much more.

Now that I got the bad part out of the way let me tell you the remaining things about the bustier. Just remember order it slightly smaller than you might normally. The shape of the bustier gives it one spot that it does hold on to me quite well, just in the waist area it "catches" my shape and holds itself to the rest of my frame. In this I find that if it would've been a bit tighter it would shape me here, causing my waist to clench in slightly thinner than its normal resting place, it then would flatten out my belly up to my chest where I can feel that if I were larger or it were smaller it would press my breasts up to then be supported by the two cups. These cups are perfectly placed although I can tell they were designed for a large chested girl. Where mine simply drown under the material a nice set of say D breasts would likely find nice support with a spilling out of cleavage. The stretch of the material on the sides would easily accommodate any issue with needing to stay up, however knowing that some women I could see would want or need straps to keep the hold of the front up, I'm not too sure that the under-wire of each cup would hold larger breasts as well as needed. As well the zipper works perfectly without any flaws. Perhaps they should have added some lacing in the front or side so I could have easily adjusted the size for my body.

The polyurethane and polyester blend of the material in the bustier require to be washed by hand and then laid out flat to dry; never use bleach and wash in cold water.

I intend to see a friend of mine about taking in seams to make this fit better in the future. When the follow up review comes hopefully I will have this done. Until then just order smaller ladies. This does look wonderful on when I hold my breath. (A little pun intended there.)
Follow-up commentary
3 months after original review
I have to say that this piece can come in handy as an extra item to an already existing outfit. I paired this with a high waist pair of jeans and a denim jacket and it worked much better as an outfit. Though unlike most bustiers I also needed to wear a strapless bra. Very cute if you know how to pull it off.
This product was provided free of charge to the reviewer. This review is in compliance with the FTC guidelines.

Thank you for viewing
Linden bustier
review page!